Profile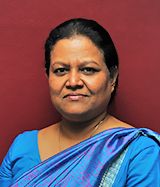 Ms. U. K. Dayani Wegapitiya Director - Policy & Strategic Planning
Qualifications
B.A. Hons (Economics)
Master's in Economics
Experience
Working for the organization for 25 years and gained experience starting as a Research Assistant and thereafter as an Assistant Director, Deputy Director and Actg. Director in the same Division.
Present area of Work
Preparation, formulation and monitoring of the Corporate Plans, Action Plans of the EDB and monitoring the same; formulation, monitoring and implementation of the National Export Development Plan; preparation of the annual Budget of the EDB and monitoring of the same; continuous monitoring of the macro and micro-economic policies in relation to exports with a view to improve the climate for export development and other work related to export policies.