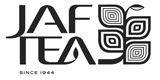 JAFFERJEE BROTHERS
JAF TEA is the flagship brand of Jafferjee Brothers a company founded in 1944 and based in Sri Lanka. For over 70 years, we have expertly crafted some of the world's finest tea blends, building a reputation across the globe for superb quality and exceptional taste. Our teas are currently sold in over 30 countries. Each week our tasters carefully select the finest Ceylon teas to ensure that you receive a truly sensational tea experience. To preserve the freshness of our teas we pack them within days of harvesting in Sri Lanka. Packing in Sri Lanka also ensures the maximum value for our local communities and the sustainability of the tea industry. Our products have won many accolades for its fresh and modern outlook. Come join us for tea!
Products / Services Range
Classic Black Teas, Flavored Black Teas, Classic Green Teas, Flavored Green Teas, Pure Infusions, Gift Assortment Boxes, Single Region, Single Estate - Limited Edition, Wooden Boxes, Tea ware, Food Service Accouterments.
Contacts
Mr. Mufaddal Jafferjee (Director)