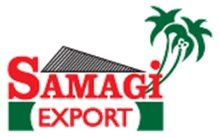 SAMAGI ESTATES DEVELOPMENT & EXPORTS (PVT) LTD
Samagi Exports is an export-oriented company, specializing in production and export of cut foliage. We are able to meet an ever-increasing demand for superior quality plants that we grow in state-of-the-art nurseries and cut foliage production facility in Sri Lanka. Regions specifically picked for the optimal climatic conditions needed for the production of our extensive range of tropical ornamental plants.
Samagi Exports takes pride in its capacity to supply a customized high-quality finished product that meets the requirements of our customers, including an array of attractive custom-designed receptacles for our plants. Our technological know-how has always given us an edge in the competitive market of plant and foliage production and exports, and we confidently guarantee that our end products will not disappoint.
We welcome our importers to visit our nurseries.


Products / Services Range
Cut Foliage and Rooted Plants
Dracaena Sandariena – White, Gold, Victory
Song of Jamaica, India, Reflexa Green
Cordyline Red.
Polycias,
Croton Tops Mix, Draceana Massangeana
Cane Palms, Compacta, Livistonia Rotundifolia
China Grass
Contacts
Thilini Nirasha Fernando (Director)