TESCO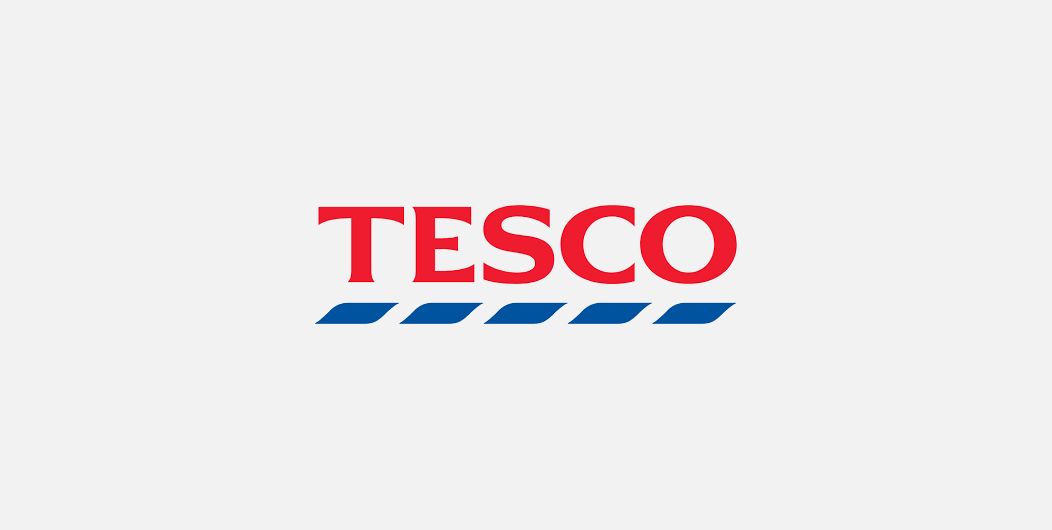 Tesco is the UK's largest retailer and one of the world's leading international retailers. Tesco has around 5,000 stores worldwide, employing over 500,000 people in the 14 countries in which it operates. The core purpose of the company is to create value for customers to earn their lifetime loyalty. Their success depends on people: the people who shop with and the people who work with them.
The company was founded in 1919 by Sir Jack Cohen as a group of market stalls. The Tesco name first appeared in 1924, after Cohen purchased a shipment of tea from T. E.Stockwell and combined those initials with the first two letters of his surname, and the first Tesco store opened in 1929 in Burnt Oak, Middlesex. His business expanded rapidly, and by 1939 he had over 100 Tesco stores across the country. Originally a UK-focused grocery retailer, since the early 1990s Tesco has increasingly diversified geographically and into areas such as the retailing of books, clothing, electronics, furniture, petrol and software; financial services; telecoms and internet services; DVD rental; and music downloads.
Tesco is listed on the London Stock Exchange and is a constituent of the FTSE 100 Index. It had a market capitalization of approximately £24.4 billion as of 15 January 2012, Since the company first used the trading name of Tesco, in the mid 1920s, the group has expanded into different markets, different formats and different sectors.
Company Size and Presence
Employing over 492,000 people
Group sales, including VAT, increased by 8.1% to £67.6 billion.
No of Stores: 5380 over 14 countries

Company Contact Details
Tesco Customer Service Centre,
Baird Avenue
Dundee
DD1 9NF
Product Range
Groceries
Entertainment
Financial services
Clothing
Wine
All household items
Food
Has the buyer sourced from Sri Lanka before?
Tesco sourcing garments from Inter fashion Limited in Sri Lanka
Purchasing Arrangements
Sourcing products from over 40 countries and working with suppliers who share their values, They are delivering a wide range of safe, responsibly sourced, quality products at the right price for their customers.
By sourcing products directly from manufacturers company has greater visibility and knowledge of the factories that make the products they sell.
The company has a regular program of audits to ensure factories can make the products their customers want to the standards that they expect.
They have technical teams based in each country with local knowledge, which means that they can respond more quickly on those rare occasions when problems are discovered in the supply chain.
Being able to visit factories regularly means they are able to establish close relationships with their suppliers so they can work together to continuously improve product quality and working practices.
Buying requirements
The Terms and Conditions (Ts & Cs) are the standard terms which all Suppliers of Tesco IS are required to sign. The contract is specifically with Tesco International Sourcing Ltd., who is authorized to act on behalf of Tesco IS. Any variation to these terms must be agreed in writing with the Tesco IS.
Tesco IS will issue the Ts & Cs in soft copy via email. Suppliers shall return the hard copy with signature / company chop within 14 days from issue date to Tesco IS. Tesco IS will not accept any amendment made by Suppliers. No business will be given to Suppliers who refuse to return terms and conditions with a properly authorized signature. Supplementary Terms and Conditions may also be required in specific circumstances.
A copy of the document must be signed by the director of the Suppliers' company and forwarded to the appropriate Tesco IS Merchandiser before the first order is confirmed.
Payment Term
Open account at 90 days net. This is from the date of shipment.
Product
Product cost. Product should be quoted at the same price regardless of shipment by Full Container Load (FCL) or Less Container Load (LCL).
Approximately 36 samples are required from the start of buying stage, red seal, product evaluation / destructive, packaging review, photography (if applicable), merchandising and green seal samples from final production run. You may be requested to submit up to 7 additional samples for local certification in Central Europe.
Test certificate issued by HOKLAS or UKAS laboratory valid less than 24 months from Cargo Ready date.
Surveillance test. Average cost of £219 per item but is dependent on product category
Category specific test requirements
Toys, Stationery, Sport: Due diligent test in HK (EN71). Liquid or feather components need microbiological test certification. Additional requirement will be required and agreed in red sealing stage which subjects to product nature where applicable.
Electrical; For United Kingdom and Republic of Ireland Safety testing (LVD) base on 240V + / - 6% or 230V +/- 10%.
PACKAGING
Product Packaging cost based on 6 colours unless specified.
Customer Display Unit (CDU) requirements are specified on the Supplier Brief you receive. If required, you must include this at the buying stage and also when samples are delivered to Country Buying Team (CBT's)
Print management service charges at supplier account. Cost £25 per item.
Any translation costs for multilingual packaging are at supplier's cost.
Factory
All factories must be carry out a Technical Audit by an accredited third party nominated by Tesco (SGS, ITS, BV). Technical Audit fee $440 USD per man day plus travel.
All factories must carry out an Ethical Audit by an accredited third party nominated by Tesco (SGS, ITS, BV & STR). Ethical audit fee is $600 to $1500 USD per man day plus travel.
Sedex registration. All ethical audits must be uploaded to http://www.sedex.org.uk. The registration fee is £28 per year per site plus VAT and administration fee.
Inspection
Vendor Paid Program - You will have to pay for the pre-shipment inspections and will be invoiced directly by SGS. A fixed man day rate of US$175 plus expenses with SGS for all first inspections. Factories on this programme will have the opportunity to demonstrate through inspection records and robustness of their quality systems their ability to move to the self inspection programme.
Self Inspection Program - Factories entered into the self inspection programme are accountable for conducting their own inspections and maintaining records on site. A third party inspection company will carry out unannounced inspections for 10% of orders randomly, in order to check maintenance of the quality level and scores needed to remain in the "SELF INSPECTION" program.
Tesco has a very simply operating model:
We buy stuff from a Supplier (Buy)
We transport it to a store (Move)
We sell it to customer (Sell)
In reality there are more stages to Buy, Move and Sell.Tesco International Sourcing Operating Model defines the way things are done when we Buy and Move products sourced through Tesco IS. The key processes are shown below. You can learn more about these processors requirements by becoming a Supplier to Tesco IS.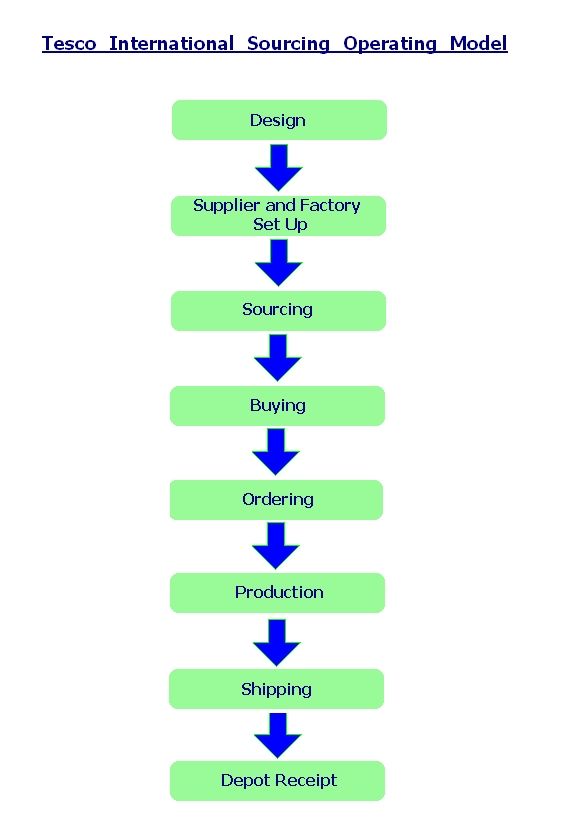 Buyer's values
Importantly, there will be no change to the foundations of our business: our core purpose – to create value for customers to earn their lifetime loyalty – and our Values – no one tries harder for customers and treat people how we like to be treated.
They set out a new vision for the future of the business as the most highly valued business in the world. Valued not only by their customers, but also by the communities they serve their staff and shareholders.
Information Sources
Company Web site: www.tesco.com
Sourcing Offices
Hong Kong (Headquarters)
15/F Devon House, Taikoo Place, 979 King's Road, Quarry Bay, Hong Kong
United Kingdom (Logistics only)
Cirrus Building C, Shire Park, Welwyn Garden City, Hertfordshire, AL7 1ZR, United Kingdom
Phone: +44 1992 632222
E-mail: [email protected]
Bangladesh
Rangs Arcade Building 3rd Floor, 153/A Gulshan North Avenue, Gulshan-2, Dhaka-1212, Bangladesh
Phone: +880 2 2881 5843
Fax : +880 2 2988 9888
E-mail: [email protected]
Turkey
Kisikili Caddesi No 4, Ak-Sarkuysan Is Merkezi, Kat 1, S Blok, Altunizae Uskudar, Istanbul. Turkey
Phone: +90 216 554 88 00
Fax : +90 216 651 82 75/76
E-mail: [email protected]