ICT/BPO Services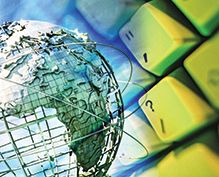 Sri Lanka is emerging as a global ICT destination of choice in number of key focus domain areas. Sri Lanka is ranked among the Top 50 Global Outsourcing destinations by AT Kearney and ranked among Top 20 Emerging Cities by Global Services Magazine.
The growing ICT industry in Colombo offers a unique advantage for Small and Medium Enterprises (SME) to enjoy premium access to a high quality talent pool, which is becoming increasingly challenging in large established destinations such as India and China. The environment is also highly conducive for establishing high-in-demand niche competency centers out of competition for even larger global services companies. Colombo has a well established road network with a quality supply of power, modern office facilities and a well developed set of support infrastructure services.
The modern international airport welcomes more than 20 international airlines with direct flights to many worldwide destinations weekly. There are over 140 flights per week to most cities in India. Most Indian cities are less than 2 hours away from Sri Lanka.
Sri Lanka offers a rapidly growing niche workforce which is highly adaptable, innovative, English speaking and loyal. Currently, over 60,000 are employed in the ICT industry in Colombo and the workforce is growing at over 20% year-on-year. The workforce is stable with very low attrition rates ranging from 10-15%. There are around 300 ICT companies are presently in operation in Sri Lanka. Annual exports of ICT sector is around 400 million US dollars in 2011.
Sri Lanka has an open market economy and is the first country in South Asia to liberalize its economy. Many global companies have been operating in Sri Lanka for decades. Tax holidays up to 5 years and concessionary rates of income tax 5-15% is also extended after the tax holiday period. Government also provides special assistance on real estate acquisition based on investment and employment generation potential.
Sri Lanka offers ample recreational facilities within just 2 to 3 hours of driving from Colombo. Exquisite beaches, wild life sanctuaries, cultural heritage sites dating back to 500 B.C., beautiful hill country views, surfing, water sports, and exciting night life makes Sri Lanka a truly a tropical paradise to live and work in. Mixing business and pleasure has never been this easy for the discerning expatriate professionals or to the frequent business traveler.
While Sri Lanka is renowned as the island paradise for its culture, panoramic landscape, leisure and excursion related activities and cuisine, Colombo's impressive skyline also personifies the country's rapid development. In time, Sri Lanka will be renowned for yet another exciting, prominent feature as Asia's favorite ICT Centre of Excellence.
Information and Communication Technology continues to shrink the world. As major players are facing increasing difficulties in coping with global demand, Sri Lanka is emerging as the world's ICT destination of choice. The island is steadily transforming itself into the most preferred ICT hub in Asia thanks to the availability of the most precious resource in the world - talent.
Ranked among the Top 25 Global Outsourcing destinations by AT Kearney and among the Top 20 Emerging Cities by Global Services Magazine, the Sri Lankan environment is highly conducive for allowing global enterprises to enjoy premium access to a high quality talent pool for small to medium scale engagements whilst establishing high-in-demand niche competency centers. Sri Lanka acts as an off-shore development centre and joint venture development centre to several Fortune 500 companies and industry leaders from the North American continent, Great Britain, Australia, Sweden, Norway, and Japan.
Foreign entities that have invested in Sri Lanka have already begun to tap the local talent: HSBC, Industrial & Financial Systems (IFS), Amba Research, RR Donnelley, WNS, Quattro, Virtusa, and Millennium Information Technology (owned by London Stock Exchange). Among Globally recognized customers of Sri Lankan ICT products and services are names such as JP Morgan, Google, Microsoft, Qatar Airways and Emirates.
Annual exports over the last three years are reported as US$ 348 million, US$ 440 million and US$ 545 million in 2010, 2011 and 2012 respectively, placing the industry among the top 5 on Sri Lanka's export league table. The industry has set a target of US $1 billion in export revenue from the ICT sector by 2015.