Why Sri Lankan Professional Services?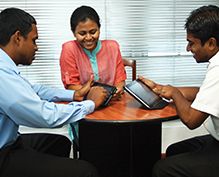 Architectural, engineering, construction, irrigation, port and healthcare services that utilized indigenous and appropriate technologies within a supportive socio-political structure have brought fame to this island nation. Some of the techniques used successfully by early Sri Lankan service industrialists are not fully understood even today. This country produced the first recorded sky scraper (The Brazen Palace) as well as several of the largest brick structures in the world. The fame of Sri Lankan construction engineers spread even to other countries and the demand was such that they were engaged in constructing a lake for the King of Kashmir in the 8th century.
Today, Sri Lanka has a large number of higher educational institutions including universities, technical colleges and vocational training institutes, through which over 5,000 graduates and technicians obtain degrees and diplomas in such fields as engineering, architecture and surveying.
Professional training is normally provided through employment, principally in government institutions, for example, the Irrigation Department, Central Engineering Consultancy Bureau, State Engineering Corporation, Survey Department. Fields such as architecture and computer software, have a strong supply base within the established companies.
Sri Lankan experts have worked with international specialists on large construction projects such as the Bowatenna Hydro-Power Project, funded by the Asian Development Bank and Maskeliya Oya Hydro-Power Project.
Availability of cost effective technology, expertise, skilled manpower and construction material makes Sri Lanka competitive in the global market for services.