Wooden Products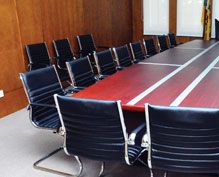 The wood-based manufacturing sector in Sri Lanka depends almost entirely on the local wood supply for raw materials. The sector is diverse, consisting of a variety of industries including saw milling, furniture, construction, parquet flooring, wood-based panel products, carvings, wooden toys and industrial wooden components such as bruush handles.
Furniture that encourages stylish dining, parquet that redefines modernity and wood-based panels that exude classic elegance; Sri Lanka's wooden products give homes around the world craftsmanship and comfort.
Sri Lanka possesses an abundance of natural resources that enrich and sustain the lives of its people. Although wood product manufacturing companies are small-scale enterprises, exports have gradually increased over the past decade and show great growth potential. Leading the way in wooden products exports are primarily furniture, parquet for flooring, brush handles, wooden panels, and wooden toys.
Wooden furniture is a large sub sector within the wood-based industry in Sri Lanka.
Household furniture is made to look strikingly elegant and comfortable to use; this includes furniture for the bedroom and living room, kitchen furniture and garden furniture.
Other forms include office furniture (computer tables, office tables etc.), commercial and institutional furniture (furniture for hotels, schools, hospitals).
Sri Lanka is competitive in exporting office furniture, bedroom furniture and kitchen furniture worldwide, and manufacturers of these products are mature having catered to local and international markets for decades including Sri Lanka's current largest buyer - India.
In addition, furniture in knockdown form and built-in furniture are popular and are customised according to buyer specifications. These items target the high end of the market.
The wooden toy industry in Sri Lanka consists of products that are predominantly handmade; the country is a niche market supplier. While maintaining unique aesthetic value and quality, manufacturers are able to accommodate product adaptability. All products conform to required international standards.
Treated rubber wood has become a main source of raw material for the wooden product industry. The use of rubber wood is environmentally friendly and is a renewable resource. Laminated rubber wood furniture is now successfully exported to niche markets in Europe and has replaced expensive beech wood and birch wood products in these countries.
Local companies also have the option of importing timber for manufacturing products, depending on buyer requirements. Teak and mahogany are also used to manufacture furniture.
The Sri Lankan wooden products industry is now catering to the expectations of international buyers; more and more companies and plantations are obtaining FSC (Forest Stewardship Council) certification and some have even been certified with the Rainforest Alliance mark. It is clear that meeting environmental standards are becoming a global prerequisite, and with a strong focus on this principle, the industry's growth potential continues to increase amongst the international markets.
The Sri Lankan wood working industrialists and interior solution providers can provide interior solutions to investors with very competitive bids.
Export Market
The main markets for Sri Lankan wood exports are the United Kingdom, the United States, India, Maldives, Saudi Arabia, Pakistan and Netherlands.
Why Sri Lankan Wooden Products