Accounting Alliances Pvt. Ltd.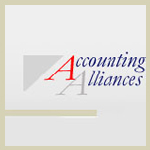 Accounting Alliances Pvt. Ltd.
About Us
Accounting Alliances Private Limited (AAPL) was incorporated under the Companies Act No 17 of 1982, to carry out Business Process Outsourcing assignments. We are capable of handling any type of accounting, data entry & processing, call center operations and business process outsourcing operations.
The company is managed by two directors who are fully qualified Chattered Accountants with Master in Business Administration from the most recognize Sri Lankan university for management studies.
Accounting Alliances has the required staff and infrastructure to cater to any kind of business process outsourcing operation.
Our clients have entrusted us with outsourcing assignments on areas such as accounting & bookkeeping, data entry & data processing work, Invoicing, Inventory management, MIS Reports, Project evaluations etc.