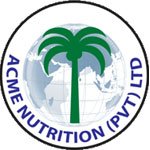 ACME NUTRITION PVT LTD
About Us
Acme Nutrition (Pvt) Ltd is a leading agro based private company duly established under the companies act of the Democratic Socialist Republic of Sri Lanka.
The Company is initially set to export high quality products made out of coconut husks, especially the Coco Peat to Western European. Middle Eastern and also far Eastern countries for use in growing flowers and other plantations.
We export from 3000 to 5000 tons of corns to annually with a rapidly growing demand. Our highly qualified staff cote and dedication to their task. This is the key to our success.
we are rich with subsidiary manufacturing, companies which process and manufacture all of high quality items made out of coconut husk. and other agricultural export products.