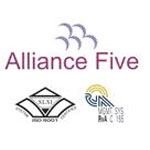 ALLIANCE FIVE PVT LTD
About Us
The two things that drive us are, the passion we possess for excellence in production, and the dedication and commitment we have towards people; be they our clients or our staff.
Alliance Five has been dealing steadily and successfully with clients in Japan for over a decade. The international market savvy among you will no doubt recognize that, Japan is a country with a reputation for being exceptionally demanding where quality and efficiency is concerned. But we at Alliance Five, have always thrived on the challenge of delivering products that have not just satisfied our Japanese buyers but has also kept us at the helm of our field. We hold the loyalty of our buyers as a reflection of their trust in us.
Our commitment to excellence in production is confirmed by the fact that we are an ISO9001:2008 certified company.