ARTIWOOD CREATIONS PVT LTD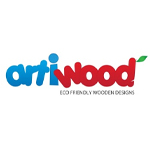 ARTIWOOD CREATIONS PVT LTD
About Us
Artiwood has been producing wooden toys for children all over the word since 1992. Located in a rural southern village called Talpe, about 127km south to the Sri Lankan capital Colombo, this medium size manufacturing facility looks after thirty five breadwinner and their families.
We at Artiwood are dedicated to maintain high quality, safety, ethical and sustainable manufacturing. Our toys are handcrafted, colourful and eco-friendly. We are dedicated to design and manufacture educational toys for quite little girls and adventures little boys all over the world.
We also take confidentiality of our customers very serious and make every effort to deliver our promises. We comply with all international safety standards as indicated below and use only toxic free pains in our products.
We are happy to provide test reports to our customers on a periodic basis and we are more than willing to adopt special safety standards as required by them. All over products are manufactured using treated Rubber Wood or MDF.