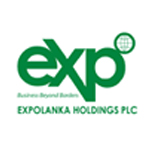 EXPOLANKA PVT LTD
About Us
Incorporated in 1978 the company is a leading exporter of Fresh Coconut, Desiccated Coconut, Spices and Fresh Fruits & Vegetables from Sri Lanka.
The company has a strong presence in the markets of the Middle East, South Asia, Mediterranean, Africa, Australia, Europe, United States and the United Kingdom, while simultaneously continuing to be Sri Lanka's largest exporter for more than four decades.
The company also exporting Fresh coconut and Desiccated coconut out of India & Indonesia and export superior quality Dried lemon (black) during the season from Sri Lanka.
The company has got into the manufacture and export of processed fruit products such as Dehydrated Fruits, Fruit pulp, Coconut water, Virgin Coconut Oil (VCO). The processing factory is certified with ISO, HACCP, HALAL, EU, USDA, JAS & organic certification to meet International Standards.