WNS Global Services (Pvt) Ltd.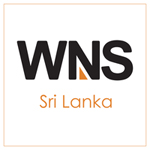 WNS Global Services (Pvt) Ltd.
About Us
WNS (Holdings) Limited (NYSE: WNS), is a leading global business process outsourcing company. WNS offers business value to 200+ global clients by combining operational excellence with deep domain expertise in key industry verticals, including Banking and Financial Services, Healthcare, Insurance, Manufacturing, Media and Entertainment, Retail & Consumer Packaged Goods, Telecom and Diversified Businesses, Shipping and Logistics, Travel and Leisure and Utilities .

WNS delivers an entire spectrum of business process outsourcing services such as finance and accounting, customer care, technology solutions, research and analytics and industry-specific back-office and front-office processes.