News & Events
EDB PROMOTE TRADE AND BUSINESS PARTNERSHIPS BETWEEN PHILIPINES & SRI LANKA

Export Market diversification is one of the strategies that the EDB has identified to increase Sri Lanka's export...........



Health Benefits of Essential Oils from Sri Lanka

The medicinal and cosmetic benefits of essential oils derived from a host of herbal, spice and flowering plants that are grown widely in Sri Lanka.........



Turkey Industrialists Businesswomen and Businessmen Confederation visits EDB

The General President of Turkey Industrialists Businesswomen and Businessmen Confederation, Nezaket Emine Atsoy met Mrs. Indira Malwatte.........



Colombo hosts 2nd edition of Intex South Asia

Intex South Asia, the only international sourcing fair in South Asia which showcases the best in yarns, fabrics (apparel and denim) and clothing accessories, is presenting a grand display at the Exhibition and Convention Centre.........



EU, UN launch Rs. 1 billion project to boost SL trade

The Sri Lankan Government has joined forces with the European Union in embarking on a four-year, 8 million Euro (Rs. 1.3 billion) project.........


Video Gallery
Hailed as the emerging wonder of Asia and crowned as the pearl of the Indian Ocean, Sri Lanka is at the crossroads of a major shipping route...EDB is entrusted with the momentous responsibility to achieve the country's inspired vision to be a global sourcing destination.
View All Videos
Exporters Directory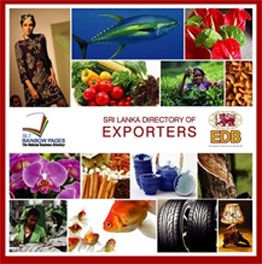 Read more
Featured Products from eMARKETPLACE