News & Events
'Fishery exports issue to be solved by November' – Dr. Harsha

The recovery of export streams and markets damaged through neglect and weak international relations is a major priority in Sri Lanka's '100-day Global Trade Blueprint', which was unveiled for the first time in Colombo......

DSI Dominates Design Awards, bagging Best Design Award at Footwear and Leather Fair 2015

The Sri Lankan footwear market leader, DSI dominated the Design Award Ceremony held on 8th February 2015 at BMICH. Held parallel to the Footwear and Leather Fair 2015, which was held from 6th to 8th February at the BMICH, the Awards Ceremony celebrated the best and brightest of the industry.....

EDB starts work on latest global market Fairtrade call

Sri Lanka's Export Development Board (EDB) said that it has opened a web portal for service exporters as a one stop for them to link with international partners.

The portal named as www. srilankaservicexport.com is free for exporters, the EDB said in a media statement....

Larger presence of Sri Lankan exporters at Gulfood 2015 in Dubai

Fifty Sri Lankan companies participated at the Gulfood 2015 in Dubai from 8-12 February displaying food and beverage products such as tea, spices, processed food, soft drinks, biscuits, virgin coconut oil, dried fruit, herbal products, etc...

Sri Lanka's exports increase 9 percent in December pushing 2014 total to US$ 11 billion

Sri Lanka's merchandise exports continued on its growth trend in 2014 to a total of over US$ 11 billion with an increase of 9 percent in the month of December, the Export Development Board (EDB) reported...
Video Gallery
Hailed as the emerging wonder of Asia and crowned as the pearl of the Indian Ocean, Sri Lanka is at the crossroads of a major shipping route...EDB is entrusted with the momentous responsibility to achieve the country's inspired vision to be a global sourcing destination.
View All Videos
Exporters Directory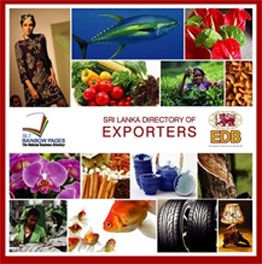 Read more
Featured Products from eMARKETPLACE