News & Events
Govt. engages diplomatic corps to make World Export Development Forum a bigger success

The Ministry of Foreign Affairs hosted the diplomatic community consisting of commercial counsellors and honorary consuls of foreign missions to Sri Lanka for a briefing on the World Export Development Forum (WEDF) 2016..........



Sri Lanka earns over Rs. 11 billion in 2015 from exports of locally manufactured boats

Sri Lanka's Minister of Fisheries and Aquatic Resources Development Mahinda Amaraweera says the locally manufactured boats currently has a high demand in the international market..........



Large Section Of Tourists Beach-Based

With a large section of Sri Lanka's tourism being beach-based, the industry in the island nation requires pleasure sail boats and boats for sea excursions for whale/dolphin watching.........



Indira Malwatte Recieves TheWIFTS Lifetime Achievement Award

In recognition of a lifelong career, Indira Malwatte, chairperson and chief executive of the Sri Lanka Export Development Board (EDB) has been awarded TheWIFTS Foundation Lifetime Achievement Award 2016 (Business).........



World Export Development Forum creates opportunity for PPP's

With the recent launch of the WEDF 2016 to be held in Sri Lanka in October, the EDB has taken a bold step towards creating a true sense of the word of Public, Private Partnership.........


Video Gallery
Hailed as the emerging wonder of Asia and crowned as the pearl of the Indian Ocean, Sri Lanka is at the crossroads of a major shipping route...EDB is entrusted with the momentous responsibility to achieve the country's inspired vision to be a global sourcing destination.
View All Videos
Exporters Directory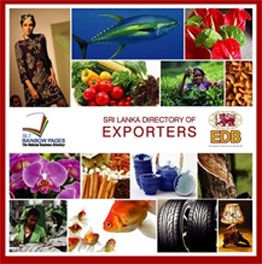 Read more
Featured Products from eMARKETPLACE