News & Events
Sri Lanka's '15 Kunming take surpasses $2M

Sri Lankan biz, facilitated by EDB strongly raged at the recent Kunming international fair in China notching initial an income surpassing $2 Mn........

Losing body weight with a cup of of Ceylon green tea

Although numerous health benefits of green tea has been a well-known secret among global tea enthusiasts, green tea's ability to burn........

Fair-Trade Organic Ceylon Tea : a change for the better

Although most of Ceylon tea products, in the global market, originate from large scale tea plantations, a growing number of tea small holders.......

Emerging Markets of Ceylon Tea.

With some of the world's traditional tea markets under the spell of Ceylon Tea, time has come for Ceylon Tea manufacturers to explore new markets and ......

Canada, EDB partners to assist SME exporters

The Trade Facilitation Office Canada (TFO Canada) and Sri Lanka's Export Development Board (EDB) have formed a partnership,......

EDB diversifying King of Spices to far-eastern markets

As Sri Lanka's King of Spices continued at a steady second rank among all spice exports for a third year in a row......
Video Gallery
Hailed as the emerging wonder of Asia and crowned as the pearl of the Indian Ocean, Sri Lanka is at the crossroads of a major shipping route...EDB is entrusted with the momentous responsibility to achieve the country's inspired vision to be a global sourcing destination.
View All Videos
Exporters Directory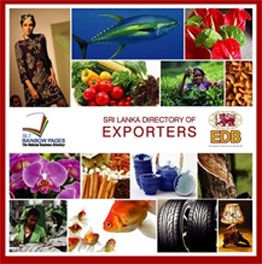 Read more
Featured Products from eMARKETPLACE