News & Events
Expo Milano 2015: Global Endorsement for Sri Lanka

In the back drop of the 1.3 million dollar deal wrapped by Sri Lanka Tourism in the launch month of Expo 2015, Sri Lanka Export Development Board took the high ground in month two to announce a global endorsement to Sri Lanka backed by two power bases in global trade......

Switzerland assures support

I am very much impressed by the democratic process of Sri Lanka displayed after January 8. It's a unique event and a very good start and passing of the 19th Amendment, shows the spirit of reform is very much alive in Sri Lanka. We, the Swiss, would like to support this Lankan reform spirit," said Swiss Ambassador to Sri Lanka Heinz Walker-Nederkoorn on May 13, in Colombo........

Indian Trade Fair 2015 opens at SLECC

The ninth Indian Trade Fair was opened on Thursday (07) at the Sri Lanka Exhibition and Convention Centre, under the patronage of the Acting High Commissioner for India in Sri Lanka Arindam Bagchi and Deputy Minister of Industry and Commerce Champika Premadasa.......

SL export earnings increase

Earnings from exports increased by 5.8 per cent, year-on-year, to US dollars 891 million in February 2015, led by industrial products, particularly textiles and garments......

EDB clinches global foundry giant's nod to boost Lankan industry nucleus

Sri Lanka's metal manufacturing and exports have clinched a sudden breakthrough, thanks to a global foundry giant whose historic roots extend back to 1930s Birmingham.....
Video Gallery
Hailed as the emerging wonder of Asia and crowned as the pearl of the Indian Ocean, Sri Lanka is at the crossroads of a major shipping route...EDB is entrusted with the momentous responsibility to achieve the country's inspired vision to be a global sourcing destination.
View All Videos
Exporters Directory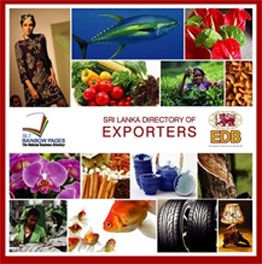 Read more
Featured Products from eMARKETPLACE