News & Events
EDB, Rishad join forces for Lanka exports' next big hit

A top Cabinet Minister and Sri Lanka's apex exports facilitator EDB joined forces on 05 February to create Sri Lanka exports' next big win-and the bulk of Lankan footwear and leather exports are footwear, rather than leather........

International footwear and leather exhibition from Feb 5-7

Local footwear and leather manufacturers need to be linked to global markets. This series of exhibitions is the best platform for the Lankan F&L sector to enter competitive global markets.......

Sri Lanka's Rebirth

Sri Lanka has been deservedly praised for the progress it has made since the end of the war against the separatist Tamil Tigers in 2009. The economy has grown at an average annual rate of 6.7%, and education and health statistics are impressive.......

No foreign items in Colombo's int'l Footwear & Leather show

In a new step to enhance the global reputation of Lankan Footwear & Leather (F&L) sector, Sri Lanka's apex export facilitator EDB locked the presence of any imported F&L items at the forthcoming international Footwear and Leather (F&L) show to be held in Colombo in February......

Ceylon Tea exporters in for better times

Sri Lankan tea exporters received much needed encouragement and Ministerial level assurance to resolve their travails –and with the involvement of a broad range of stakeholders in future......
Video Gallery
Hailed as the emerging wonder of Asia and crowned as the pearl of the Indian Ocean, Sri Lanka is at the crossroads of a major shipping route...EDB is entrusted with the momentous responsibility to achieve the country's inspired vision to be a global sourcing destination.
View All Videos
Exporters Directory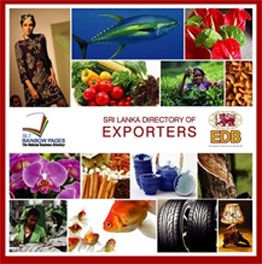 Read more
Featured Products from eMARKETPLACE