News & Events
EDB clinches global foundry giant's nod to boost Lankan industry nucleus

Sri Lanka's metal manufacturing and exports have clinched a sudden breakthrough, thanks to a global foundry giant whose historic roots extend back to 1930s Birmingham.....

Chairmen unite to power brand Sri Lanka on a ROI model

For the first time in the recent history of Sri Lanka top four Chairman of the public sector driving brand Sri Lanka in the global arena met in unison to power the country at World Expo 2015.....

Sri Lanka: A Great Sourcing Hub for High quality rubber & value-added rubber products

The Rubber industry in Sri Lanka, one of the enduring colonial legacies that provides sustained socio-economic benefits to the country began in 1876 with the planting of 1919 rubber seedlings in Henarathgoda in Gampaha District...

Sri Lanka to participate in Expo Milano 2015 in Italy

Sri Lanka government will participate in the universal exposition "World Expo 2015". "Expo Milano 2015" World Trade Fair that will be held from 1st May to 31 October 2015, at World Avenue and Biodiversity Park in Milan, Italy with the objective of promoting Trade and Tourism...

Sri Lanka launches third ICT survey with PwC

As ICT exports are projected to top $1Bn this year, Sri Lanka has launched the latest ICT Value Survey to find the national hi-tech exports it achieved in 2013/14-and all the ICT exporters are encouraged to actively take part in it....
Video Gallery
Hailed as the emerging wonder of Asia and crowned as the pearl of the Indian Ocean, Sri Lanka is at the crossroads of a major shipping route...EDB is entrusted with the momentous responsibility to achieve the country's inspired vision to be a global sourcing destination.
View All Videos
Exporters Directory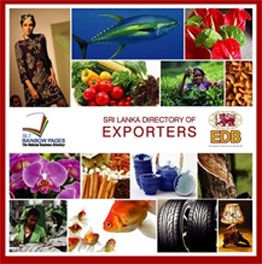 Read more
Featured Products from eMARKETPLACE