News & Events
Sri Lanka: A Great Sourcing Hub for High quality rubber & value-added rubber products

The Rubber industry in Sri Lanka, one of the enduring colonial legacies that provides sustained socio-economic benefits to the country began in 1876 with the planting of 1919 rubber seedlings in Henarathgoda in Gampaha District...

Sri Lanka to participate in Expo Milano 2015 in Italy

Sri Lanka government will participate in the universal exposition "World Expo 2015". "Expo Milano 2015" World Trade Fair that will be held from 1st May to 31 October 2015, at World Avenue and Biodiversity Park in Milan, Italy with the objective of promoting Trade and Tourism...

Sri Lanka launches third ICT survey with PwC

As ICT exports are projected to top $1Bn this year, Sri Lanka has launched the latest ICT Value Survey to find the national hi-tech exports it achieved in 2013/14-and all the ICT exporters are encouraged to actively take part in it....

CEMS-Global's 3 intl. expos for textile and garment sector kick off

CEMS-Global USA's three comprehensive international exhibitions focused on the entire textile and garment sector of Sri Lanka – '6th Textech Sri Lanka 2015 International Expo,' an international exhibition on textile garment technology and machinery,' along with concurrent exhibitions '20th Dye+Chem Sri Lanka 2015 Int'l Expo,' an int'l exhibition on dyes and fine and specialty chemicals, and '6th Colombo Int'l Yarn & Fabric Show 2015' kicked off yesterday at the Sri Lanka Exhibition & Convention Centre (SLECC), Colombo. The exhibitions will run through 14 March.....

Sri Lanka's gem industry calls for increasing export earnings through value addition: EDB

Sri Lanka's coloured stone industry which is the fourth largest export earner in the island should export more value addition gems to contribute better to the country's' export earnings , a senior official at Export Development Board (EDB) said....

Sri Lanka Targets US $8.5 Billion in Apparel Exports Earnings by 2020

Sri Lanka's apparel industry is well on its path to meet the apparel export target of US $8.5 billion by 2020. Apparel exports which bring the largest export income to the country have recorded an increase of 9.26% YoY by earning.....
Video Gallery
Hailed as the emerging wonder of Asia and crowned as the pearl of the Indian Ocean, Sri Lanka is at the crossroads of a major shipping route...EDB is entrusted with the momentous responsibility to achieve the country's inspired vision to be a global sourcing destination.
View All Videos
Exporters Directory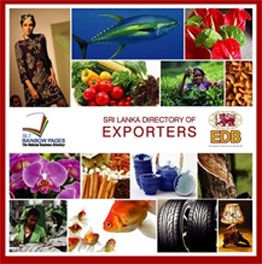 Read more
Featured Products from eMARKETPLACE