News & Events
JITF 2015 – set to enhance the northern economy

The Jaffna International Trade Fair (JITF), the most comprehensive and 'looked forward to' exhibition in the North will be held for the sixth consecutive year in the heart of Jaffna from the 23rd- 25th of January 2015.

A heritage of excellence: the wonderful history of Ceylon Tea

Sri Lankan tea (known for generations as Ceylon Tea) carries behind it a heritage and success story like no other. The story of Ceylon tea begins over two hundred years ago, when the country was still a British colony. In 1824 a tea plant was brought to Ceylon by the British from China and was planted in...

Apparel exports top US$ 4.3 b upto Nov 2014

The value of Sri Lanka's total apparel exports for the first 11 months last year reached US$ 4302.4 million, registering 11% per cent growth. In 2013, Apparel exports had generated US$ 3876 million during the period January to November..

Lanka FTA will be very big news back home trade show

As bilateral trade topped $ 3Bn, Sri Lanka's exports sector is readying one of the strongest ever delegations to this year's Kunming international expo while Lanka's second largest global supplier voiced that it is increasingly upbeat on the prospective FTA between both countries-and the $ 190 Bn Yunnan province is keen for a Corporate Agreement with Lanka's apex export entity, a first, as revealed on 13 January.

Lanka to participate in Japan's largest jewellery trade show

Sri Lanka will participate in Japan's largest international jewellery trade show this month. This event is known as " IJT international jewellery trade show."

26 Reputed Sri Lankan Exporting Companies to Participate in Gulfood 2015

The Sri Lanka Export Development Board in collaboration with the Sri Lanka Consulate General in Dubai will organize a Sri Lanka Country Pavilion at the GULFOOD 2015...
Video Gallery
Hailed as the emerging wonder of Asia and crowned as the pearl of the Indian Ocean, Sri Lanka is at the crossroads of a major shipping route...EDB is entrusted with the momentous responsibility to achieve the country's inspired vision to be a global sourcing destination.
View All Videos
Exporters Directory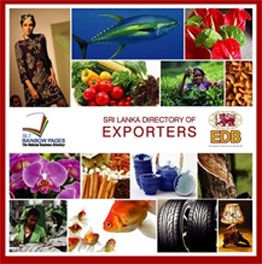 Read more
Featured Products from eMARKETPLACE