Ayurvedic & Herbal Products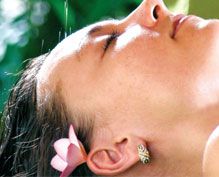 Ayurveda is the hugely popular art of healthy living, which has transcended all cultures. It is formed from the root words of Ayu (life) and Veda (science); being one of the oldest forms of medical science, today it has gained wide popularity amongst consumers worldwide.
Ayurvedic commodities exported by Sri Lanka include spices revered by tradition for giving therapeutic value to meals.
Essential oils are used for a multitude of purposes including bath preparations, hair care, massage, skin care, aromatherapy and in small amounts for cooking.
Plant-based traditional medicine accounts for the primary healthcare needs of over 50 percent of the world population.
Sri Lanka exports several varieties of medicinal plants for the world's benefit. Community or out-grower systems of cultivation are in place to harness these products for export.
The EDB has implemented a scheme to support companies who have developed small farmer units to increase production under the Integrated Agriculture Supports Scheme for Exports. These companies are given the opportunity of obtaining first-hand information on new developments in products and services as well as in technologies used in international markets.
Several regulations govern supply and value chain to ensure quality and safe availability of these products for consumption.
Export channel is relatively long except in the few cases where exporters themselves have their own plantations or out grower systems.
When it comes to the medicinal plants, trading companies regularly visit producing areas; but they find it cost-effective to deal with the intermediaries purchasing through Colombo Auction. Exporters are encouraged to have controlled outsourced supply system (community or out-grower) rather than obtaining from the wild collection. Some of the end-product manufacturers, who need large quantities of raw materials, purchase directly from the producers.
Supply
For exports, medicinal plants should be sourced either from their own cultivation or controlled out-grower/community grower systems.
Prevention
The Department of Forest and the Department of Ayruveda has imposed regulations to prevent export of wild collections and over-exploiting medicinal plants in nature.
Approval
Herbal finished products should be approved by the Drug Formulator Committee, appointed under the Department of Ayurveda to market them as healthcare products in the local market and for exports.
In order to obtain the license, Quality/Introduction certification from Industrial technology Institute (ITI) should be presented to the Pharmaceutical & cosmetic products section of the Health Department.
For exports, the sourcing of medicinal plants is required to be either from own cultivation or controlled out-grower/community grower systems. The Department of Forest and Department of Ayurveda prevent the wild collection and exploitation of nature. All finished products are approved by the Drug Formulatory Committee before entering local and export markets.
Manufacturers of herbal cosmetics are licensed by the Cosmetics, Devices and Drugs Authority and regulated by the Act No.27 of 1980 of Cosmetic, Devices and Drugs Act.
HS Code for the Products
| HS Code | Products range |
| --- | --- |
| 0714 | Cassava root and other roots and tubers |
| 0910 | Ginger, Saffron, thyme, bay leaves, Turmeric and Other Spices |
| 1211 | Plants and Parts of plants, of a kind used |