Ceramic & Porcelain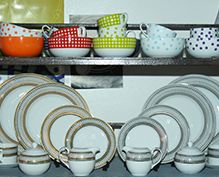 Unique, distinctive and elegant; going well above and beyond other Asian competitors, Sri Lankan ceramic products can now be found in top department stores including Macy's, Crate & Barrel and Pottery Barn in the USA, El Corte Ingles in Spain, Debenhams and House of Frazer in UK.
High quality products and design confidentiality are guaranteed through the inherent benefits of a highly skilled workforce, excellent factory level management, state-of-the-art technology, research and development facilities, high ethical standards and an abundant supply of raw materials for the industry.
The island is endowed with excellent raw materials such as high quality quartz, feldspar, dolomite and China clay. Purity and quality of these raw materials contribute immensely to the high standard of the product.
Sri Lankan porcelain upholds comparatively superior characteristics including a high level of whiteness, high translucency, high scratch resistance and high thermal shock.
Sri Lanka exports a wide product range of porcelain tableware, glazed wall and floor tiles, and ornamental & utility ware including figurines, decorations, kitchen utensils, bathroom accessories and studio pottery.
The availability of a vast range of body shapes and intricate decoration techniques give Sri Lanka a competitive edge in delivering high quality elegant, contemporary and traditional ceramic and porcelain designs to the world.
Sri Lanka attracted Noritake - a well known Japanese brand - to invest in the industry in 1972. Now, the country proudly exports its own brands of excellence: Dankotuwa, Elan, Royal Fernwood, in addition to products marked with Noritake's renowned stamp.
Sri Lanka also manufactures products for reputed international licensors including Walt Disney, Universal Studios, Lucas Arts, Warner Bros and Walmart to name a few.