Fruits & Vegetables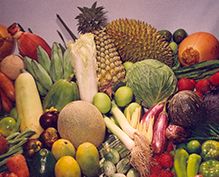 Agriculture is synonymous with Sri Lanka due to the country's fertility and autonomous clusters of farmers; around eighty different varieties of fruit and vegetable are grown in Sri Lanka's varied agro-climatic areas.
Cool climatic conditions in the country's central hill country are ideal for temperate crops such as carrot, leek, cabbage, cauliflower, salad leaves, beet, bean, bell pepper and salad cucumber.
Low country and dry or wet areas are suitable for a variety of exotic tropical fruits and vegetables ranging from gherkins, green chilli, red onion, pumpkin, bitter gourd, melon, sweet and sour banana types, queen pineapple, papaya, mango, and lemon.
Certain endogenous yams (Lecranthus and Xanthasoma sagittifolium), underwater stems (Lasia spinosa and Nymphea lotus) and fruits and pods of perennial crops such as bread fruit, young jackfruit and murunga are tasty exports. Tropical produce such as pineapple, mangosteen, ripe jack, avocado, rambutan, star fruit, passion fruit and anoda are acclaimed for their unique flavour, aroma, and colour.
Fruit and vegetable are mainly grown by semi- commercialised small farmers whose individual extent of land does not exceed a hectare. Private sector involvement in commercial cultivation too has been encouraged by the Sri Lankan Government with support from 'contract growing' farmers, and steps have already been taken by the leading entities to enhance cultivation.
Sri Lanka produces more than 900,000 metric tons of fruit and vegetables annually and exports both fresh and processed varieties to many destinations in the world.65 of the fresh product is targeted to the Middle East and the Maldives Island and almost about 98 per cent of the processed products to the European market. United Arab Emirates, Saudi Arabia, Maldives, India, UK, Kuwait, India, Germany, Qatar, Pakistan have been enlisted as top fruit and vegetable importing countries from Sri Lanka.
Exporters ensure that quality of the fruits and vegetables of Sri Lanka exceed all expectations. Improved techniques on crop cultivation especially under poly tunnels, optimum input applications, pest and disease control, post-harvest management, quality packaging, and improved transportation methods are practiced.
Supply Base
Small farm & home garden
Cluster organizations/Commercial farms
Agro zone Projects and Integrated Agriculture Projects
Village/Central Collecting Centres
Provincial wholesale markets