Food and Beverages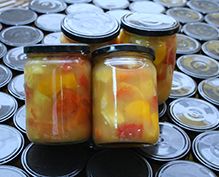 Many decades ago, Sri Lankan exports focused solely on agricultural products in primary form. Subsequently, with global trends moving towards health-conscious consumers, exports currently include processed food and other value added products including organic, environmental friendly, sugar free and low salted products. Operating in a sustainable manner for millennia, agriculture plays a vital role in Sri Lanka's economic development and in supporting and development of biodiversity and the natural landscape.
Sri Lanka's agricultural practices, agro industries and manufacturing companies have expanded their product range to meet these demands and products meet global quality standards in processing, packaging and green manufacturing. Success is in numbers; there has been a significant growth in export values over the last 10 years.
Sri Lankan Food Manufacturers & Suppliers offer processed fruits, vegetables and juices, confectionery and bakery products, processed food, rice and cereals, animal feed, and residues of the milling industry while Sri Lankan Beverage Manufacturers & Suppliers (besides tea) export mineral water, bottled drinking water and alcoholic beverages.
With fertile Northern and Eastern land areas opening up for agricultural and economical development, and the use of improved raw materials and new process technologies, Sri Lankan agricultural growth augurs well for the future.