Coconut Fibre Products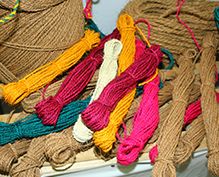 The fibre extracted from the "Mesocarp" the outer layer of the coconut, Coir Fibre, enjoys the unique properties of being the longest natural fibre as well as the strongest in terms of twist resistance. The Sri Lankan coconut coir and coir based product manufacturers has been a widespread group in cottage industry in Sri Lanka for centuries. The unique technique known as 'drum system' is used to extract fibre, producing long pure fibre, mostly suitable for the brush industry. It falls into two main categories; brown and white fibre, which contributes to 80% and 20% respectively of the world coir fibre demand. There's a range of products made of coconut fibre and its by-products that is available in Sri Lanka.
Coir Twine
The product is made out of bristle fibre (long fibre) or bristle fibre mixed with omatt fibre (short fibre), according to buyer specifications. Sri Lankan Coir twine manufacturers & suppliers export Coir twine highly used in agriculture, horticulture and aquaculture industries.
Major Markets
USA
Korea
China
Japan
Netherlands
Doormats (Handmade/Machine made)
Using various types of coloured fibre and yarn with available production facilities, different types of Door Mats are produced to suit customer needs by Sri Lankan doormat manufacturers & suppliers. The new doormats produced using wired – coir eliminates most of the inherent disadvantages of traditional brush mats. These products are more suitable for the winter season.
Germany
Australia
Netherland
UK
France
Geotextiles
This is a blanket made out of coir fibre, widely used to prevent soil erosion on roads, railway sides, river banks, leisure grounds and in industrial areas. The product replaces synthetic materials such as Polypropylene, Polyester and Nylon etc... reducing environmental concerns. Sri Lankan Geotextile manufacturers and suppliers contribute in a great way to protect the environment through producing Geotextile.
Major Market
South Korea
US
Netherland
Germany
Spain