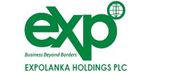 EXPOLANKA PVT LTD
Expolanka (Pvt.) Limited, established in 1978, is the leading exporter of fresh coconuts, desiccated coconut, fresh fruits and vegetables from Sri Lanka. Expanding their product portfolio the company has ventured into the manufacturing of Value added products such as Dried Fruits, Fruit Juices, and Fruit Chunks in Juice, Fruit Bars, Nut Bars and Ethnic dry Foods.
Products / Services Range
Fresh Vegetables & Fruits, Fresh Coconut , Desiccated Coconut, Dried Fruits, Chunks in Juice, Fruit Juice, Food Stuff Range, Fruit Bar, Nut Bar, Smoothies.
Contacts
Imdodh Marikar (General Manager)