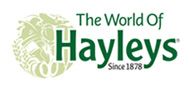 HAYLEYS AGRO BIOTECH PVT LTD
Hayleys Agro Biotech Pvt Ltd. specializes in the mass production of horticultural and timber planlets that are true to type and identical with the parent plant material, through macro propagation. We offer truly cost competitive contract propagation for all plant divisions to our clientale consisting our nursery owners, breeders and commercial cultivators from around the world. Our preservering staff has been highly successful in applying many bio technical applications within our world class facilities where the latest technology and the most upto-date equipment are to be found. We have our own unique culture media to ensure successful and rapid production of our plant materials. Hayleys Agro Biotech Pvt Ltd. propogates 100% disease free, planting materials within a short period of time and under sterile conditions. Our plant tissue culture laboratory uses state of the art technology within and innovative and scientific enviornment towards producing high quality tissue culture plantlets endowed with clear competitive advantages. The company is ISO 9001:2000 certified, AQIS Accredited and GAP certified. Production capacity is around 10 million plantlets per annum with an expansion potential of upto 12 million plantlets. We are professional contract propogators who offer you cost competitive solutions.
Products / Services Range
Tissue culture plantlets Foliage Splits, Plug & Linners.
Contacts
Merril Fernando (Management Executive)