Plastic Products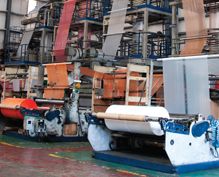 Plastic processing is a flourishing, industry in Sri Lanka for over 45 years. Currently Sri Lanka has over 400 companies engaged in plastic processing .A total sum of Rs.15 Bn has been invested in plastics processing in Sri Lanka .Almost 50% of this has come through Foreign Direct Investments. Out of this 66 % of total investment is exclusively for processing of plastic products for the export market.
The capacity of local plastic processing industry at present is nearly 140,000 MT per annum with an annual average growth rate of around 10%. – 12% .
Generally Plastic exports could be divided into two forms, i.e primary forms of plastic exports and finished products of exports. Total export value recorded in 2011 was US$ 55Mn .USA is the dominant buyer of plastic products of Sri Lanka over the last number of years. Nearly 40 % of the total exports go to the USA market Products such as sacks and bags, articles of apparel clothing accessories and cellulose are manufactured through plastic processing and exported directly and indirectly.
Pipe and profile extrusions, cast film extrusion, injection molding and EPS molding are some plastic processing technologies used by companies in the local industry in their craft. Today, the industry produces nearly 120,000MT per annum.
Some of the major export markets for Sri Lanka include the United States, United Kingdom, Japan, Bangladesh and India.
The country is still at a preliminary production stage, and it is only beginning to seek out new opportunities and explore new markets.
Plastic Processing Technologies available in Sri Lanka:
Pipe and Profile extrusion
Cast Film Extrusion
Blown Film Extrusion
Injection Molding
Extrusion blow molding
Rotational Molding
EPS Molding
Other Sub – Process used in Sri Lanka
Laminating
Printing
Weaving
Thermoforming
Major allied Industries are as follows:
Water Supply and sanitation
Telecommunication
Construction
Packaging
Automobile
Medical
Electronics & Consumer durables.