Why Sri Lankan Apparel?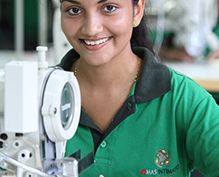 Sri Lanka is well geared to meet global market demand for fast, high quality ethical fashion products.
Three decades of experience.
Environmental friendly factories – world's first LEED certified Platinum rated production facility.
Ethical practices–known to the world as a producer of "Garments without Guilt" under the principles of Ethical working conditions, free of child labour, free of forced labour, free of discrimination on any grounds, free of sweatshop practices.
International reputation as a reliable and a quality manufacturer with a highly competent, skilled and literate workforce.
Large number of companies that are regional players and have the capacity to provide competitive regional advantage by harnessing regional strengths in the supply chain.
Focus to improve speed on delivery using strategic location advantage, coupled with the conducive business friendly environment within the country.
Innovation focused factories which offers superior product development and design resources.
Investment friendly government policies and strategic shipping advantage.
Sri Lankan Apparel Products