Seafood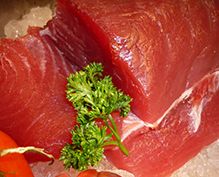 Seafood product sector plays an important role in Sri Lanka's Social and economic life. The Sector contributes about 2.7% to country's GDP. End of the civil unrest detained three decades in the country, fisheries sector has a significant scope to increase the level of contribution through exploiting high seas for tuna fishing & value addition.
Sri Lanka has emerged as a quality tuna exporter -predominantly yellow fin and big eye species to international markets. These include sashimi quality tuna, tuna loins, fresh tuna steaks, tuna topping and tuna saku blocks, to name a few.
Other varieties of Sri Lankan seafood relished by the world are the ingredients to culinary seafood heaven; lobsters, crabs, squid, cuttle fish, shark fin, beche de-mer and fish maws are famous in the international seafood market due to their quality taste and texture.
Value added shrimps such as nobashi, and butterfly cut are popular in the Japanese market, while head-on, headless, shell on, peeled and cooked shrimps are popular in the USA, Japan, and Asian markets such as Singapore. These highly sought-after products are all exported from Sri Lanka in significant quantities.
The seafood sector has shown a growth rate of 5% within the last 5 years with key buyers from UK, France, Italy, Japan, Netherlands and the USA.
With the opening up of the Northern and Eastern areas of the island nation, 65% of oceanic area is now free for fishing.
A fishing fleet of 1700 boats operate around the island's waters and supply approximately to 75 medium and large scale export companies, 32 of which utilize the EU-approved processing plants. The sector has generated close to 2.4 million direct and indirect jobs.
Under the government's Fisheries Sector development strategy, a modern and technically improved Vessel Monitoring System (VMS) is being established; this will be able to prevent national fishing vessels from drifting to other countries' territorial waters. Cold chain facilities as well as impressive harbour and road and highway infrastructure ensure a quick and safe supply chain. E-business has been deployed, taking the industry to the next level in reducing waste and time consumption and increasing cost-effectiveness.
When it comes to product developments, processing and packaging techniques, Sri Lanka's traditional skills in manpower and advanced technology ensure the makings of a perfect, high quality and most importantly fresh seafood export range that is well packed and ready to ship.
United Kingdom is the main market for Sri Lankan tuna followed by France, Italy, Netherlands, Germany etc. In recent years Sri Lanka has been steadily increasing its share in the international market. Annual exports of tuna increased from US$ Mn. 50 in 2000 to US$ Mn. 195.31 in 2011.