NES Strategic Vision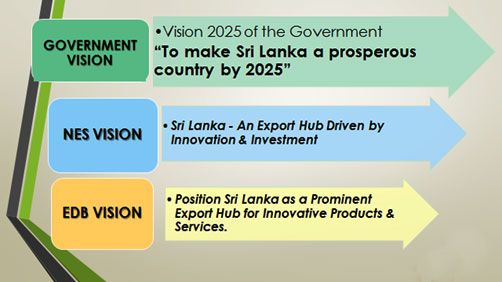 "Sri Lanka – An Export Hub driven by Innovation and Investment"
Strategic objectives :
To have a business-enabling, predictable and transparent policy and regulatory framework that supports exports.
To drive export diversification through innovation and the strengthening of emerging export sectors.
To strengthen Sri Lankan exporters' market-entry and compliance capacities.
To become an efficient trade and logistics hub to facilitate exports.
Focus Sectors :
Information Technology & Business Process Management (IT/BPM)
Wellness Tourism
Spices & Concentrates
Boating Industry
Processed Food & Beverages
Electrical and Electronic Components
Processed Food & Beverages
Trade Support Functions
Trade Information and Promotion
National Quality Infrastructure
Innovation and R&D (This strategy was done by World Bank with Ministry of Development Strategies & International Trade (MoDSIT)
Logistics
Consultations
01st Consultation - 06th & 07th April 2017
02nd Consultative meetings - 12th to 20th July 2017

To define roadmaps for expanding exports and analyse performance of value chains for the NES focus sectors, market orientations, challenges and opportunities.

Sector Consultations- 08th August - 12th September 2017
Regional Consultations in Kandy, Jaffna and Galle - 18th – 22nd September 2017
Budget Proposals submitted to the National Budget 2018 – Sep/Oct 2017
View NES Focus Sectors