Eurose and Greens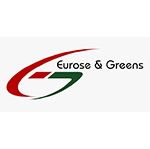 Eurose and Greens is selling a wide range of decorative greenery since 1998 in the flower auction in Aalsmeer. It also imports and exports from and around the world. As a member of the WBE group it uses suppliers with whom a good and long relationship with them has been built. The company achieves a high turnover rate through careful stock management and daily deliveries. Their products are always fresh and of the highest quality.
Company Size and Presence
Westland Bloemen Export (WBE) has been a specialist in trading ornamental foliage for over 30 years now. WBE was founded in 1977 and throughout the years has grown into a company with over 60 employees.
Company Contact Details
Eurose and Greens BV
Postbus 1450
1430 BL Aalsmeer
Visiting address:
Eurose and Greens BV
Legmeerdijk 313, lokatie 004-09
1431 BL Aalsmeer
Dock 12 = lokatie 004-19
Dock 13 = lokatie 004-20
Dock 14 = lokatie 004-21
On the web shop
It is also possible in the shop to place an order. If you already own a username and password, you can log in directly on the right side of the screen.
Product Range
Decorative greenery
Has the buyer sourced from Sri Lanka before?
Yes
Trade Fairs that the buyer frequently visits
Flower auction in Aalsmeer
Purchasing Arrangements
Production in Africa, Australia, Sri Lanka, South Europe, Europe, North America, Costa Rica. WBE has branches in the following locations: Flora Holland Naaldwijk, Rijnsburg, Venlo and the Aalsmeer Flower Auction
Buying requirements
N/A
Buyer's values
Company has built good and long-term relationships with suppliers. From its foundation, WBE's core principle has been to deliver quality products and services. Ornamental foliage can be offered in various compositions and packings, depending on the customer's individual wishes.
Information Sources
Company Web site: