Pantaloon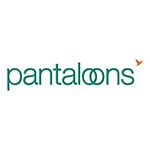 As India's leading retailer, Pantaloon Retail inspires trust through innovative offerings, quality products and affordable prices that help customers achieve a better quality of life every day. They serve customers in 85 cities and 60 rural locations across the country through over 15 million square feet of retail space. Pantaloons, a part of Pantaloon Retail Ltd., is among India's largest chains of fashion stores, with 44 stores across over 24 cities.
Pantaloons Fresh Fashion, with its focus on 'fresh look, feel and attitude' offers, trendy and hip collections that are in sync with the hopes and aspirations of discerning young and 'young-at-heart' consumers. Pantaloons Fresh Fashion stands out as a fashion trendsetter, on the lines of how fashion is followed internationally. This 'fresh fashion' destination allows customers to shop for the latest in fashion apparel and accessories throughout the year in an attractive and visually stimulating ambience. Pantaloons Fresh Fashion stores have presence in 24 cities across India including - Mumbai, Delhi, Noida, Gurgaon, Kolkata, Chennai, Bangalore, Pune, Ahmedabad, Hyderabad, Baroda, Lucknow, Kanpur, Indore, Mangalore, Bhubaneshwar, Siliguri, Guwahati, Rajkot & Zeerakpur. With a focus on today's youth, Pantaloons offers trendy and hip fashion that defines their hopes and aspirations. Our stores reflect our ideology: Fresh Feeling, Fresh Attitude, and Fresh Fashion. We offer fresh collections that are visually stimulating thanks to appealing interiors and attractive product display.
The first Pantaloons opened in Gariahat in 1997. Over the years it has undergone several transitions. When it was first launched, this store mostly sold external brands. Gradually, it started retailing a mix of external brands and its own recently-introduced private brands. Initially positioned as a family store, it finally veered towards becoming a fashion store with an emphasis on 'youth' and clear focus on 'fresh fashion'. Pantaloons stores have a wide variety of categories like casual wear, ethnic wear, formal wear, party wear and sports wear for Men, Women and Kids. The fashion store extends to almost all major cities across the country. Pantaloons has established its presence with stores not just in the metros, but also in smaller towns.
Company Size and Presence
Over 15 million square feet of retail space, they serve customers in 85 cities and 60 rural locations across the country. Around 220 million customers walk into their stores each year. They employ 35,000 people directly from every section of our society.
Company Contact Details
Pantaloon Retail (India) Limited
Knowledge House, Shyam Nagar
Off Jogeshwari-Vikhroli Link Road
Jogeshwari (East), Mumbai 400 060
Phone: +91 22-3084 1300
Fax : +91 22-6644 2222
Product Range
Casual wear
Ethnic wear
Formal wear
Party wear and sports wear for Men, Women and Kids
Buyer's values
At Pantaloon Retail They do not wait for the future to unfold itself but create future scenarios in the consumer space and facilitate consumption because consumption means socio-economic development for our customers, employees, shareholders, associates and partners. Through community-driven development, we aim to foster a symbiotic relationship with Indian entrepreneurs across communities to create increased self-employment opportunities.
Information Sources
Company Web site : www.pantaloonretail.in