2000 Exporters Development Programme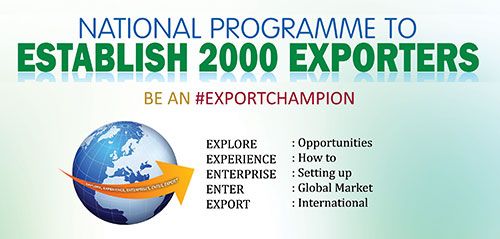 The Economic Statement made by the Hon. Prime Minister in Parliament on 27th October 2016 stated that the export base has remained the same for over 30 years.
In order to sustain a higher rate of growth resulting in higher exports following interventions were highlighted as the foundation.
The need to connect to the global value chains
Encourage domestic enterprises to invest in export industry
Creating newer market for Sri Lankan exports through FTAs
Creating new and productive jobs and livelihood for the young people by creating 1 million jobs by empowering the youth
In the above context, the government envisages to launch a national program in 2017 to establish 2000 exporters during the period 2017 to 2020.
Sri Lanka Export Development Board under the purview of my Ministry has been entrusted to implement this programme.
Accordingly the EDB has initiated following intervention towards implementing this programme.
---
Implementation Methodology
Formulation of a strategy
Preparation of an Action Plan
Setting up of a Steering Committee
Setting up of a Working Group
Selection of Entrepreneurs for development
Implementation
Monitoring & Evaluation
---
Steering Committee
Spearheaded by :

Chairperson & Chief Executive /EDB

Chaired by:
Representatives From:

Ministry of Development Strategies & International Trade
Ministry of Industry & Commerce
Ministry of Primary Industries
Board of Investment of Sri Lanka
The Exporters Association of Sri Lanka
The National Chamber of Exporters of Sri Lanka
Sri Lanka Export Development Board
---
Working Group
a Working Group is being appointed with representatives from following Institutions:
Members - Public Sector
Industrial Development B
National Enterprise Development Authority
Coconut Development Authority
National Aquaculture Development Authority
National Gem and Jewellery Authority
Department of Export Agriculture
Members–Private Sector
Trade Chambers
Product Associations
Regional Chambers
Non-Government Organizations
Relevant EDB Staff
---
Enrolment of Entrepreneurs
Applications to be collected from following sources:
District Chambers

EDB Provincial Offices / DOs
IDB
District Secretariats
Regional Enterprise Forums
Products Associations
Steering Committee / Working Group
Awareness Seminar Participants
EDB Organized Product / Market specific seminars / Workshops
---
Activities to be Carried out
Establishment of a Database
Grouping of Entrepreneurs Sector wise
Conducting One to One Interviews for Need Analysis with representations by Relevant Stockholders )
Sharing of Model Project Reports / Feasibility Studies available with the EDB
Facilitation for setting up infrastructure facilities Lands / Industrial estate etc.
Facilitation for technology transfer / Sourcing of Machinery /Training etc.
Facilitation for Bank Financing ( if Required)
Facilitation for Product Development as identified through the Need Analysis
Facilitation for Market Development as identified through the Need Analysis
Opportunities to Participate at EDB Organized Trade Promotion Events
Opportunities to participate at B2B Meetings and Inward Buying Mission Programmes Organized by EDB / Chambers held locally
Follow up and Monitoring
---
Expected Outcome
New strategy for an incremental growth of exports;
Creation of a new segment of exporters;
Attracting local investment for export industries;
Increase export volumes of innovative & value added products;
2000 non-exporter entrepreneurs to be transformed into exporters over a period of 3 years;
Creating new and productive jobs for the youth in line with the Government's initiative to create 1 million jobs.
Scheme of Registration Exporters under "2000 New Exporters Programme"
2000 New Exporters Establishment Programme Application
2000 New Exporters Programme Application
2000 New Exporters Establishment Programme Application