2000 Exporters Development Programme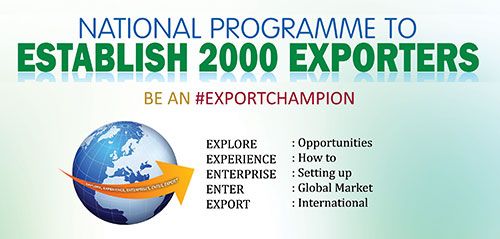 The Economic Statement made by the Hon. Prime Minister in Parliament on 27th October 2016 stated that the export base has remained the same for over 30 years. In order to sustain a higher rate of growth resulting in higher exports following interventions were highlighted as the foundation.
The need to connect to the global value chains
Encourage domestic enterprises to invest in export industry
Creating newer market for Sri Lankan exports through FTAs
Creating new and productive jobs and livelihood for the young people by creating 1 million jobs by empowering the youth
In the above context, the government envisages to launch a national program in 2017 to establish 2000 exporters during the period 2017 to 2020. Sri Lanka Export Development Board under the purview of Ministry of Development Strategies & International Trade has been entrusted to implement this programme. Accordingly the EDB has initiated following intervention towards implementing this programme.
Implementation Methodology
Identifying entrepreneurs

Awareness Seminars
EDB Regional Offices/Chambers/Development Officers
IDB
District Secretariats
Regional Enterprise Forums
Products Associations
Steering Committee / Working Group
Awareness Seminar Participants
EDB Organized Product / Market specific seminars / Workshops
1.1 Conducting Need Analysis
Gathering information of Entrepreneurs through need analysis forms
Categorization of entrepreneurs (A – Export Ready, B – Potential, C – Micro & Small).
Identifying needs, requirement & capabilities of identified companies
1.2 Maintaining Database for Export Ready & Potential Entrepreneurs
1.3 Categorization of entrepreneurs according to the most potential sectors for
development
Training/Technical Adaptation
2.1 Capacity Building Programme
Preparing Export Oriented Business Plans
Export Procedure & Market Opportunities
Packaging & Labelling
Awareness on Standards in Food Value Chain, Quality Assurance & Food Safety System.
Entrepreneurship Development
Awareness on Benefits available for regional exporters under the GSP+ scheme
2.2 Product Development Programme
Design development
New product development
Value addition
Product quality certification
Exposure Visits – Local & International
3.1 Market Development Programmme
Market exposure programmes (local/ international trade fairs)
B2B meetings – Inward Missions
E – Marketing
Branding
Link with direct exporters
Facilitate through "Market Access Support Programme"
Resources (implementing with EDB budget) and other Stakeholders
4.1 Stakeholders
NEDA / SLSI / SGS / UNIDO
IDB / ITC / "Vidatha" / Ministry of Women Affairs
Expected Outcome
New strategy for an incremental growth of exports;
Creation of a new segment of exporters;
Attracting local investment for export industries;
Increase export volumes of innovative & value added products;
2000 non-exporter entrepreneurs to be transformed into exporters over a period of 3 years;
Creating new and productive jobs for the youth in line with the Government's initiative to create 1 million jobs.
Scheme of Registration Exporters under "2000 New Exporters Programme"
2000 New Exporters Establishment Programme Process
2000 New Exporters Programme Application
2000 New Exporters Establishment Programme Application