Visit Sri Lanka Country Pavilions at Gulfood 2023
20 February 2023 - 24 February 2023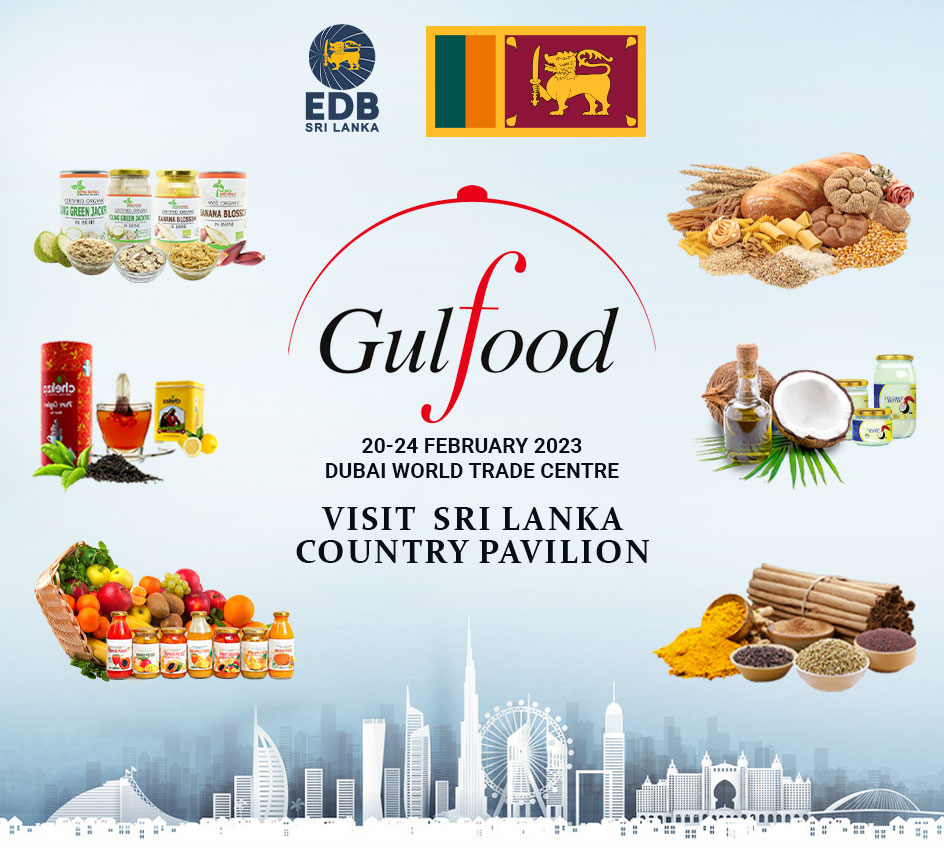 The EDB will be organizing Sri Lanka's participation at GULFOOD 2023 Exhibition scheduled to be held from 20th - 24th February 2023 at the World Trade Centre, Dubai, UAE. GULFOOD is one of the largest Food & Beverage Exhibitions in the world which connects around 5,000 exhibitors and more than 100,000 visitors from over 200 countries.
The objective of Sri Lanka's participation at GULFOOD 2023 is to showcase and promote Sri Lankan Food & Beverage products mainly to the Middle East, Africa, and South Asia (MEASA) region.
FOR WHOM
Applications are invited from the Food & Beverage processors/exporters of the following product categories, adhering to international food standards and having capacity to cater to the international market.
Processed & fresh fruits & vegetables (Frozen, dehydrated & preserved fruits & vegetables, fruit juices, canned & bottled products)
Coconut based food products (Desiccated coconut, coconut milk, cream & powder, coconut/king coconut water, flavoured coconut chips etc.)
Spices & spice mixtures, spice seasonings, spices in gift packs, food ingredients, instant spice preparations etc.
Confectionery & bakery products, specialty & convenient food products, cereal & cereal based products, food for health
Certified Organic food products and food supplements
We warmly welcome you to Sri Lanka pavilion.