Australian High Commissioner calls for gender equality, empowerment in Sri Lanka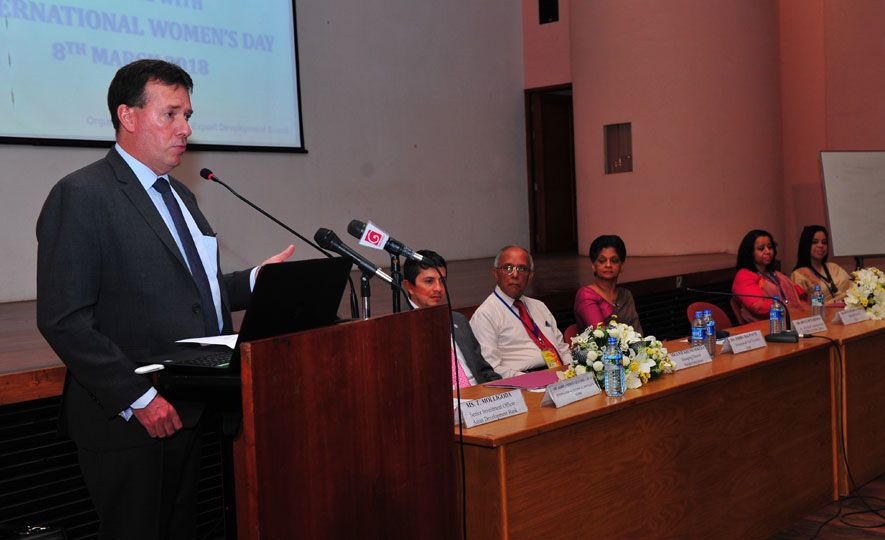 2018-03-09/ http://www.ft.lk/special-report/Australian-HC-calls-for-gender-equality--empowerment-in-SL/22-650848
Says SL ranks amongst lowest female workforce participation with 35%
Only 17% women entrepreneurs in SL have access to finance
Highlights disproportionate burden of family care, lack of female role models in biz, sexual harassment and abuse, limited financial inclusion, low technology know-how as major barriers for women empowerment in SL
Underscores a number of initiatives Australian Government supports to uplift women in biz in SL
EDB Chief expresses confidence of posting Rs.17.5 b export revenue this year
As Sri Lanka posts one of the lowest female workforce participation rates of any comparable country, Australian High Commissioner to Sri Lanka Bryce Hutchesson yesterday called on all stakeholders to promote gender equality and empowerment to unleash the potential of women in business
"Sri Lanka's female workforce participation rate stands at 35%, one of the lowest rates of any comparable country. Only 17% of women MSMEs have access to finance and loans. This has to change. The disengaged women in the society is an untapped resource for the Sri Lankan economy," he said, delivering the keynote address at Export Marketplace Program organised by the Export Development Board (EDB) in view of International Women's Day in Colombo yesterday.
Insisting on the importance of higher female workforce participation, he said there was empirical evidence to show that companies which had more women on their boards and women contributing to the decision making were more profitable.
"Why would companies not want to see more women decision makers? More women participation in the workforce? More freelance entrepreneurs who help drive the economy?" he asked.
He pointed out that Sri Lanka fell well below some of the neighbouring countries such as Thailand and Malaysia which had significantly high female workforce participation rates.
Acknowledging that Sri Lankan women were highly entrepreneurial, with women in business representing a quarter of the total MSMEs in the country, he stressed that these women entrepreneurs also faced a range of challenges which made it more difficult for them to get their businesses up and running and to grow their businesses.
A disproportionate burden of family care/responsibilities, lack of female role models in business, sexual harassment and abuse, limited financial inclusion and low technology know-how and digital barriers were outlined as some of the major challenges.
Thereby Hutchesson said in Sri Lanka the Australian Government had embarked on a number of initiativesin collaboration with Government of Sri Lanka, businesses, civil societies and international development to partners to help to break down some of these major gender empowerment and equality barriers.
"We are also looking to strengthen export competitiveness, innovation and entrepreneurship to unlock the potential of Sri Lanka's private sector including for women by women," the High Commissioner emphasised.
Outlining one of the flagship programs, Women in Work (WIW)where the Australian Government has partnered with International Finance Cooperation (IFC), part of the World Bank group, he said the principal purpose was to encourage more and better jobs for women in Sri Lanka.
"Through the WIW program, we want to see more women in the workface and in boardrooms, at top decision-making levels, as researchers and entrepreneurs in all sectors of society," he pointed out.
He stated that a key part of the WIW program was to assist financial institutions to develop innovative products that make financial literacy rates among women increase and develop financial consumer protection for women who own businesses.
In addition, under the 'Market Development Facility' program they intendto provide funding support for SMEs around the country to reach markets, to connect with supply chains, value addition chains and ideally to exploit export opportunities.
In terms of capacity building, he said the Monash University in Australia had partnered with the Sri Lanka Institute of Development Administration (SLIDA) to develop a course to assist women entrepreneurs grow their businesses.
EDB Chairperson Indira Malwatte underscored the importance of the Export Marketplace Program, which connects export-ready entrepreneurs and different service providers.
She said the initiative was animportant tool to strengthen the export capabilities of small- and medium-scale women entrepreneurs with the objective of maximising their contribution to the global supply chain.
"This marketplace mechanism supports for strengthening the market access capabilities of new and existing exporters and is aiming to validate the relevance of climate smart practices and technologies for firms to reinforce their resilience and value proposition to more sophisticated buyer markets," she said.
Being the first female Chairperson of the EDB, Malwatte stressed there was no reason why women in business should be recognised throughout the year.
She expressed confidence of achieving Rs.17.5 billion export revenue target this year.
With a view to encouraging women entrepreneurship, Malwatte said the EDB had launched several programs to encourage women to enter the global market last year and one of the initiatives highlighting the international opportunities available for women entrepreneurs was the ITC 'SheTrade' program.
There are more than 800 women entrepreneurs islandwide registered to date under the Women's Cellof EDB engaged in manufacturing various products to a niche market in Sri Lanka and catering to the export market indirectly. Out of 1,000 SME women entrepreneursislandwide, EDB has identified 20 export potential women entrepreneurs registered under the EDB Women's Cell for the Export Marketplace Program.
The 20 women entrepreneurs made presentations to a panel of judges, where the top three entrepreneurs with focused marketing strategies were awarded trophies and granted the service they require through an EDB financial assistance schemeenabling them to obtainservices that are considered as key to expanding their business internationally.
The organisations of service providers that participated at the event included areas of market intelligence, export promotions and marketing, financing, legal support, R&D, packaging, business development and so on.
Having analysed the profiles of women entrepreneurs, it has been revealed that there are several constraints faced by them which need to be addressed immediately to further encourage them to continue with their enterprises and to ensure sustainability in markets. To address these issues, EDB has taken several steps to facilitate and overcome such issues with the support of other stakeholder organisations.
In order to encourage and honour women entrepreneurs engaged in exports, EDB sponsors the 'Woman Exporter of the Year' award of the Women's Chamber of Industry and Commerce (WCCI) of Sri Lanka.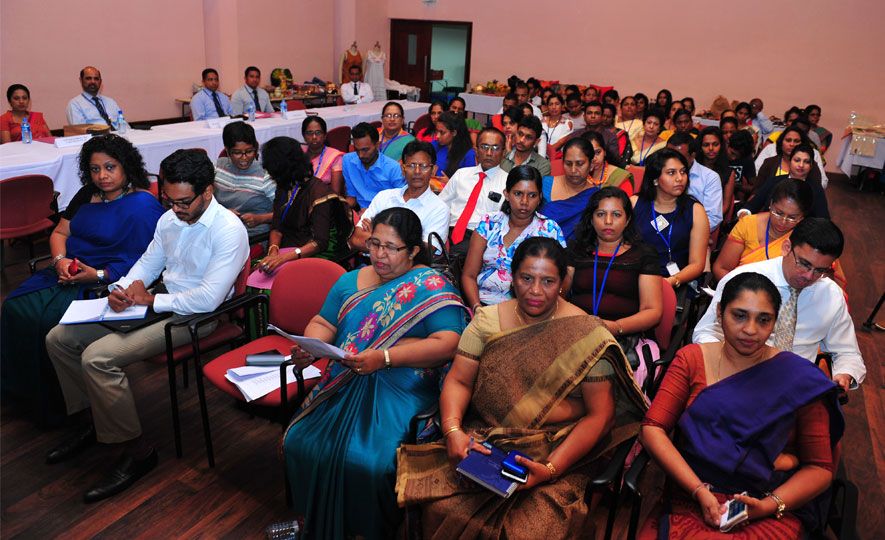 Source at: www.ft.lk