EDB Chief calls for collective approach to revive exports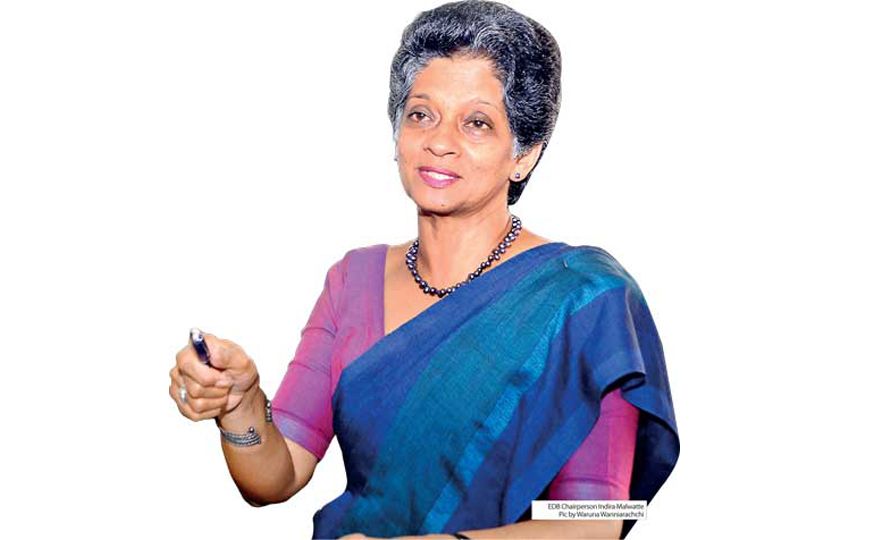 2016-04-01
Sri Lanka has been known all over the world for its tea, rubber, coconut and as of late for its apparel and information communication technology (ICT). But due to the grim global situation and increased competitor activity, the country's export sector has moved towards a negative growth trajectory. While the dampened growth in Sri Lanka's key export markets and competition are not the only causes for the lag, the challenges on the ground have contributed significantly to the dip. With the new regime taking over and promising better economic prosperity, the business community is yet to witness a revival. Mirror Business sat down with Export Development Board (EDB) Chairperson Indira Malwatte for an in-depth discussion on the strategies conceptualised to drive the export sector forward. The newly appointed chief gave a comprehensive view on the current situation, efforts taken and the challenges ahead in making Lankan exports the prime foreign exchange earner for the nation.

What is your take on the current situation with regard to exports? Where do we stand?

The current scenario is not very good. It is the international scenario where the whole global economy has come down. So, it is nothing special to Sri Lanka. If you look at the statistics of our competing countries, it is observed their exports too have come down. There will be uncertainties till the end of the US election and with the UK contemplating to detach from the European Union (EU). Economies such as China and Russia have experienced dampened growth. These have contributed to the slowdown of the global economy, which in turn resulted in local exports to drop. Our tea was a major export which got affected by the Middle East turmoil. Russia was our main market for tea and the ruble has been depreciated. Our seafood exports dropped due to the EU ban. We are out of the GSP Plus. But that I would say is a blessing in disguise, since without that our exporters became more innovative, aimed at different markets, looked at different segments and that in a way was good. Our exporters have faced that challenge and we have become smarter, but of course having the GSP Plus at the correct time would help us. All these have accumulated over the last few years to bring our export figures down. However, the EDB is highly proactive and we are not hiding behind the fact that the global economic situation has been bad. We have geared our programmes to meet the future challenges.

Any local factors that contributed to the grim situation?

I suppose there was a lot of focus on infrastructure development in the country, which is also important for exports. But the focus on export itself was not necessarily there. During the war the entire country was behind eradicating terrorism. Similarly if the whole country is behind exports and understands the importance of it, we will witness a turnaround. When you look at the foreign exchange inflows to Sri Lanka it is a disgrace that we are depending on the foreign remittance. It is not the knowledge economy that is contributing to the foreign exchange space but our hardworking low-end human resources, especially women, who are key contributors. We should not be happy about this as it only adds to the socioeconomic problems in our country. We should not encourage this. The other option was to go for loans. If they were at special interest rates, it would have helped as we have now to service them. Therefore, importance of exports come in, since there will be manufacturing, production, new employment generation and a whole array of activities coming in if the sector is supported. The budget brought in the Export Development Council of Ministers. That is something that is very special in our Act where the relevant ministries involved in any export-related activity will come under the close purview of the president. The relevant ministers will sit in this council and look at the export sector as a whole - else we will be doing things in isolation. This has been revived after 24 years and ensures the commitment of every ministry. The EDB in its own little way started working closely with the relevant ministries and government agencies. For example, with the Tea Board, we have discussed each other's action plan looking at how best our resources can be put together for the maximum benefit of our country. Similar efforts are taken with other sectors. We are setting up a lot of links between what the EDB can do and what the Primary Industry Ministry can do. We are working very closely with the exporters and government organisations.

So you mean the EDB is opting for an inclusive and integrated approach?
Yes.

In terms of targets, what is the set for 2016?

Keeping in mind the 2020 target of US $ 20 billion, for 2016 we are looking at achieving a target of US $ 14 billion.

How do you plan on achieving that target?

We have prioritised our sectors. We have something called the main earners, the bread and butter line which is apparel, rubber based, tea and ICT. In that we conceptualised a different approach for each sector. For apparels, for example we plan for a vertical integration, where we will have our own designers going into the fashion market. We are trying to link our components with the global value chains instead of trying to do everything. The new trend is to play to your country's strength and specialising in a specific area.

Given the grim global situation as you highlighted, are you optimistic the US $ 14 billion end-2016 can be achieved?

Unless we are optimistic we will never achieve these targets. The EDB is not going to sit back and say there is nothing that can be done. We are adjusting our programmes to meet the new demand. One key example is us actively looking the export of professional and technical services and construction industry, the area of service experts.

What are the measures taken to reach the target?

Sometimes there are issues in trade facilitation and a small help for the EDB can contribute a great deal. Such as the exchange control regulation - we are looking at addressing these areas to achieve these targets. We have started conducting the Exporter's Forum where a lot of the issues get highlighted. We have had this before but now it is very proactive. In addition to that we want to convert this forum into a live event throughout the year. We will be introducing in about few months an online system where exporters can submit their issues and the EDB will then assist in resolving the same. The EDB is working with the International Trade Centre to conceptualise a national trade strategy for which the meeting with the stakeholders has already been completed. This I stress is not the Export Development Plan. For the national plan to be implemented, the EDB alone cannot do it. That is where the Export Development Council of Ministers becomes relevant. Once the national strategy is done, the council will adopt the same and work in this regard which will take place in April.

Now that you mentioned strategy, what is the direction the EDB is moving in this regard?

Having identified the main earners, we then have the stable contributors, such as the gem and jewellery and coconut-based industry. For the gem and jewellery, we are seeing how well we can liberalise the industry and get it going. Some drastic decisions need to be made on it. We want to be a gemstone hub and in order to do that we need a wealth of materials. Sri Lanka has exclusive materials but buyers wouldn't come in only to but that alone. A buyer would want his calibrated stones and a whole lot from one place. A major decision is to liberalise the gem stones import to Sri Lanka. We can get our highly-skilled lapidary industry moving. Along with this will come the development of the jewellery manufacturing industry. Then we are looking at aspiring contenders where we have to do a little work. Such are the shipbuilding and yacht industry. There are about 250 yacht sailing and bypassing our island nation. If we have yacht building facilities to service them, they would spend at least two days in the country. That will not only help the particular industry but create the need for a whole other range of services as they would require entertainment and other activities. For that we want the marine infrastructure done and we are working with the Megapolis Ministry on this endeavour. A key area is also the fishing industry. This week there is a team going from Sri Lanka to Brussels for discussion on lifting the ban on seafood exports from Sri Lanka as we now comply with most of the requirements that become important. However, we didn't wait for the lifting of the ban in the EU but started working with Russia, a region that consumes a lot of seafood. The EDB and the Fisheries Ministry started a dialogue with the exporters of fish. There were health requirements we had to meet and a delegation was in Sri Lanka to inspect the processing plants. They were very satisfied with what they witnessed. With this, the exports to Russia will see a surge. Marketing promotions in that region are also given due emphasis.

Then there are potential future stars, where sectors such as fruit and vegetable become important. How about the efforts in ICT services?

That is categorised as one of our main earners and is very relevant to us. We have a number of programmes and one is in branding where from the budget, the EDB has been given Rs.150 million for this endeavour. Sri Lanka is not yet known as a country where you can outsource most of your services. The London Stock Exchange is completely done by our nation so we have a lot of winners but the international community is unaware. It is essential we have a promotion to shed light on the fact that Sri Lanka is a source to reckon with for ICT. We are not looking at very large entities but those medium sized. The reason being we want to match our requirements and supply with their demand. Furthermore, we are also in the midst of kicking off the 1000 business start-ups programme for young graduates. Many are unable to gain access to funding as they do not have collateral. The business start-up initiative is to identify good ideas that can be commercialised. The EDB together with the two state banks and universities will extend a helping hand to setup their industries. We will primarily be working with the incubators of the universities as we will be working with the graduates who have been interested and ready to take off.

How are the bilateral trade agreements helping to boost exports?

The free trade agreements (FTAs) is an area we are trying to actively work on and that is something we have to maximise on. We currently have FTAs with India and Pakistan. With the Indo-Sri Lanka FTA (ISFTA), 81 percent of exports to that country has been under the trade pact in 2015 and import from India under the ISFTA stood that 5.61 percent the corresponding year. We have certainly benefitted from that. There are certain non-tariff barriers and issues that come up, but those are matters that can be discussed and facilitated. There are almost 4000 items that can be exported to India duty free and another 4000 we can export to Pakistan. We must maximise these agreements. The government is also considering an FTA with Turkey and China. If we don't have FTAs or multi-trade agreements, Sri Lanka will be left behind. On the Trans-Pacific Partnership (TPP), a number of countries have got on board and moving forward. Having India, just next to us as a large market with a growing middle class, we cannot neglect this - similarly in Japan and China. While we wouldn't neglect the US and Europe and acknowledging the issues in the Middle East, we are gearing up to look at Asia itself to push our exports. The need to diversify markets has been stressed time and again. What are the new markets explored? Brazil and the African markets are two new we are exploring. In Brazil, we are initially targeting the apparel sector. We invited three leading buyers from that country to see how we can forge into their market. We are currently having talks with the ambassador of Brazil in Sri Lanka as well as our ambassador in Brazil as to how their fashion designers could work with our exporters to target their market. Similar strategy is to be explored in China as well.

In the national budget, it was observed concessions were given to value addition. Is this a strategy actively explored to boost export earnings?

This is a new strategy. We now have a representation of Sri Lanka Institute of Nano Technology (SLINTEC) at the EDB premises to allow exporters to gain access to new technology easily. They are starting a R&D Clinic once a week where the exporters can come for consultations to discuss ways and means on making the most of technology and progressing to the next level. This is open to all exporters regardless of their capacity.

In terms of support from the other relevant agency and department staff, is it at required levels?

Most are on the same page and we have close consultation with them. This is where the Export Development Council of Ministers becomes important. If the national strategy is implemented, all these departments will become part of our efforts. I must say the staff of other relevant agencies are highly receptive. The EDB has an excellent rapport with them and we are building this further. Eventually it will facilitate the exporter and therefore increase earnings. Minimum delays and procedures, within government regulations are the requirements for the exporters.

What are the challenges faced when implementing these strategies?

Challenges will be there in almost everything. This is why the whole country has to get behind exports. Everyone's support is needed and this should happen at every point.

In terms of export finance, what are the solutions explored other than the Exim Bank?

The Exim Bank is a positive move. Ideally, if we could get all the banks to give at least 10 – 15 percent of their portfolio to the export community at competitive rates, that will be a good solution. Moreover, they have to take those projects as project financing, consider their worthiness and lend against them. They have to take some risk. It will be excellent if this can come from the Central Bank. However, pending all that, we are working with a number of commercial banks very positively.

How would the EDB step in?

We would be recommending the exporters to the banks. We would identify what is blocking their progress and convey it to the banks. They would have the comfort that the EDB has already assessed these companies. We won't be taking up any lending.

What is the message you would like to give out to the export community?

As the EDB, we would like a collective approach. We are not the sole body to increase exports - we are only the facilitators - it is the exporters and all relevant government departments' commitment towards this drive. The exporters have done very well for our country under different conditions and we are grateful to them. Often when the figures come out, the EDB is blamed saying it has not done anything. It is a global scenario; we are part of the global economy. We need to adapt ourselves, change our markets and focus based on a number of situations. For that, a concerted collective effort from every individual of the nation is essential.