EDB Chief Assures Support to Industry Heads to Develop Sri Lanka as South Asia's Logistics Hub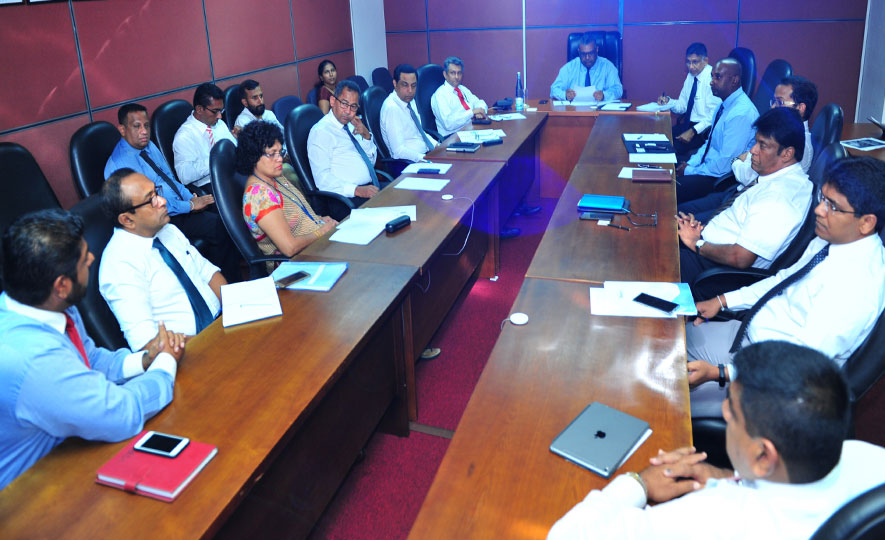 2020-01-31
Prabhash Subasinghe, Chairman EDB had a discussion with the leading public and private stakeholders of the country's logistics sector last Tuesday (29th January) at the EDB as part of the series of initial meetings he had launched with the various industry sectors since assuming office.
Logistics sector has been identified as a key trade support function of the National Export Strategy (NES 2018-22), and plans are underway to make Sri Lanka South Asia's leading maritime, logistics, and distribution hub, exploiting the island's strategic location in South-East Asia - at the crossroads of the fastest growing region in the world in close proximity to many emerging markets in the world. The foreign exchange earnings contribution of the transport & logistics sector to the GDP last year was estimated to be 2.5%, which is over US$ 2 billion.
Subasinghe remarked during the meeting that the EDB – as the nation's premier export promotion agency - is prepared to play the role of the leading facilitator in terms of realising the goal of making Sri Lanka the leading logistics hub of South Asia. He noted that the logistics sector plays a vital role in ensuring the competitiveness of the country's exports.
On behalf of the industry stakeholders, Rohan Masakorala, the Chairman of NES Logistics Advisory Committee, pointed out that the new Customs Ordinance to be introduced, the successful implementation of the National Single Window, and the expeditious development of the East Container Terminal (ECT) at Colombo Port as being of paramount importance to achieve the targets set out for the logistics sector in NES. He stressed that the aforesaid initiatives are critical in terms of developing entrepot trade, Multi-Country-Consolidation (MCC) logistics services, and air/sea transfers. Masakorala stated that the value of the global logistics industry is about US$ 4.7 trillion, and highlighted the potential substantial income the country could be earned from the logistics industry. He emphasised the importance of maintaining an effective coordination and cooperation between the various government agencies and ministries and also stressed the importance of continuity of the NES action plan to support export growth. Chairman EDB promised that the EDB would do its utmost to improve the coordination and liaison between the relevant government agencies.
Catriona Jayasundera, GM – Commercial and Marketing of CICT, stated that the continuous implementation of the points of action identified in the NES Logistics Strategy irrespective of the political changes is crucial to the progress of the sector.
The representatives of the BOI, SLPA, SAGT, Hayleys Advantis Ltd, Aitken Spence Shipping Ltd, Expolanka Freight Pvt Ltd, GAC, Maersk Lanka, Fedex, Hub Operators' Association, Advisory Committee on Logistics, and CASA participated in the meeting representing the sector while Saman Maldeni, Director, Manoja Dissanayake, Deputy Director, Dhanushka Ruwanpathirana, Export Promotion Officer, joined the discussion from the EDB.