EDB relaunches '1000 start-up' project to support IT/BPM industry to reach US $ 5bn export target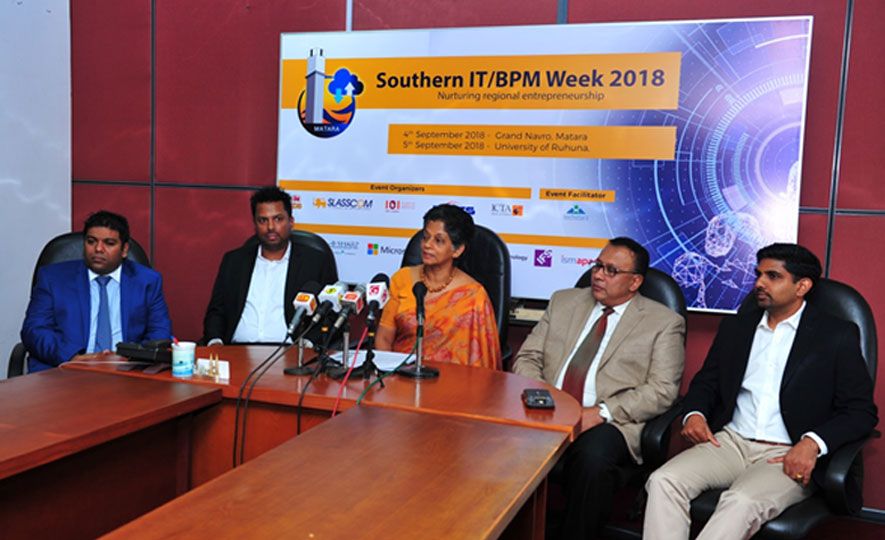 2018-08-28/ http://www.dailymirror.lk/article/EDB-relaunches-start-up-project-to-support-IT-BPM-industry-to-reach-US-bn-export-target-154629.html
EDB Chairperson Indra Malwatte addresses the media in the presence of (from left) SLASSCOM Chairman Jeevan Gnanam, SLASSCOM Board Member Haridhu Abeygoonaratne, FITIS Chairman Dr. Kithsiri Manchanayakke and ICTA Project Manager Sachindra Samararatne
The Export Development Board (EDB) 27-08-2018 announced the relaunch of the '1000 start-up' initiative, an effort taken towards diversifying Sri Lanka's export basket and market.
The 1000 start-up effort is expected to help the IT/PBM industry reach US $ 5 billion by 2022, alongside creating 200,000 direct jobs.
While the said project was initially announced to be launched in 2016, the outcome, which was to trigger the youth population to establish start-ups, was not as expected.
With the original scheme, which was open only for graduates, failing to reach and attract the target audience across the country, the EDB said a newer scheme has been conceptualized.
The new scheme has been made available not only to graduates but is also open to diploma and certificate holders in the IT/BPO field.
Not requiring collateral, selected projects will receive funding up to Rs.1.5 million payable within five years with zero interest.
The project is a public-private partnership and will see Bank of Ceylon and People's Bank as funding sources.
A new feature of this scheme is its mentoring programme that will be facilitated for selected projects by industry leaders.
EDB Chairperson Indira Malwatte asserted that the target set for the IT/BPM industry can only be achieved by empowering the IT professionals and entrepreneurs in the regional cities while supporting the existing businesses in Colombo towards higher growth trajectories.
It was shared that already 400 applications have been received and are in the midst of being reviewed.
Malwatte shared that by end-2018, the EDB together with its partnering agencies, expects to fund at least 25 projects.
Sri Lanka's IT/BPM sector contributed US $ 1.2 billion to export earnings in 2017 and is expected to contribute US $ 1.8 billion this year.
IT/BPM is one of the six focus sectors highlighted in the recently released National Export Strategy.
Source at: Daily Mirror