Enterprising Sri Lankan exporters showcase at Ambiente 2019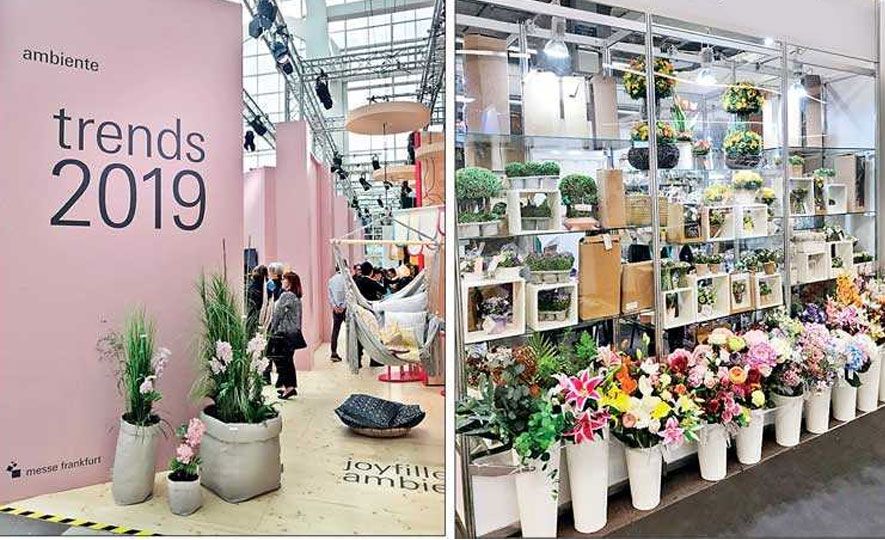 2019-02-11/ http://www.ft.lk/business/Enterprising-Sri-Lankan-exporters-showcase-at-Ambiente-2019/34-672643
Most of the Sri Lankan firms participating at the world's largest consumer goods fair Ambiente 2019 in Frankfurt, Germany, expressed confidence over prospects to win more orders.
Five companies from Sri Lanka are showcasing their products at Ambiente 2019, which began on 8 February and ends tomorrow at Messe Frankfurt. They are AMP Ceylon, Art Decoration, Dankotuwa Porcelain, Gospel House Handicrafts, and Selyn Exporters.
Dankotuwa Porcelain has been participating for more than 30 years and said participating at Ambiente had helped the company immensely to meet new buyers and reach out to new markets.
"Over the years we have seen very positive outcomes by participating at this fair. A good range of customers walked-in to our stall already. We have at least 10 pre-appointment client meetings at Ambiente. Some of the existing clients also bring in new customers. So, this trade fair had been a great platform for us to tap the international market," Dankotuwa Porcelain PLC Manager International Marketing Suren Wijesiri told the Daily FT.
Dankotuwa Porcelain Assistant General Manager International Marketing Shyana Jayalath noted that they have brought the latest designs to be showcased at the fair this year, which will soon be released to the market.
Noting that their traditional markets including Europe, the US and the UK had been growing substantially, she added that they are keen on expanding their footprint in South Asia from this year onwards particularly on the economic growth ride of India and booming Maldivian hotel sector.
"We cater to 32 countries already and going forward we will have an aggressive focus on regional brand presence mainly in South Asia. We also have strong presence in Europe, Scandinavian countries, the US, the UK and in Dubai."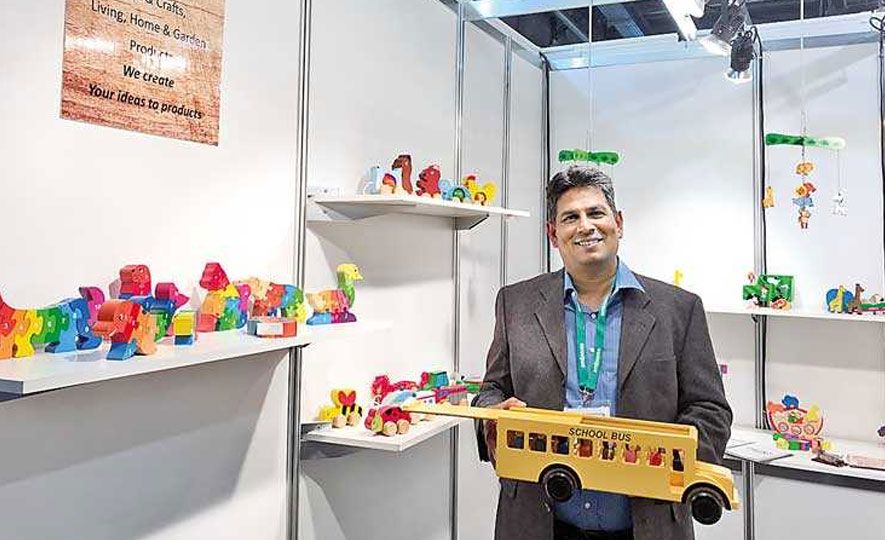 Art Decoration International Ltd.
Art Decoration International Managing Director S.H.B. Karunaratne said that participating at Ambiente helped them to penetrate into 47 countries in the world right now and is highly optimistic to expand its market share to all countries in the world.
"We started our business in 1992 and we have been participating at Ambiente since 1996. We are here for the past 26 years and we are the largest in South Asia. The Sri Lankan flag is flying only because of us in some years. This is the only trade fair we participate without fail every year. We have exhibited in the US, the UK, China, Singapore, Dubai and Japan – but nothing had worked for us. This is the only exhibition that really helped us to reach out to the international markets in an effective way. Each year participating here helps us to get at least two new big customers," he added.
Decoration Art International caters mainly to Europe. "Our main market is Europe and Scandinavian countries and we are also now present in the US. In addition, we cater to France, Italy and Middle East."
"My biggest customer is in Sweden and he supplies to all the Nordic countries and I also have a customer from the US who caters to a larger market. We have customers all over the world. We want to supply our products to the entire world one day," he said.
He said there were many walking customers.
Art Decoration International however in Sri Lanka operates as an ADI Group as they have auto bath-wear. "We are the only company that is doing decorative ceramics. We are also the largest in South Asia for decorative ceramics. Apart from manufacturing decorative porcelain, we also manufacture sanitary wear for the local market under the brand Otto," ADI Group Director Dilanga Karunaratne said.
According to him, 100% value addition is made in Sri Lanka, while only colour stains are imported. Sharing expansion plans, he said the company will soon bring down a new kiln which has a capacity of 60 cubic meters, and believes it will help them to increase its production by three times. "Right now our capacity is around 50 cubic meters. The new kiln is imported from China and is equipped with the newest technologies where it gives us extra savings on gas. The one we have now is 20 years old and it takes around 300 kilocalories to burn one kilogram of ceramic."
As a CSR initiative, the company generates 100KW solar power and supply to the national grid. "The European customers always appreciate the green energy and contribution towards the sustainable development."
"Our factory expansion plans will be completed in June, which will help us to increase capacity to 400 times, from as we are today. We are also expecting some new customers from the US. Thus, we are planning to make a new business strategy according to reach out to more markets in the coming years," the Managing Director said.
Most of these products are sold to customers in the US, which are sold under their brands.
He also commended the support given to them by Export Development Board of Sri Lanka (EDB) where part of the cost of participating at the fair was paid by them. In addition, the EDB has also helped them in installing SAP system in their company.
Outlining some of the key challenges, Karunaratne said shortage of labour has become a major issue for them and is now considering in importing labour from India. "We have 200 local staff. We are trying to get few people from India as we are currently operating with short of staff," he said.
When asked if import of labour is allowed by the Government, he said that through Industry and Commerce Ministry, it was now possible.
The factory runs from 8 a.m. to 5 p.m., but the kilns are working all day long.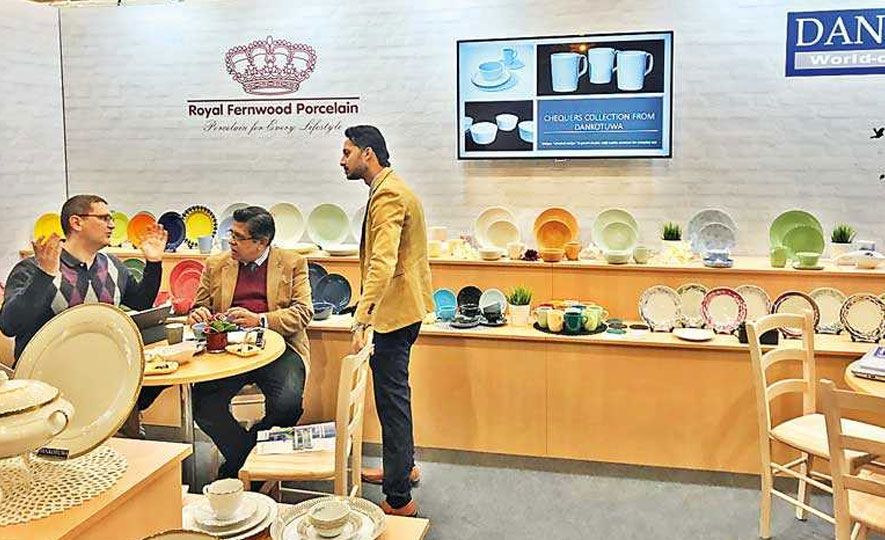 AMP Ceylon Ltd.
AMP Ceylon Ltd is a joint venture of Belgium and Taiwan which is established in Sri Lanka as a BOI company for the past 35 years.
AMP Ceylon Commercial Manager said their business is a combination of natural and artificial floral decorations and had been participating at Ambiente for many years.
"Our major product lines are exclusively designed, handcrafted, timeless floral arrangements. In addition, we also do handmade beeswax based candles," she added. She said they serve major retailers and customers who actively engage in online, B2B and B2C businesses.
Pointing out that Europe is one of the key markets they cater to, Anthony also said they are keen on tapping larger markets like India in going forward. "Although India is a big market and has potential because of the high competition and red tape we have not been very successful in entering the market," she added.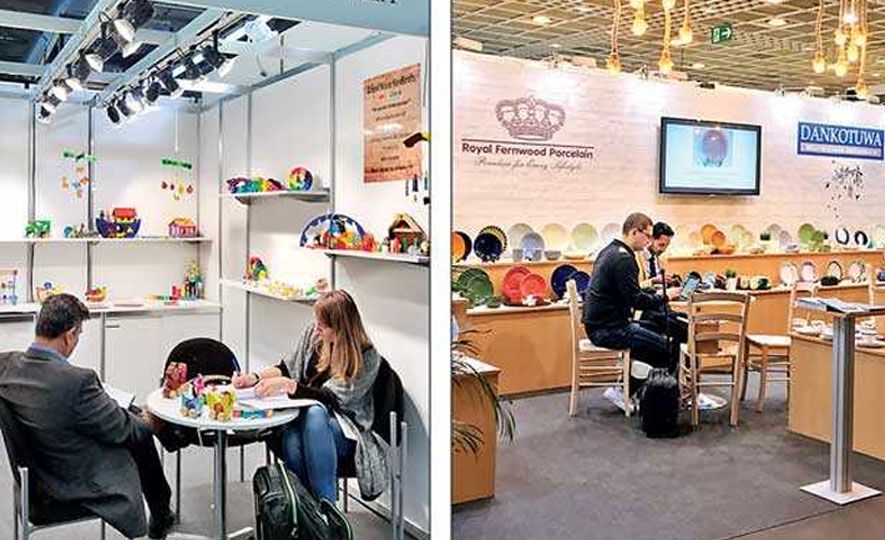 Gospel House Handicrafts Ltd.
Gospel House Handicrafts Ltd. Managing Director Shiran Fernando also highlighted Ambiente as a great platform which provided them to expand to international markets.
"Our brand goes as Woodbrix and we are specialised in children toys from six months to five years. "The company was established in 1976 in Wellawatte by my father as a hobby and we moved into Madampe in 1978. There was a great demand for wooden toys back then, but with the introduction of plastic, the interest for wooden toys reduced. However, because of our network and quality products, we survived."
Fernando said his father was unemployed and started making toys as a hobby and sold them through the Church to local market.
"My father made toys and sold at the Church and got more orders for Christmas. Thereafter, my father met a missionary and introduced him to a buyer in the UK, who was engaged in Fair Trade Organisation. It was one of the first Fair Trade organisations from the UK. Once they realised that my father was talented and can increase capacity, they introduced us to Netherlands and they introduced us to France and they introduced us to the US. Now we are in 26 countries," he said.
He said the biggest customer or country varies from year to year. In 2017, the biggest market was the UK, but last year it was the US.
The company has 30 in-house employees and 40 outsourced workers, particularly elderly women. "We set up small groups and through a shuttle service, we give them the materials and collect them in the evening. The toys are cut through machines and everything else is handmade. These elderly ladies are highly skilled in polishing these products and giving the final touches to the people," he added.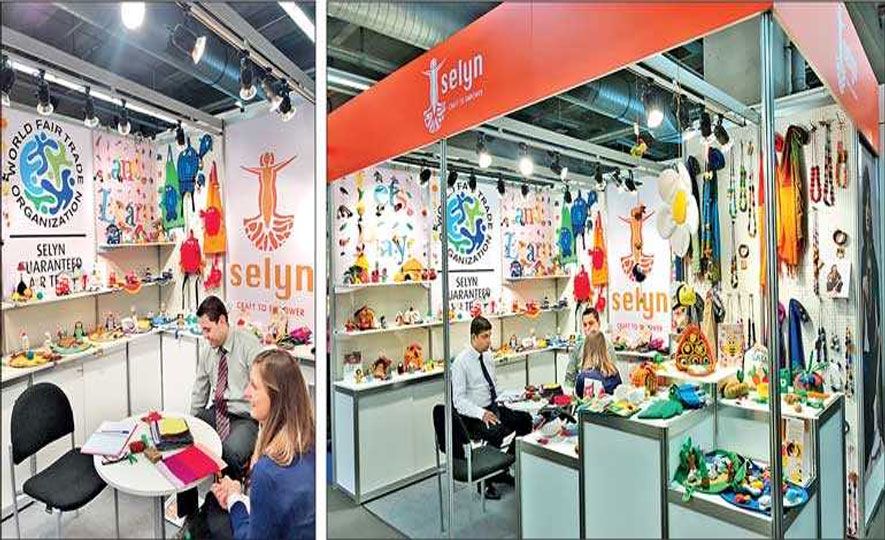 He said they use Albizia wood from the plantations.
While the designs are done by an in-house team, the company also have some foreign interns who contributes in designs. "Each year, a foreign student comes to intern at the company for 10 weeks. The University provides them the air ticket and we provide them the accommodation. We had students from the US, Netherlands and the UK. In May, there will be a student coming from France. During this period of time, they come up with around 30 designs."
Fernando said they have been participating at Ambiente since 1999. However, he said the number of companies that were participating from Sri Lanka during those days have reduced significantly due to various reasons.
"This is the main exhibition we participate. There is definitely quite a lot of good response for us in participating in this fair. Not only new customers, but a quite a lot of promotional companies also come and place orders. They give their tagging and places large orders," he added.
Ambiente is the world's biggest and most international trade fair for the consumer goods industry and with a clear, target-group specific structure within the Dining, Giving, Living and Sourcing. It also offers unique spectrum of products for the table, kitchen and housewares, gifts and decorative articles and interior design concepts and furnishing accessories. Last year, Ambiente had over 4441 exhibitors and over 136,400 buyers who came to the fair.
The top 10 visitor nations at Ambiente 2018 after Germany were China, France, Great Britain, Italy, Spain, Switzerland, South Korea, the Netherlands, Turkey, and the USA. There was also above average growth in the number of visitors from China, Hong Kong, Taiwan and Vietnam, as well as the US, Canada, Australia, Russia, the United Arab Emirates, and South American nations such as Brazil, Uruguay and Argentina, according to Messe Frankfurt.
Source at: Daily FT