Govt. helps biz map Indian entry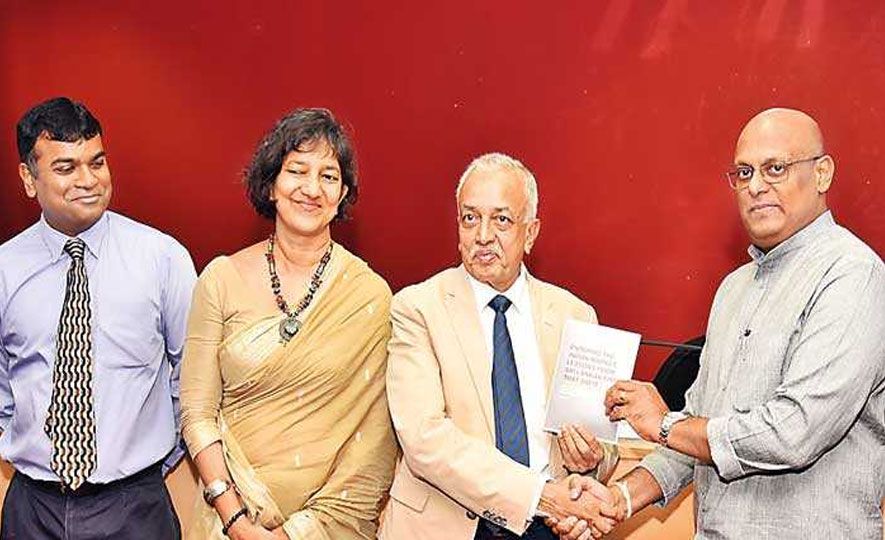 2019-08-06/ Source at: Daily FT
International Trade Ministry launches research to help companies enter India as part of 'Break into India' strategy
Study lists recommendations for stakeholder implementation
In second phase RFP open to map in-depth entry strategy with market linkages for priority sectors
Malik in India for talks to increase SL exports to India
Calls on private sector to make use of all-time-high relations with India
Says best way forward is to remain committed to trade deals
To help Sri Lankan companies eyeing the daunting Indian market, the International Trade and Development Strategies Ministry yesterday launched a new report to assist breaking into India, with Minister Malik Samarawickrama undertaking a visit to India this week to help local businesses find success across the Palk Strait.
The report titled 'Entering the Indian market: Lessons from Sri Lankan firms that did it' looks into the strategies used by about 30 companies to establish themselves, and is the first in a two-step process to encourage more Sri Lankan companies to tap into the Indian market.
The second part of the 'Break into India' strategy, which was launched last year by the Ministry, is an in-depth Market Entry Study, for which the Request for Proposals was published by the Export Development Board (EDB) this week.
An international expert will be recruited to conduct research that provides any current or prospective Sri Lankan exporter or investor into India with in-depth market entry knowledge, including mapping of entry requirements, regulatory frameworks, institutions and market potential to smoothen entry.
Under this component, there will also be a business-to-business facilitation where market linkages will be forged for Sri Lankan businesses in priority sectors.
Parallel to the report launch, Minister Samarawickrama said he will travel to India today to meet with prospective investors and top business to drum up interest in investing in Sri Lanka.
"I will be urging them to form joint ventures with our private sector for ventures in India and help with entry of our products, our brands and our companies into India. I will take copies on this report and give it to the Indian trade and investment authorities as it has some important messages for our Indian counterparts as well. I am aware we have some outstanding trade facilitation issues with India and I will be taking these up with the Commerce Minister. The best chance we have to resolve these issues is by remaining committed to the FTA with India and working on expanding and deepening it," he said, addressing a small ceremony at the Ministry to mark the launch of the research report.
"There is no question we have to do more to integrate with the world. We cannot be afraid and we must be bold. This is the spirit of the Break into India strategy initiative to encourage being bold, proactive, well informed and willing to take risk. We are at the doorstep of the Indian market and we have to be bold and tap into it. This strategy aims to reiterate to our private sector the opportunity that exists and help them chart a path for successful market entry."
The Minister also emphasised the Government will continue to work on other outstanding matters, including recognition for Sri Lankan exports at priority ports such as Chennai, and continuous grievances resolution mechanisms on trade issues. The research also included a raft of recommendations for local institutions to follow to improve their market entry into India. These included sharing entry experience with other companies, holding briefing sessions on Indian regulations, boosting commercial diplomacy presence, providing legal support to local companies, mapping the Indian regulatory landscape, and identifying new distribution models. The report recommends these ideas be shared between the EDB, business chambers, Commerce Department and Indian High Commission as well as other stakeholders for implementation.
"While the Government tackles these issues, we want to provide the private sector with encouragement and information to succeed in the huge Indian market. The Break into India strategy aims to do just this, and coupled with this we have the market access support program where you can get matching grants from the EDB to develop new markets, new products and to get quality certifications and de-risk your initial entry into India," the Minister said.
The Government will continue with its policy to negotiate trade deals and liberalise the economy, Minister Samarawickrama said, pointing out there were already 170 FTAs in the Asia Pacific region, covering over 40 countries in Asia alone and a population of 4.4 billion people. He pointed out the Regional Comprehensive Economic Partnership (RCEP) will be the world's largest economic bloc with 16 countries and almost half the world's population. Many other countries have signed numerous FTAs with Singapore leading the way with 25, China 19, Japan, Korea and Malaysia clocking up 17 each, and Thailand, India and Indonesia 13 each.
He pointed out India, Thailand, Singapore, Malaysia, and Vietnam alone have 39 more FTAs in the pipeline. Despite detractors, he insisted the Government has moved forward to negotiate trade deals more than its predecessors.
"Without improved exports we will lag behind. Already many of our Asian peers are far ahead of us. Relations between India and Sri Lanka are at an all-time-high and the Indian Government is also extremely keen on helping us to improve, so I think this is the right time to see how we can break into the Indian market."
Source at: Daily FT