Highlights Of The Budget 2021 & Impact On The Export Sector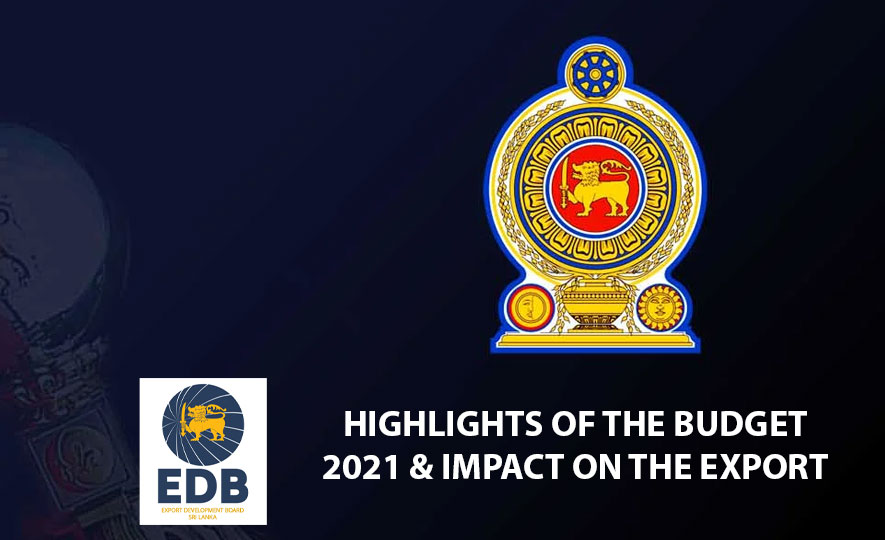 2020-11-19
Strengthening the 2021-2023 medium term programme of poverty alleviation and economic revival
The export development board is pleased to see an export focused budget which will support strong export growth led by investment, value addition and maximizing our Sri Lankan natural resources, this is a pivotal change in Sri Lanka's growth strategy which will be led by the exporters.
Proposal
Expectation/Impact on Exports

Investment & Business Opportunities

Establish a modern investment zone for local and foreign private investors under the Strategic Development Act.
ICT parks , Galle, Kurunagala, Anuradhpura, Kandy and Batticaloa and Invest 10B to develop these parks as eco-friendly new cities connected to the expressway network and other infrastructure facilities
$10M investment in export industries, dairy, fabric, tourism, agri and ICT will get a 10 year tax holiday through the strategic development act
Commodity Trading: In order to promote the Colombo and Hambanthota ports as commodity trading hubs in international trading, and to encourage investments in bonded warehouses and warehouses related to offshore business exempt such investments from all taxes.
Pharma Manufacture: provide bank and financial facilities on Treasury guarantees to increase the production capacity of the State Pharmaceutical Manufacturing Corporation to expand the production of essential pharmaceuticals. And also to establish a modern investment zone for local and foreign private investors under the Strategic Development Act
A five year tax concession will be made available from 01 January 2021 to domestic industrialists
For the next 5 years, agri, livestock, and fisheries sectors to be income tax free

Increase investments and create Business Opportunities while focusing on a more dynamic business eco system.

Economic Diplomacy
Expand the contribution of the Diplomatic Missions for Economic Diplomacy

Optimizes the opportunities for exports, tourism, foreign employment and investment in our country under the dynamic world economic conditions.

Bilateral trade agreements
The Export Development Board and the Ministry of Foreign Affairs to take the lead in formulating bilateral trade agreements

Expanding the market for exports of our country's specific agricultural products such as tea, cinnamon, pepper, traditional ornaments and consumer goods, as well as toxic free vegetables, grains and fruits etc…

Trade policy
Formulation of a balanced trade policy yielding long-term returns

To increase export earnings of our industrial products and to save foreign exchange through import substitutions that could be produced locally

Contribution of the technology for exports
Convert economy as a technology-based entrepreneurial economy by expanding entrepreneurial development, technological infrastructure and related services

Enable enhancement of the contribution of the technology sector for exports and its contribution for knowledge and professional services of the national economy

Import and export procedures (One Stop Shop)
Make import and export procedures more efficient so that the officials of required regulatory bodies will be assigned to the Department of Import and Exports to provide the required services.

Increased facilitation for exports

New tariff system
Relaxation of the import and to implement the new tariff system.

To develop the local garment industry as a local and international garment manufacturing hub with high quality garment and leather products demanded by foreigners and tourists

Colombo Port City Economic Zone
Establishment of the Colombo port city economic zone

Creation of extensive employment opportunities for Sri Lankans and increase in foreign exchange earnings for the country

Enhance the Agriculture sector production
Limit importation of agricultural commodities except the items that cannot be produced domestically (negative List) and to impose the Special commodity levy to balance the supply and demand of domestic production for selected agricultural products

Enhance the domestic production and increase export potential of domestic agriculture products

Strengthening Domestic Production for Exports
Impose CESS to provide the required protection on the imports and exports of domestic production

Encourage domestic production/Value addition and increase exports

Increase competitiveness of local products
Remove import/para taxes on the raw materials not available in the country, machineries and equipment with modern technology and to classify all imports other than the above, under three categories of 0, 10 and 15 percent

To boost exports and also to encourage domestic industries to produce value added goods

Creating a level playing field
If any commodity has been exempted from VAT at its importation point, it is proposed to exempt from VAT, the domestic production of that particular commodity as well.

Creating a level playing field for local producers thereby enhancing domestic production

Encourage exports of multi-national companies
Reduce the tax imposed on their dividends by 25 percent in 2021 and 50 percent in 2023 under the condition that they increase their exports by 30 percent and 50 percent in the respective years.

In order to encourage the exports of multi-national companies which are import based for requirements of the domestic market

Measures to Promote Small and Medium Scale Exports (TIEP Scheme)
Providing temporary import facilities for raw materials which are not available in Sri Lanka, spare parts, processing and packing materials, labels, stickers, catalogues and brochures to promote the products of direct and indirect exporters. (This scheme will be implemented by the special Export Facilitation Centre established by Export Development Board and Sri Lanka Customs for Small and Medium Scale exporters and the inspection of all documents including import/export declarations will be carried out by relevant institutions at this unit.)

Enhance the export of high quality goods through high value addition to local inputs

Tapping/penetrating emerging trade opportunities
Allocate Rs. 750 million to take necessary steps to overcome the barriers faced by our entrepreneurs in order to utilize market opportunities presented in the emerging Asia- Pacific region, Africa, the Middle-East and Western countries.

Increase market access for our exports

Export Insurance
Implement an insurance scheme through Sri Lanka Export Insurance Corporation with the contribution of an insurance premium of 1 percent of the export revenue

Accelerate the financing facilities through export receipt confirmation

Fishery
Simplify the administrative process for the exportation of most sought after fish and aquatic plants, to develop tissue culture methods, to increase the availability of fish feed and to increase airport and cargo/freight facilities for exports

Allocate Rs. 200 million for the development of Fisheries Farm Zones with infrastructure facilities in line with the environmental standards in the Districts of Batticaloa, Jaffna, Puttlam and Mannar which are suitable for fish production such as prawns, lobster, carp, tilapia and modha

Increase in exports of fishery products

Gem and jewellery
To develop the Rathnapura International Gem Industry City and enhance the gem and jewellery industry

Increase foreign exchange earnings from the gem and jewellery industry

Boat & Shipbuilding
Provision of separate docks, dockyard access facilities and long-term credit facilities along with a tax break of 7 years for local boat and shipbuilding

To promote boat and shipbuilding activities which has high development prospects due to the rising demand in the fisheries, tourism and shipping sectors and the high production potential of local manufacturers

Batik products
To ban the importation of batik products under national sub headings

Development of batik and related fashions as a national industry.

Fruits and vegetables
Import duty concession for cold room facilities for preservation of fruits and vegetables

Development of the F & V Sector

Export crops
Provide relief on custom duties and financing facilities to obtain land and modern equipment for entrepreneurs investing in value additions to local crops such as pepper, cloves, cardamom and coffee suitable for the export market thereby to provide additional allocation of Rs. 2,000 million for these development work to be undertaken in the plantation sector.

Development of these sectors to increase exports

Spices
Expand the programmes implemented under the Ministry of Plantation Industries with the aim of establishing export, cultivation and processing zones for Ceylon True Cinnamon.

Provide relief on custom duties and financing facilities to obtain land and modern equipment for entrepreneurs investing in value additions to local crops such as pepper, cloves, cardamom and coffee suitable for the export market and to provide additional allocation of Rs. 2,000 million for these development work to be undertaken in the plantation sector.

Import of Ginger and Turmeric have been completely terminated to encourage the cultivation of those, and further proposes a support scheme to promote the cultivation of ginger and turmeric as additional crops in coconut and rubber lands.

Enhance domestic production of Spices with the objective of increasing exports

Encouraging industries for exportation of vehicles (Reconditioning and assembling)
Reduce the import taxes levied on vehicle spare parts required for new production sectors

Incentivize entrepreneurs in automobile industries engaged in vehicle repairing and vehicle assembly thereby enhance the export potential of these new sectors

Encourage value addition to local resources

Diversification of exports and increase in foreign exchange earnings
Corporate Income Tax
Exports, Tourism, Education, Medicare, Construction and Agro processing - 14%
Manufacturing - 18%
Trading, Banking, Finance, Insurance, etc. (Standard Rate) - 24%
Manufacture and selling or import and selling Liquor, Tobacco, Betting and Gaming - 40%
Income generated from the supply of Health Protective Equipment to arms of Government and similar products by BOI companies on the request of Ministry of Health and Indigenous Medical Services, Department of Health Services, Tri Forces and Sri Lanka Police to be considered "Deemed Exports" (Tax rate - 14%).
VAT rates
Standard rate – 8% (effective from 01 December 2019)
Supply of Financial Services -15%
Export of goods and services - zero rated
Exemptions apply for specified goods and services
Economic Service Charge (ESC)
ESC was abolished with effect from 01 January 2020.
Nation Building Tax (NBT)
NBT was abolished with effect from 01 December 2019.