Rattan Craft to intensify handicraft exports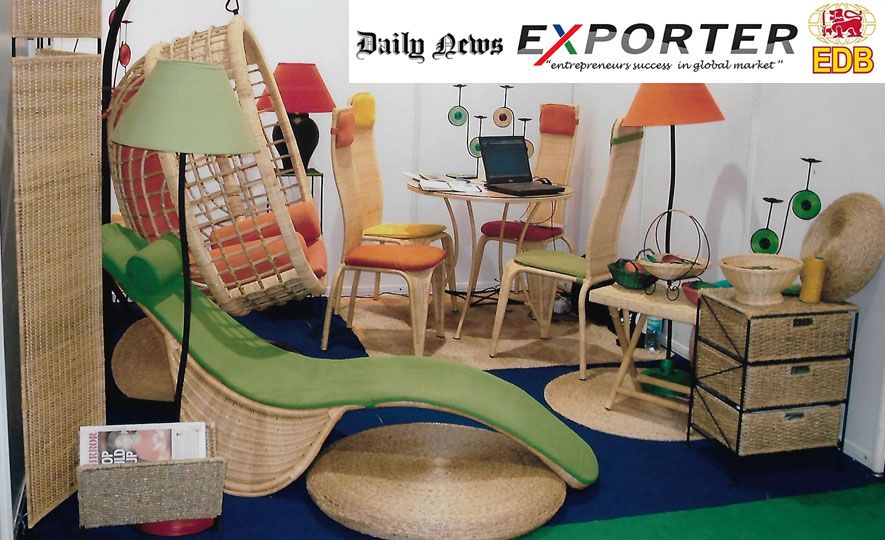 2018-02-08/ http://dailynews.lk/2018/02/08/business/142213/rattan-craft-intensify-handicraft-exports
Sri Lanka is a fertile ground for handicraft artisans. It is no secret that the creations of their hands are invincible in the world.
But, the demand for such traditional creations is not everlasting. The needs of buyers change from time to time and country to country. In such a background, if the value of the product is not increased and does not evolve to suit the demands of the modern world, the attraction of the customers towards that product drops.
Deepthi Wickremasinghe, starting his life as a banker, left his profession to generate the inventor living in him. Interested in production research, he sought a new dimension to spread his business acumen.
Deepthi was eager to grasp an angle in rattan, bamboo, reed and banana fibre-related industry hitherto unseen by most craftsmen. Rattan products and house beautification field is high in quality and standard.
"I left the bank and started to manufacture rattan-related furniture. All products were not of traditional standards but products of modern fashion, conforming to international standards. I exhibited those products at the 'Architect' Exhibition in the year 1994. Surprisingly, most star-class hotels in Colombo invited me to provide my products to decorate their lounges."
Founder of Viveka Rattan Craft Deepthi Wickremasinghe made his first venture into the local market, but his target was the export market.
He sought the help of the Sri Lanka Export Development Board (EDB) in order to make his export export dream a reality.
"I inquired from the Export Development Board whether there are opportunities for rattan products in the international market. The officials of the EDB edified me on how to enter the international market with my products."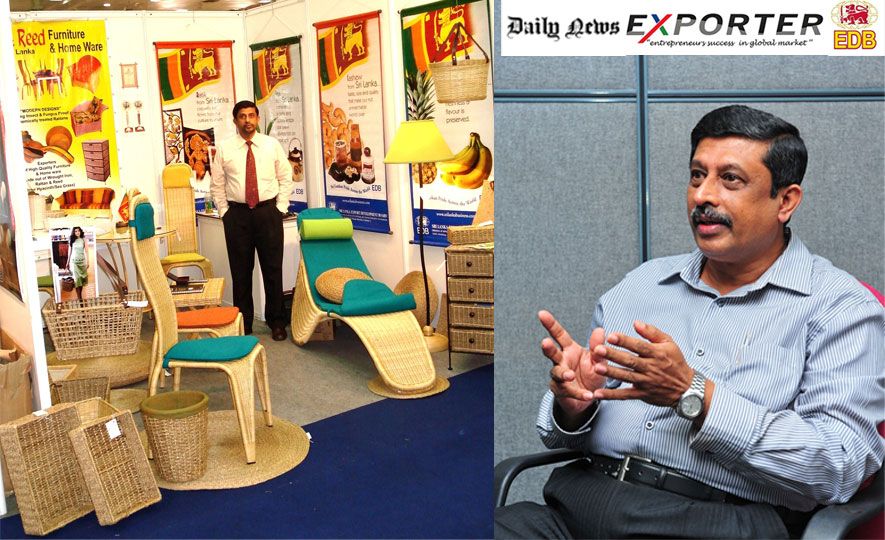 " Furthermore, they gave me several opportunities that were not given to an apprentice entrepreneur. The tours to and exhibition opportunities in Sweden, the Netherlands and Japan are special among those opportunities. The "Asia Expo" Exhibition of Japan is one of the best opportunities that opened export opportunities in Japan for me."
Within a very short time, Deepthi succeeded in uplifting Viveca Rattan to a high position locally and at the international level as result of maintaining the quality and standards of his products optimally.
A group of German entrepreneurs investing in Viveca Rattan was a great opportunity to broaden the operations of his Company in the international market and an endorsement of his products from Germany.
Deepthi is well versed in facing the ups and downs of his Company with equanimity and restraint. When the German investors left the country due to the war situation and the market was collapsing in the face of local and global economic crises, he successfully faced those challenges.
"Working to earn profits is the general nature of a businessman. But, I wanted to do something nobody else in Sri Lanka did."
That is one of the secrets of his success.
"Buyers were under the deep-rooted impression that rattan products from Sri Lanka disintegrate and get attacked by weevils within a very short time.
Some said that the finish was not good enough. But, everybody accepted that the rattan products from countries such as India, China and Vietnam were of very high quality. I thought that, if the craftsmen in those countries are producing furniture of high quality, why could we not do the same. Truly, I changed the international and local attitude about the rattan products of our country."
Deepthi has secured several awards for rattan products of Viveca Rattan. But, he says the most valuable award surpassing all those awards has been presented to his Company by its buyers.
"An Indian buyer who purchased our products at a trade exhibition highly valued them. He said, 'The products of your Company are of better quality than Indian products."
Presenting a traditional product with added value according to modern social necessities is an invaluable feature in Deepthi's business.
"Once, I got an order from a children's hospital in Japan to produce rattan cots to hold infants. I knew that there were generally more chances of the child suffocating on milk by laying them on a flat surface in the cot after being fed. I created a cot with the ability to adjust and raise the part of the surface holding the waist part of the infant's body, while providing them with soft comfort. We received a great demand for that product from Japanese mothers."
The experiments Deepthi conducted to promote environment-friendly products using indigenous raw material has to be valued greatly.
"I produced the travelling bag used by foreigners visiting the hotels of Sri Lanka to carry their goods during their visits to the beach or even on tours and shopping sprees, by using palm and coconut leaves. It is very a popular products for tourists accommodated in the hotels of Sri Lanka."
Rattan is imported as a raw material for the products of Viveca Rattan, as the raw materials available in Sri Lanka are of low quality. But, because of the huge drain of foreign exchange caused by this, Deepthi expectation is to make his products utilizing locally available raw materials. We must be happy as a country for his experiments using environment-friendly raw materials such as 'Gallaha' reeds, banana fibre and palm leaves (Thal Kola) proving to be successful.
The assistance rendered by State and Private Sectors are less for this industry. An entrepreneur like me would not have been generated, if not for the assistance given to me by the Sri Lanka Export Development Board.
I obtained all my overseas experience through the assistance given to me by the Export Development Board. I obtained publicity in my business by participating in trade exhibitions."
In conclusion, the final question was as a low level exporter, how did your bring fame to Sri Lanka in this field to the international standard. "What is the secret of your success?"
"Most of our entrepreneurs import as much overseas products as possible and market them in Sri Lanka. But, I wanted to produce and export a product capable of competing with the products of other countries of the world. Necessity and dedication are not enough to achieve that.
I did a surprising amount of research in this field, developed the quality of our products to suit lifestyles and fashions, needs of the modern world and human behavior patterns and added value. That is the secret of my success."
Compiled by Upul Galappaththy Trade Facilitation and Trade Information Division, Export Development Board.
Source at: www.dailynews.lk