A 'silver lining' to a threatened industry Offshore Fish Farming in Trincomalee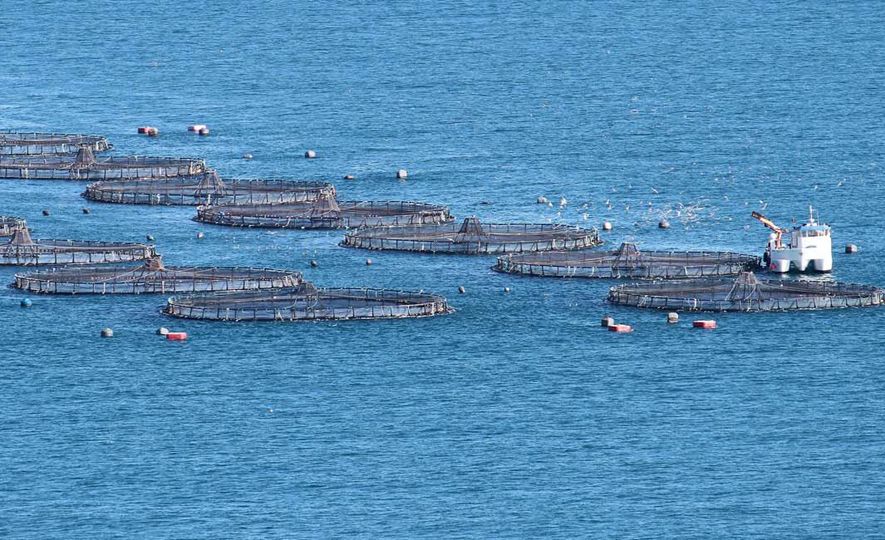 2016-04-28
If a dark cloud at present hangs over the dwindling local fisheries resources, Oceanpick (Pvt) Ltd has created a silver lining amid that general gloom, by developing Sri Lanka's and South Asia's first ever responsible, commercial scale oceanic farm for Finfish.

The Company unveiled its 'Round Island', oceanic fish farming brand on Monday at Eagles' Golf Links, China Bay, Trincomalee marking Sri Lanka's bold entry into aquaculture farming in the open seas.

Launched in 2012, in partnership with Kames Fish Farming of Scotland, Oceanpick stocked the sea cages with Barramundi juveniles in 2014. The initial batch was introduced into a pen, kicking off Sri Lanka's accessibility to premium quality, responsibly-farmed marine fish, with the first harvest scheduled for this year.

The Company is poised to raise the profile of Sri Lanka's fisheries sector and aims to add momentum to the production targets set by the Fisheries and Aquatic Resources Ministry.

The pens in pristine Trincomalee seas with good tidal currents and flushing rates help harvest a supreme product range.

Daya Gamage ­- Minister of Primary Industries speaking at the event said," The government has made plans to create 23 agri- zones and 10 fisheries zones to boost exports and achieve an export revenue target of $30 billion by 2020".

Kabir Hashim- Minister of Public Enterprise Development said," We are still in Stone Age in terms of our fisheries produce. According to global stats, wild catch to farmed fish produce is at 50-50. In Sri Lanka, that ratio is 95%-5%. Therefore, the government will do everything possible to help entrepreneurs like Irfan Thassim, founder and director of Oceanpick who has made this bold initiative".

Irfan Thassim during his speech said,"Oceanpick has created history by launching the sea cages into the ocean. Our objective with this venture is not merely to make supreme quality seafood available to consumers, but also to raise Sri Lanka's fisheries industry to new heights of sustainability by reducing reliance on dwindling natural marine resources. We focus on responsible farming that is highly sustainable in order to produce high quality seafood. Proper regulating of offshore fish farming is vital for sustainability. Let me add at this point that Amana Bank has been a tower of strength to us as they have given us great financial support".

The first phase of the venture was completed with a US$4.5 million investment with a 400 MT production capacity.

Oceanpick's first choice species is Barramundi or Asian Sea Bass, locally referred to as Modha. Of the many oceanic farm-holders around the world, only a few farm Barramundi in open pristine seas, therefore, Oceanpick takes Sri Lanka into this elite league of premium Barramundi.

Oceanpick anticipates to double the capacity to 1,000 MT during this year and to widen its portfolio to several other species in the future.

Another focus area will be the cold chain and distribution front, where demand-driven fish harvest will occur assuring total freshness of the product.

Oceanpick's General Manager-Operations, Fazli Nayeem, said, "Sri Lanka has abundant potential to be a major player in global seafood production with the launch of this ocean fish farming and Oceanpick's cage system which is Sri Lanka's first such facility. Sri Lanka's attempts at aquaculture hitherto have been primarily concentrated in brackish water lagoons, fresh water bodies or inland based ponds. Our venture in ocean fish farming is a revolution in Sri Lanka's fisheries industry."

Many leading hotels and restaurant brands that value sustainability and premium ingredients have already adopted Oceanpick's product into their menus and the footprint continues to grow as Oceanpick continues to set the benchmark for hygiene, freshness, sustainability and supremacy of taste.

Oceanpick adheres to Scottish standards as per its joint venture partner, Kames Fish Farming who has been in this industry for more than 40 years in Scotland.

Oceanpick has made plans to launch its 'Round Island' brand into the domestic market. It will then be expanded to regional markets and Europe. The company already exports its products to U.S.A.

The Company imports fingerlings from Australia and fish feed from the U.S.A. The company has set its groundwork to create the entire value chain in Sri Lanka in the coming months.