Sri Lanka, Germany ties get significant boost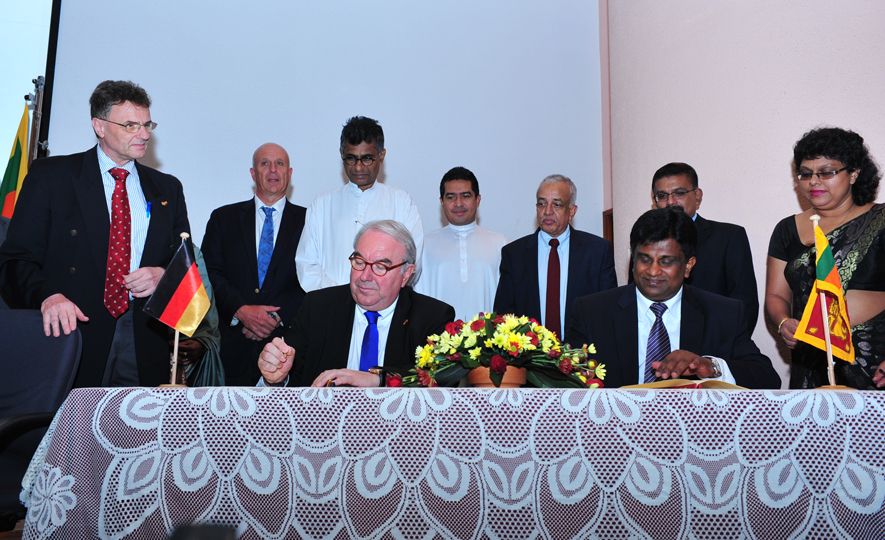 2016-05-17
Sri Lanka's efforts to liberalise its economy and encouraging of a solid basis to establish close business to business (B2B) contacts are crucial to countries looking to expand investment opportunities, believes Uwe Beckmayer, State Secretary at the Federal Ministry for Economic Affairs and Energy, Germany.

"Sri Lanka now has a very stable Government which envisages on new economic base of good governance with reliable conditions to make new businesses, which is very important to attract investments to the country," he said addressing the Business forum and B2B meeting held with the German business delegation hosted by the Export Development Board (EDB) of Sri Lanka yesterday.

The two countries signed a joint declaration of Intent Concerning Cooperation on Sustainable Energy between the Ministry of Power and Renewable Energy and the Federal Ministry of Economic Affairs and Energy as well as an IT infrastructure memorandum of understanding (MoU) between the Ministry of Megapolis and Western Development and Seimens.

Beckmayer said they had fruitful and constructive discussions with the Sri Lankan Government adding that they are confident of strengthening economic relations as vision of both countries are to create a solid basis for new development.

The State Secretary emphasised the importance and the responsibility of both Governments to provide more employment opportunities for the younger generation and said: "Despite the close and vibrant economic relations the two countries enjoy, I think there is a major untapped potential in bilateral cooperation. It is important to train the local workforce here in Sri Lanka and in turn it will also create a good reputation for the German companies as well as for the society here to establish vocational training system."

Noting that the biggest concentration of German companies are in the free trade zones in Colombo which are responsible of providing more than 10,000 job opportunities for Sri Lankans, he added that there is a lot of room for those companies to do more, especially in creating employment for youth.

Beckmayer also commended the development work at the Colombo port and expressed his confidence that it was a very strong international port. "I think it is very fantastic starting point, also to develop more of these international business and opportunities that Sri Lanka has to offer. It should not be limited only to a hub for maritime transport, but it could be more," he added.

Development Strategy and International Trade Minister Malik Samarawickrama said Sri Lanka now stands ready for economic take-off and plays a full role as a responsible member of the global community of nations.

Outlining the key benefits of investing in Sri Lanka he listed resilient economy, supportive Government policy, educated workforce, strategic location connectivity and preferential access to large markets, fast developing infrastructure and increasingly vibrant business environment.





"This visit truly reflects the increasing ties between Sri Lanka and Germany and we hope it will help boost trade between the two countries and with a strong possibility of regaining GSP+ status by end of this year. I sincerely hope that all of you would be able to take the advantage of the many business opportunities that are emerging as a result of reformed policies," he said.

Speaking on possibilities of strengthening economic relations between the two countries in the areas of investment, trade, tourism and industries Samarawickrama said Sri Lanka is eager to welcome world-class German industrial giants to establish plants here.

"Locating in Sri Lanka will give German companies the opportunity to have preferential access to massive markets of the Asian region. Sri Lanka is not only increasingly conducive location for German FDIs, but also has the attraction of the companies which wish to establish regional offices or expand their existing offices in South Asia," he explained.

In addition, he highlighted tourism as a promising base upon which the two countries can build, particularly as some major European tour companies are beginning to organise charter flights to Colombo. "This is an area we can truly develop as SriLankan Airlines have direct flights to Frankfurt from Colombo. Last year around 115,000 German tourists visited Sri Lanka."





Noting the present Unity Government provides a corporative framework for long overdue reforms Samarawickrama said: "We have taken a series of measures which serves to revitalise Sri Lanka's democratic credentials, improve governance and strengthen the rule of law. It is encouraging the progress is made on these fronts for a sustainable growth framework and we are determined to break out of the cycle of poor policies, which have characterised our past."

He said in creating an enabling environment to achieve sustained growth and employment generation through structural measures, the Government has initiated a number of measures to improve the investment climate and strengthen trade facilitation.

"Investment policies, the ease of doing business, trade policy and trade facilitation are all receiving close attention as we seek to promote trade and investment more aggressively. In addition, laws and regulations as well as tariffs, para-tariffs are being reviewed to reduce transaction costs. Creating a more business friendly environment will help to fulfil Sri Lanka's enormous potential both in terms of the location and its people," the Minister stressed.

Sri Lanka's exports to Germany accounted to $474 million in 2015. The major items were apparel, retreated rubber tyres and tubes, industrial and surgical gloves of rubber, frozen fish and electronic products.

The Minister was grateful to Chancellor Angela Merkel for maintaining the promise she made at the time of President Maithripala Sirisena's official visit to Germany.