Sri Lankan exporters strengthen their value proposition at EDB's first Export Marketplace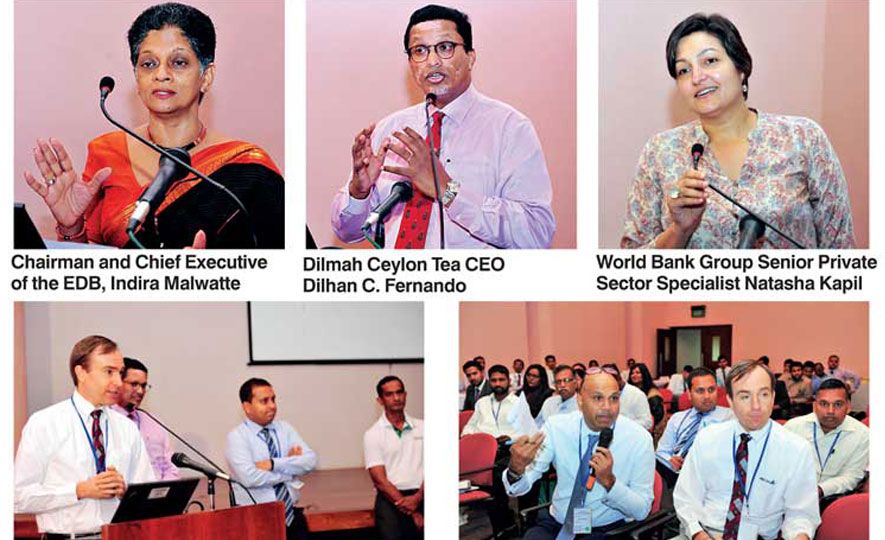 2017-12-21/ http://www.ft.lk/business/Sri-Lankan-exporters-strengthen-their-value-proposition-at-EDB-s-first-Export-Marketplace/34-645674
Nihal Perera is an exporter of king coconut juice from Sri Lanka. He takes Sri Lanka's favourite thirst quencher to customers around the world, preserving its distinctive full-bodied taste in a tall glass bottle. At the Export Marketplace held on 19 December, Perera pitched for prize money that would help him commission the services of the Sri Lanka Institute of Nanotechnology. He had just learnt at the event that SLINTEC could help Crown Coco repackage their product innovatively using the latest nanotechnology research and development tools.
Like Perera, 14 other Sri Lankan exporters and export hopefuls took the opportunity on Tuesday to rethink their product pitch. Armed with an idea, a product and a blank chequebook, they met new service providers, identified what their product needed to tap into the export market more successfully and pitched this requirement to a panel of buyers, investors and trade attaches from the diplomatic community.
This Export Marketplace was a pilot project jointly conducted by the Sri Lanka Export Development Board, Dilmah Conservation and the World Bank Group. It brought together exporters, buyers and investors in the food, beverage and spices sector, which was identified as a priority sector in the forthcoming National Export Strategy.
The pilot placed emphasis on validating the relevance of climate smart practices and technologies in helping exporters strengthen their value proposition to more sophisticated buyer markets. Energy expert Ruwan Wijemanne of the National Cleaner Production Centre in Sri Lanka attended as a service provider. His engagement with the exporters yielded some interesting insights.
"Most people don't know that their product can become much more competitive when they incorporate climate smart technology into their value chains," he noted, adding, "We received a lot of interest today. This event is a great way to bring all of us together under one roof. We have each learnt something useful to take forward in our engagement with clients."
Wijemanne's company works with both the government and private sectors to bring climate smart practices and technology to exporters. At the marketplace, he offered the participants tips on how they could make their factories greener and a free first visit. This proved to be a very successful pitch as by the afternoon his company had six potential buyers willing to make green investments.
Chairman and Chief Executive of the EDB, Indira Malwatte, said that the lessons gathered during this initiative would inform the design and implementation of the 2000 Exporters Program, a flagship initiative of the Sri Lankan Government. The objective of the 2000 Exporter Program is to strengthen the export capabilities of Lankan firms to enter new international markets.
The program's focus was on the relevance of the export marketplace as a means to increase the export readiness of firms in the sector. The marketplace provided an opportunity for exporter firms and service providers to network, and highlighted the need for domestic marketplace interaction before exporters tap into international trade fairs.
"In 2018, the EDB will have additional resources to support exporters through new programs. The Exporter Marketplace experience will help us design these programs so that they best meet the real needs of existing and future exporters," said Malwatte.
In the afternoon, the 15 exporters pitched their new and improved product proposition to the panel. Panelist Malik De Alwis, CEO of MA's Tropical Food Processing, was impressed by what he saw and touched upon the pilot's potential for replication.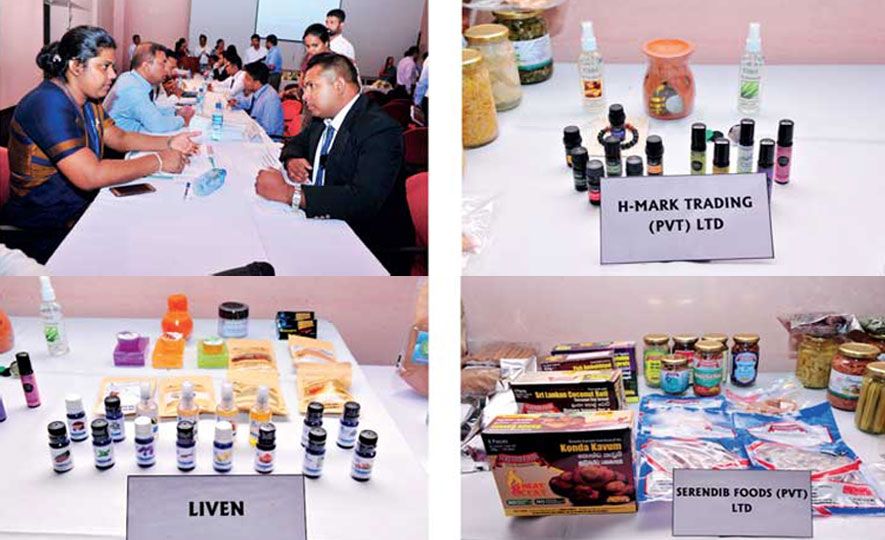 "Today companies learned about services available to them and service providers learned what the real needs of companies are. As a buyer I am happy to have been introduced to a fantastic group of new producers and their products," he said.
By simulating a real marketplace the pilot allowed the organisers to gather lessons about the needs and behaviours of export firms, buyers, investors and service providers in real time. For Dilhan C. Fernando, Director of Dilhan Conservation and CEO of Dilmah Ceylon Tea, the novelty of the approach is that it placed emphasis on integrating climate smart practices.
"Consumers want to know the social and environmental considerations companies have taken and it is great to see that companies are thinking about how their production can benefit their communities and how they can reduce the impact this has on Sri Lanka's natural resources," he said, adding: "We have to ensure that consumers know the full story behind our products and the companies we have seen today have some great stories to tell." World Bank Group Senior Private Sector Specialist Natasha Kapil added that the climate smart approach was brought into the initiative to strengthen the resilience of export firms in front of climate change while improving their value proposition to more sophisticated buyer markets.
Companies Liven, H-Mark Trading and Serendib Foods were awarded a prize of $ 5,000 at the end of the event. They will use this prize to implement their export strategies, including investments in clean technologies that will help them achieve a stronger comparative advantage while also reducing climate risk.
Source at: www.ft.lk