Success story of an unsuccessful 200 attempts to can king coconut water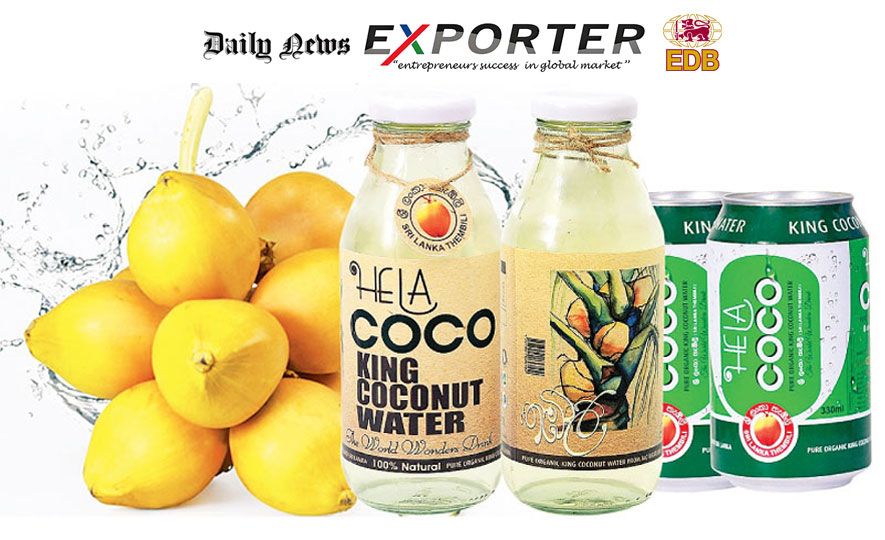 2018-02-19/ http://www.dailynews.lk/2018/02/19/business/143132/success-story-unsuccessful-200-attempts-can-king-coconut-water
Hela Coco Inventor Hareendra Mahakumara endeavouring to establish a local brand among international soft drink brands said he was unsuccessful 200 times in his attempts to can king coconut water.
Thomas Alva Edison who invented the first incandescent light bulb was unsuccessful for 999 times in his experiments to find the ideal metal for its filament. But he never gave up his efforts and ended up lighting the whole world.
Only people of persistency know that the endless curiosity to succeed in a targeted task and shedding sweat to satisfy it are the roads to success. Such people shed sweat with persistency to achieve their objectives.
Hareendra Mahakumara, whose experiments to make his product successful failed over 200 times, achieved success at the end, becoming an exporter bringing pride to our Motherland.
"A statement given to a newspaper by 2012 Olympic Medalist Tennis player Andy Murrayto a newspaper made a deep impact on my mind. He had stated that the energy drink that made way for his victory was young coconut (Kurumba)water. Seeing that, I got desirous of canning, bottling and marketing water from king coconuts and young coconuts, abundantly available in our rural areas."
That was how Hareendra embarked on his long journey. But, his journey was not smooth. All his friends and acquaintances questioned whether consumers will drink bottled and canned king coconut and young coconut water in a country where king coconuts and young coconuts are amply available.
"But I did not think the way they did… My argument was, "If countless bottles of drinking water are selling in this country with so many freshwater resources, is there any reason for bottled king coconut water not selling?"
Hareendra started bottling king coconut water utilizing his full strength and the support of his family. Soon after opening a king coconut or a young coconut, the water in it is affected by micro organisms, causing differences in taste and freshness. There was no way of preserving it for more than one day under any conditions.
He walked all over the village seeking king coconuts and bottled their water bearing massive business dreams in his mind. But, there was a flaw somewhere.
"There were massive errors in my manufacturing methodology. Truly, I was unsuccessful in over two hundred attempts. But, every time I was unsuccessful, I endeavoured to experiment with a new methodology."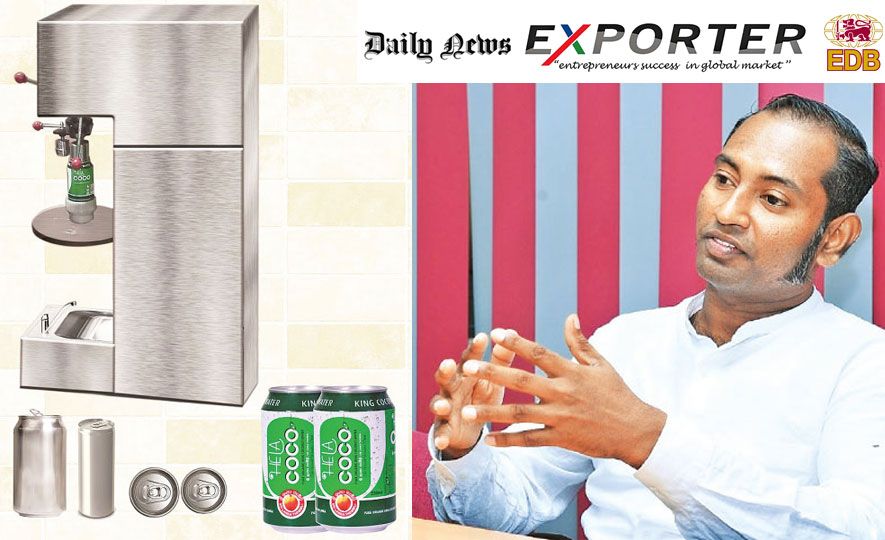 Hareendra realized that, if the king coconut is to be sealed as it is opened; new technological machinery is needed for this industry. Even though a local research organization had discovered that technology, Hareendra's expectations were in vain as it had been sold to a large-scale manufacturing organization even at that time.
"I manufactured the machinery needed for my industry myself. I developed the 'Beverage Can Seamer,' necessary for canning king coconut water truly to the level of an imported machine. Such a machine would cost over rupees two million if imported."
The best evidence of the level of development of Hareendra's machine was that two local large-scale organizations getting their beverage can seamer machines manufactured by Hareendra.
Canning and bottling king coconut water under the "Hela Coco" brand is launched through such a challenging environment. He selected the tourist hotels of this country first as the market for his products.
"When I tried to market my "Hela Coco" energy drink to tourist hotels, their Managers asked me whether I don't have any other product to manufacture other than this nonsense (vikara) product. I did not receive positive feedback from all hotels."
But, not being discouraged by such reactions is an excellent quality that can be observed in him. He always likes facing and overcoming challenges. Hareendra has trained himself to derive satisfaction from overcoming such challenges.
"I supplied my product to more and more hotels. Once, a tourist hotel proprietor tasted my energy drink and offered it to tourists in his hotel. Those tourists told me that they got the same enjoyment of drinking a king coconut through drinking the Hela Coco energy drink. The opinions of those tourists made me strive harder."
With his local market gradually developing, Hareendra desired to make themark of a Sri Lankan brand among popular drink brands of the world. The best place for that was the Export Development Board.
"Among the State Intuitions of Sri Lanka, the Export Development Board is one institution that extends a helping hand to up-and-coming entrepreneurs and really acts. The field of exports is very complex. The guidance they offer people like us who have only local market experience to overcome its challenges is excellent."
When taking a particular product to the international market, being manufactured to comply with international standards and having quality assurance certificates is as important as creative packaging. Nothing artificial such as taste enhancers, preservatives or chemicals are used in the production process of Hela Coco energy drink. It is a value-added product that can be kept at room temperature for over a year. According to Hareendra, the secret is in its packaging. Furthermore, the Hela Coco energy drink has passed laboratory tests in about 15 countries.
Hareendra, who used to earn a monthly salary through doing sales promotions for various businesses, is today an up-and-coming exporter. By now, he has reached a production capacity of about 30,000 king coconut water cans and bottles.
The nutrients in king coconut water can be absorbed by the body very quickly. Furthermore, the opinion of Doctors is that, king coconut water, having more special nutritional qualities than conventional energy drinks is optimally suitable for those who do tiring work and specially sports persons. There will be a high local and overseas demand for Hareendra's indigenous drink in the future because of that.
Hareendra, who had overcome the export barrier in the midst of various challenges and social pressures, has one more dream remaining.
"One of my biggest expectations is taking the brand name 'Hela Coco,' manufactured in our country, to the level of cola drinks with the highest demand in the world in five years…"
He says that, during his endeavours to build up a business enterprise of his own, the only thing he did not do is climbing king coconut trees. All his sacrifices for the sake of his business are embedded in that statement.
As a young entrepreneur, he is sad about not properly utilizing the vigour of youth and mature intellect. He states is not a tragedy that the youth generation, that can supply an invaluable contribution to the economic process of the country, is wasting their time sitting in three-wheelers or seeking Government jobs.
"Entrepreneurs change the world. If a youth could experience the happiness of creating a new business enterprise, he or she will realize that that is the highest happiness that can be experienced."
Isn't this young man of courage that has conquered the world of exports, requesting the whole youth generation to attain the exhilaration of entrepreneurship he is experiencing?
Compiled by Upul Galappaththy Trade Facilitation and Trade Information Division, Export Development Board.
Source at: www.dailynews.lk