Sri Lanka Country Pavilion at Vietnam Expo - 2022
01 December 2022 - 03 December 2022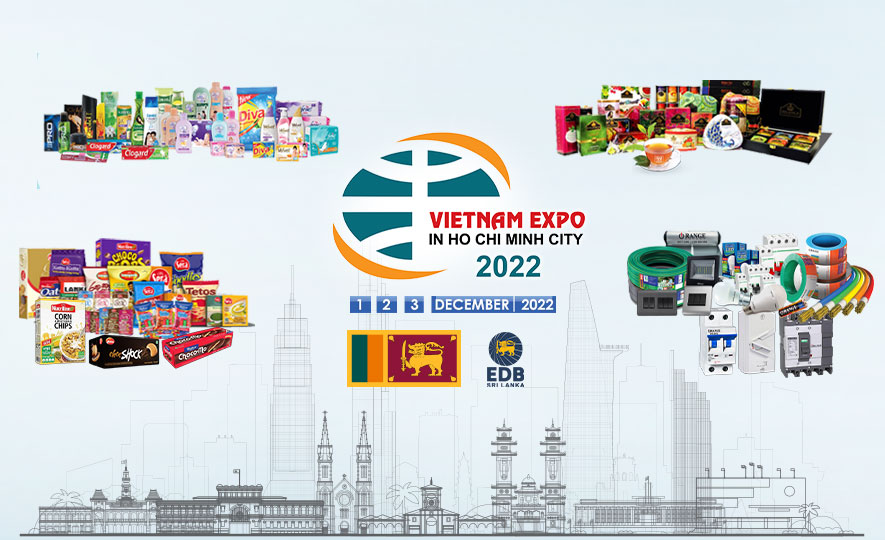 The Vietnam International Trade Fair (Vietnam Expo 2022) is organizing annually every December in Ho chi Ming City (HCMC) in Vietnam. The exhibition will be an ideal trade platform for businesses all over the world from many sectors, such as Food & Pro pack, Machinery & Electronics, Hardware & Hand Tools, Medical Products & Healthcare, Garden & Landscape, Sports & Vehicle, Trade & Service.
Sri Lanka Export Development Board is organizing Sri Lankan exporter participation at Vietnam Expo - 2022 from 1st to 3rd December 2022, Ho Chi Ming City, Vietnam to promote Ceylon Tea, Processed food, Cosmetics and Personal Care products and Electronic & Electrical products with the participation of 05 export companies.
Sri Lanka companies will be showcasing their products at Vietnam Expo to be located in Hall A1 and Hall A2. Stall No. A109 in Hall A1 will Exhibit one Electronic & Electrical company and other companies will showcase their products at A571-A574 under the Hall A2.
Read our blogpost on Sri Lanka's participation in The Vietnam International Trade Fair (Vietnam Expo 2022)