Meet with Sri Lankan Exporters at Vietnam Expo - 2022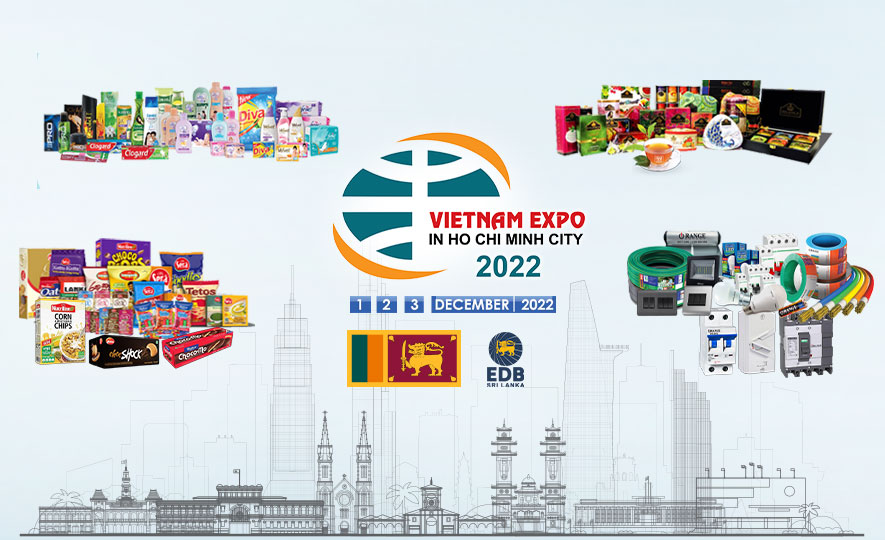 2022-11-18
Sri Lanka Export Development Board is organizing Sri Lankan exporter participation at Vietnam Expo - 2022 from 1st to 3rd December 2022, Ho Chi Ming City, Vietnam to promote Ceylon Tea, Processed food, Cosmetics and Personal Care products and Electronic & Electrical products with the participation of 05 export companies.
Sri Lanka companies will be showcasing their products at Vietnam Expo to be located in Hall A1 and Hall A2. Stall No. A109 in Hall A1 will Exhibit one Electronic & Electrical company and other companies will showcase their products at A571-A574 under the Hall A2.
List of Companies Participating at Vietnam Expo - 2022
Stall
Company
Products
Contact
A571
Kelani Cables PLC
P.O.Box 14,
Wewelduwa Road,
Kelaniya,
Sri Lanka.


+94 011 291 1224


www.kelanicables.com
Electronic & Electrical products

Mr.John Fernando


Assistant Sales Manager - Exports


+94 077 955 1284


[email protected]

A572
Ceylon Fresh Teas (Pvt) Ltd
No. 62, Ambathale Road,
Kohilawatta,
Angoda,
Sri Lanka.


+94 011 254 9411


www.cfteas.com
Ceylon Tea

Mr. Mahinda Wanniarachchige


Director


+94 077 727 1436


[email protected]

A573
Hemas Manufacturing (Pvt) Ltd
No. 75,
Braybrooke Place,
Colombo 02,
Sri Lanka.


+94 011 473 1731


www.hemas.com
Cosmetics and Personal Care

Mr. Mohamed Shafraz


Manager - International Business


+94 077 751 8493


[email protected]

A574
Ceylon Biscuits Ltd
No.555, High Level Road,
Makumbura,
Pannipitiya,
Sri Lanka.


+94 011 500 0000


www.cbllk.com
Processed Foods

Mr.Rajeewa Weerasingha


Assistant Manager - Exports


+94 077 313 5145


[email protected]

A109
OREL Corporation Private Limited
No.49,
Sri Jinarathana Road,
Colombo 02,
Sri Lanka.


+94 011 479 2100


www.orel.com
Electronic & Electrical products

Mr. Thandula Goonawardena


Manager - Exports


+94 077 310 4008


[email protected]
Why Visit Sri Lankan companies at Vietnam Expo -2022 ?
Meet and network with Sri Lankan producers & exporters to find trade opportunities
Explore the trends and opportunities in Sri Lanka's food industry, personal care industry and electrical and electronic industry
Enhance your international supply chain
Through organizing Sri Lankan company participation at Vietnam Expo 2022, Sri Lanka intends to increase the exports of above products to the international market strengthen relationship with existing buyers, promote national products, brands, image building, capture new market opportunities, meet new buyers to expand the market share in Vietnam and other markets as well.
Sri Lanka Export Development wishes to extend a cordial invitation to the prospective visitors to move on to Vietnam expo 2022 and walk into Sri Lanka companies for new trade opportunities.
The Vietnam International Trade Fair (Vietnam Expo) is organizing annually every December in Ho chi Ming City (HCMC) in Vietnam. The exhibition will be an ideal trade platform for businesses all over the world from many sectors, such as Food & Pro pack, Machinery & Electronics, Hardware & Hand Tools, Medical Products & Healthcare, Garden & Landscape, Sports & Vehicle, Trade & Service.
Last event, 19th VIETNAM EXPO 2021 has been organized with the scale of 900 booths, 850 exhibitors from 20 countries and territories, attracts more than 13,750 visitors from all over the world.