22nd Presidential Export Awards on 18 September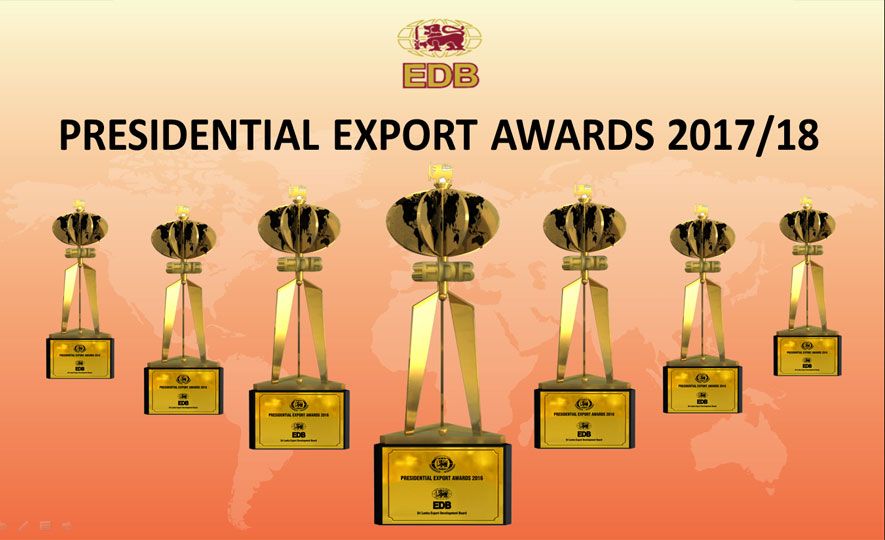 2018-06-05
The 22nd Presidential Export Awards organised by Sri Lanka Export Development Board (EDB) will be held on 18 September under the patronage of President Maithripala Sirisena at the Bandaranaike Memorial International Conference Hall (BMICH).
This year's ceremony will recognise and salute exporters for their excellence in performance made for the financial year ended on 31 March 2018.
The Presidential Export Awards (PEA) initiated by the EDB in 1981, is the most prestigious award for exports in Sri Lanka and is presented to exporters who have made a significant contribution to Sri Lanka's exports.
A total of 59 awards consisting 11 overall awards and 48 sectoral awards will be presented during the ceremony.
Addressing media EDB Chairperson Indira Malwatte highlighted that PEA scheme is the most coveted award that all exporters in the country yearn to achieve each year. "There are many different export award schemes in the country, but PEA is the one that every exporter is looking for. This not only encourages the higher management of the company, but it also gives pride and recognition to the entire staff," she added.
She recalled that the award scheme was a brainchild of late Minister Lalith Athulathmudali and that he had far sighted vision to include services sector into the export basket, which was only dominated with traditional merchandise products.
The overall awards include; 'Exporting Conglomerate of the Year', Sri Lanka Exporter of the Year', 'Employment Provider in the Export Industry', 'Sri Lankan Export Brand', 'Nett Foreign Exchange Earner', 'Best Emerging Exporter', 'Market Diversified Exporter', Woman Exporter of the Year', 'Contributor from the Regions to the Export Supply Chain' and 'Contributor to Sustainable Development in Exports'.
Presidential Export Awards will be presented to the Best Exporter in each of the following product categories in Industrial Products, Agricultural Products and Fisheries Products and Export Service sectors. This has been categorised into two segments, the 'Highest Foreign Exchange Earner' and 'Emerging Exporter'.
The selections for the awards will be conducted by an eminent panel headed by a retired High Court Judge. The award winners will be presented a prestigious trophy and a certificate. The winners will be entitled to use the Award Logo as a marketing tool for next three years.
Application forms together with the guidelines could be obtained from Market Development Division or downloaded from EDB website www.srilankabusiness.com under the headline 'announcements'. The closing date of accepting applications is 30 June.
Source at: www.ft.lk