8 Lankan firms under EDB banner at Texworld/Apparel Sourcing Paris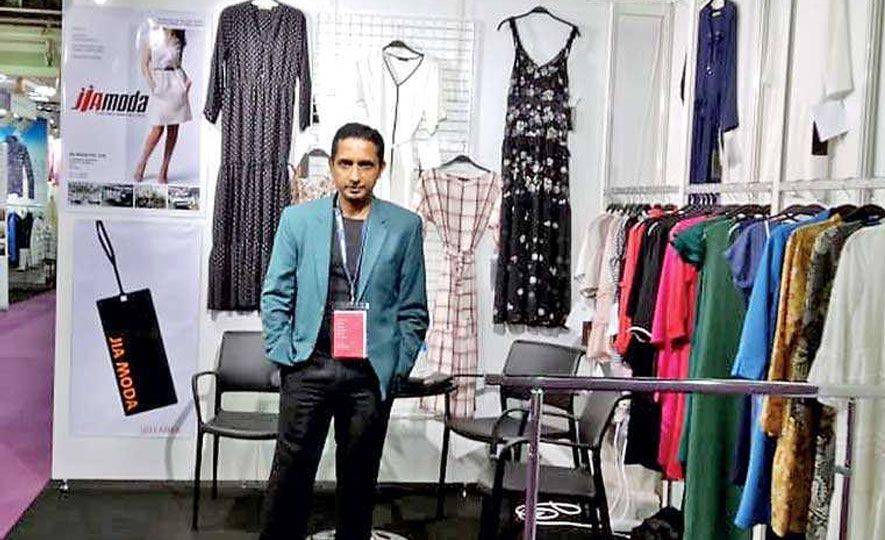 2018-09-18/ http://www.ft.lk/business/8-Lankan-firms-under-EDB-banner-at-Texworld-Apparel-Sourcing-Paris/34-663018
Eight Sri Lankan companies are taking part under the Export Development Board (EDB) banner at Texworld/Apparel Sourcing Paris which commenced 17/09/2018 and will conclude on 20-09-2018.
The EDB organised the second Sri Lankan pavilion at the fair.
The 43rd edition of Texworld is the largest sourcing fair for garments and fabric in France.
Combined with Apparel Sourcing and Leatherworld, a total of 1,742 exhibitors will be participating in the September edition of the event. Up till now, the fair recorded almost 15,000 visitors.
Visitors coming from European countries remained loyal to the show, which is a good reflection of the Europeans' keen interest in the exhibitors at both of the shows. A large number of buyers also visited from the UK, France, Turkey, Spain, Italy and Germany.
On the first day of the show, Sri Lankan stands seemed busy with trade enquiries and buyers from the USA, UK, Turkey, Germany, France, and other European and Central Asian countries.
It is the second time participating for EDB in Apparel Sourcing. In addition to participation at the fair, a fashion show is scheduled on Thursday at 11 a.m. to promote Sri Lankan products/brands, including handloom-based textile products, batik clothing, etc., to give a true Sri Lankan flavour to the show.
A few of Sri Lanka's prominent designers will display their products at the fashion show.
The exhibition attracted manufacturers from all the major sourcing countries. China, Cambodia, India, Pakistan, Vietnam, Bangladesh, Taiwan, Ethiopia, Thailand, Sri Lanka, and many others have national pavilions organised by their respective governments as well as exhibitors from Netherlands, Turkey, Portugal, etc.
For the very first time, Leatherworld Paris is going to be held at the same venue and time.
Leatherworld Paris contains tannery as well as finished leather goods. It ranges from leather garments to accessories such as bags, shoes and other fashion products. Over the years, a large number of leather brands have been requesting a section for leather at the show.
This year six garment manufacturers and two designers are taking part from Sri Lanka under the EDB banner.
Following are the exhibitors from Sri Lanka in September.
Apparel: Bernard Botejue Industries, EL Holding, JIA Moda, Kuga Holdings, Screenline Ltd., Stylish Garments
Designers: Buddhi Batiks and Handicrafts, Conscience Design
Jia Moda Operations Manager Hemantha Perera shared his views about the fair, saying: "It is the king of finest fairs for sourcing. We participated last year and this year as well because we got one of the buyers in Spain that is coming to this fair, too. So, we are hoping to get fruitful results from our buyers."
The next Texworld/Apparel Sourcing will be held from 11 – 14 February 2019.
African Sourcing and Fashion Week will be held from 1 – 4 October in Addis Ababa, Ethiopia. A new Apparel fair will also be launched in Cape Town, South Africa from 20 – 22 November. Texworld/Apparel Sourcing USA will be held from 21 – 23 Jan 2019.
Jia Moda at TexworldApparel Sourcing Paris 2018
Source at: Daily FT