A Remarkable Position among Construction Exhibition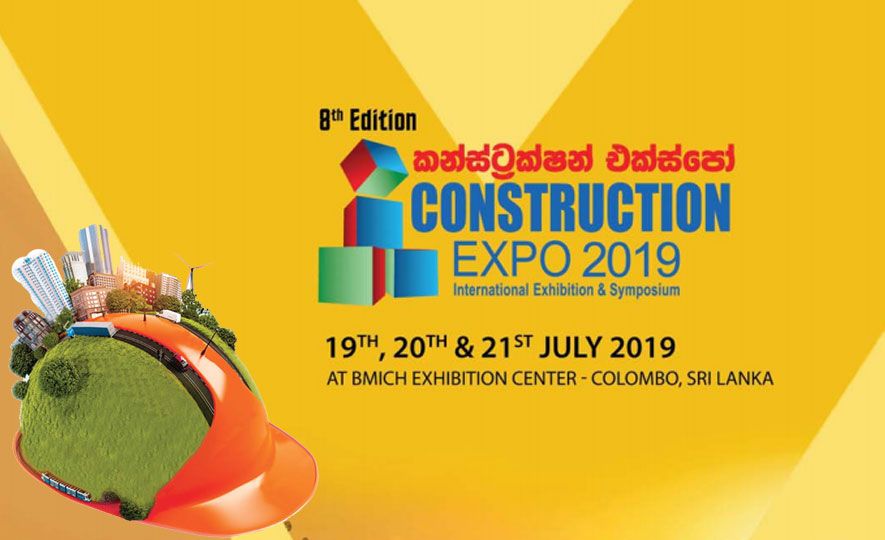 2019-06-05
CONSTRUCTION EXPO 2019 will be the hub for all major players locally and internationally. It will provide a common platform for all industries that link with construction and will give the participants a chance to show case their products & services which cover all spheres related to the industry. It will be the meeting point for the Domestic and International products & technology suppliers to explore the potential in the Construction Industry in the South Asia Region.
Construction Expo is considered as Sri Lanka's largest and most focused construction industry related exhibition. This Exhibition is held annually for the 6th Successive year at BMICH with all leading stakeholders and key service providers within the building, housing and construction industry taking part.
This exhibition has helped the industry to reach the target audience in communicating and expanding of the scope of business. This will also help with market insights and to know customer needs better which has long term benefits for enhancing and developing the product portfolio.
The consumers have grown to look at the exhibition as a "one stop shop'' for all their construction needs and over the years the exhibition has seen thousands form the industry make all purchases, inquiries and other related work during the three days of the show satisfying all their construction related needs under one roof.
The expo itself has improved in terms of participants and stall holders. Apart from the emphasis on Green Building, Green Products, Greening Environment, Eco Innovations & Entrepreneurship with climate changes in various parts of the globe having its effects on us it is very important for Constructor, Researches to reach out and explore new innovations to make our environment Green as well as promote the Entrepreneurship among our stakeholders in the construction Industry.
The event highlights the importance of resolving construction management problems through highlighting definition of sustainability and describing sustainable development as the fulfillment of human needs from simultaneous socio-economic and technological progress and conservation of natural resources.
Sri Lanka is currently witnessing a boom in infrastructure development. Many high-rise apartment projects and International chain of Hotels have begun their work here. The government has earmarked several development projects such as Water Supply Projects, Waste Water/ Sewage Treatment Plant Projects, Energy Sector Projects which are due to begin by 2019.
The Advantages of The Event
CONSTRUCTION EXPO continues to build attendance through strategic marketing and promotions that create millions of advertising impressions in Print, Direct Mail, Email, Promotional opportunities and Electronic media.
Attendees to CONSTRUCTION EXPO are professionals in the industrial and commercial building fields that design, build, renovate and operate in the construction environment.
Ideal platform to build your brand & increase awareness of your products by meeting key clients & business partners. Also influence & understand customer needs perception
Architects, Engineers, General Contractors, Project Managers, Building Owners and professionals from the building industry will be a part of this mega event.
On average 70% of our buyers/visitors spend time with exhibitors & our dates of the exhibition do not conflict with any holidays in Sri Lanka, therefore buyers from different sectors in the construction industry are scheduled to attend the event.
Two strong partners, CIOB & successful presidential award winning trade show organizer LECS combine their expertise to promote the show around the world so you can enjoy greater quality of both local & international prospects.
LECS is the only organizer, which maintains an up-to-date trade buyer database of over 40,000. These are updated frequently by a dedicated team.
Exhibitor Profile
Adhesives, Water Proofing & sealants
Air Conditioning
Architectural & Engineering Consultancy
Banking
Building Materials
Carpets
Cement and Cement Based Products
Cleaning Equipments
Compressors
Concrete Products
Construction
Construction Chemicals
Construction Chemicals & Repair
Construction Eng. Projects & Services
Construction Equipment & Technologies
Doors & Windows
Doors, Windows & Locks
Earthmoving & Construction Equipment
Earthmoving Attachments
Electrical Switch Gear & Equipment
EPC Projects
Finance
Floor Tiles & Wall Tiles
Furniture & Fittings
IT Solutions
Jacuzzi & Bath Tubs
Landscaping
Material Handling Equipment
Material Lighting & Fitting
Paints & Wall Finishes
Pipes & Fittings
Power Generators
Property Development
Roof & Wall Cladding
Roofing Systems
Safety & Security Systems
Scaffolding Equipment
Shower Cubicles
Solar & Thermal Products
Steel Based Products
Telecommunication
Ventilation Systems
Water Reticulation & Pumps Landscaping Equipment
Water Tanks & Draining Systems