Awareness webinar on exporting merchandise to Australia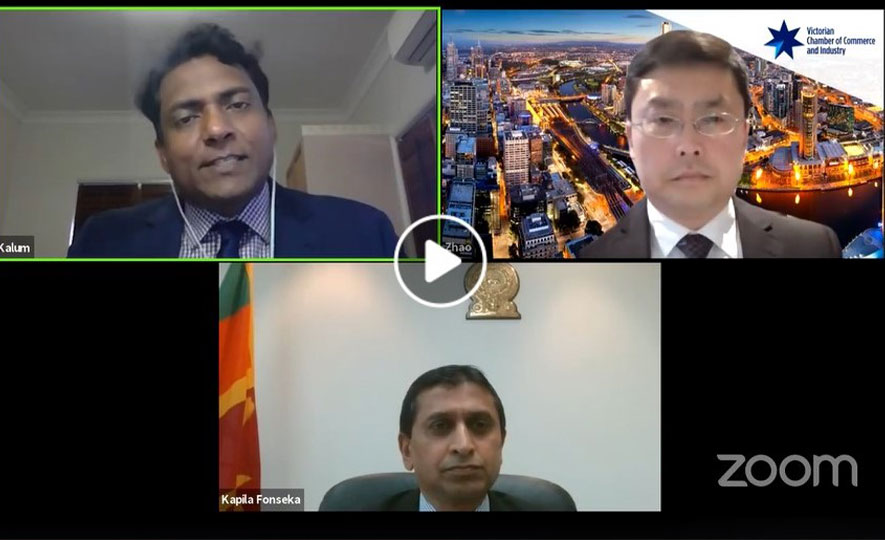 2021-06-16
The Consulate General of Sri Lanka to Victoria, South Australia and Tasmania together with the Sri Lanka Export Development Board (EDB) and the Sri Lanka and Australia Chamber of Commerce (SLACC) organised a webinar titled – Exporting to Australia – What you need to know - on the 20th May, 2021. Kalum De Silva, President of SLACC, moderated the session. He is the founding national president of SLACC.
Consul General Kapila Fonseka in his opening remarks explained that the main objective of the seminar was to reduce the knowledge gap by educating the exporters about the opportunities in the Australian market, and how to access it correctly. Even though Sri Lanka has had a growth in exports to Australia in the recent years, when compared with other South East Asian Countries, Sri Lanka's merchandise exports volume still remains low. Therefore, the digital seminar was able to help Sri Lankan exporters gain better insight into the criteria to be met when exporting goods to Australia.
Jessica Sibley – Director Horticulture and cut flowers program at the Department of Agriculture, Water and the Environment – Australia, explained bio security and systems in place in Australia paying particular attention to fresh produce. She spoke of plant import operations, import conditions, preparing for export from Sri Lanka, and non-commodity import requirements. Jessica also explained what happens when there is non-compliance. Horticulture fresh produce imported into Australia must comply with commodity specific import conditions published in the Department of Biosecurity Import Conditions System (BICON). She also shared the main criteria to be fulfilled at the time of preparing for export from Sri Lanka. For more information about BICON please refer to https://bicon.agriculture.gov.au/BiconWeb4.0
Whilst an exporter complies with the set rules and criteria, they also have to understand how to engage with the Australian Business community to have a successful long-term relationship. Eddie Zhao, International Business Development Manager at the Victoria Chamber of Commerce, described the Australian Business Culture and few points to keep in mind when engaging with the Australian business community. He explained before meeting an importer/customer that it is very important to prepare for the meeting well and to be precise about what you offer. Setting up an appointment to meet well in advance and punctuality is considered very important. Some of the values considered important in the Australian business culture are honesty, integrity, finesse and authenticity. Even though Australian business culture is fairly informal, they take their business dealings seriously. He advised to stick to the deadlines given to continue a good business relationship.
S.R.P. Indrakeerthi, Director - Trade Facilitation and Trade Information – EDB, explained the current status of the trade between Sri Lanka and Australia. Australia is the 10th largest destination of Sri Lanka. He outlined the present major exports and the products with high potential. Apparel, high-quality natural rubber and rubber-based products, coconut-based products, tea, fish and fisheries were cited by him as products with great potential. He added that Australian importers can make use of Sri Lanka's value-added products, quality of products, competitive pricing, and its strategic location while noting that Sri Lanka is a manufacturing facility to many big brands such as Gap, Nike, Tommy Hilfiger and Victoria's secret.
The seminar – which offered free registration - had over 100 registrations and over 500 views on social media. The Q&A session at the end provided a great opportunity to the audience to ask questions from the panel members and have them answered within a matter of minutes. It also opened up a discussion to explore Australia as another non-traditional international market while bringing together key individuals from some of the most important government institutions in Australia who shared accurate information with the Sri Lankan organisations.