BoardPAC successfully establishes footprint in Africa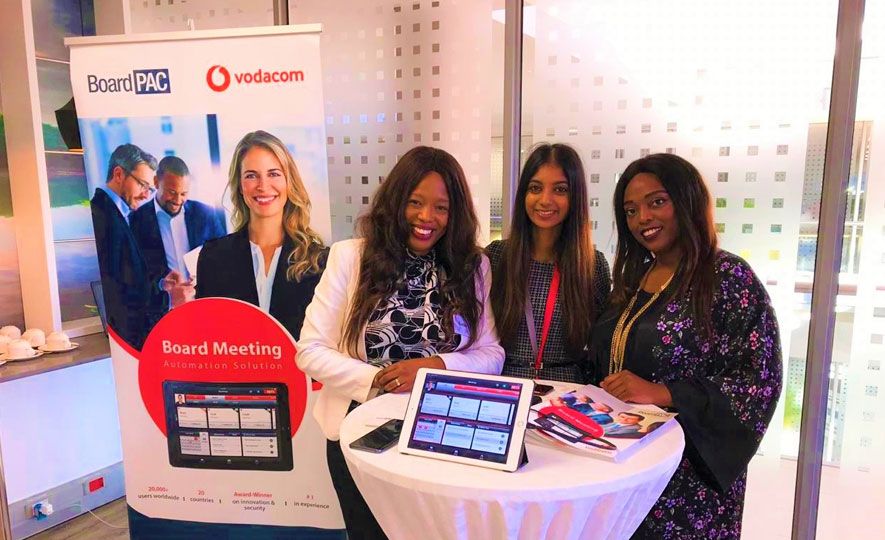 2019-10-01/ http://www.ft.lk/business/BoardPAC-successfully-establishes-footprint-in-Africa/34-686765
As the most awarded board automation solution with a leading market share in Asia, BoardPAC, in its mission to be ranked number one globally, has firmly established its name in the African region.
BoardPAC Co-Founder and CEO Lakmini Wijesundera strategically targeted South Africa as its base office in Africa, as the continent was home to some of the largest multinationals. Therefore, BoardPAC based its operations in Johannesburg, South Africa. Another reason for it looking towards South Africa was the fact that the Government and large corporates were in an early phase of assessing digitalisation. Additionally, with South Africa being a regional market, BoardPAC realised that it would serve as an ideal entry point. It invested in a team in South Africa which understood the need for digitalisation and actively pursued it.
BoardPAC engaged in strategic marketing engagements which included corporate governance, where during the past few years it has sponsored the Premier South African Corporate Governance Conference, organised by Charted Secretaries South Africa (CSSA). It is the institute's flagship event organised annually for the benefit of company secretaries, directors and governance professionals in the African continent.
Then at other strategic engagements, BoardPAC's Regional Manager for Africa, Geeshan Wijenayake, and his team worked closely with the High Commissioner of Sri Lanka to South Africa, Kumar Mallimaratchi, to further nurture the positive relationship it possessed with the region.
BoardPAC encompasses multiple top clients, corporates and government institutions which also include the world's eight-leading brand, Mercedes-Benz, and other leading brands such as Deloitte, Thebe Investments, Sasria, Department of Public Enterprises and Bidcorp.
BoardPAC further realised that its partnerships mattered and with hopes of expansion, Wijenayake and the South Africa team strategically partnered the continent's leading telecommunication provider Vodacom for South Africa and the African region. It also teamed up with Data Centrix, Brighthouse and Celagenix specifically for South Africa and NECOR for Zambia. These partnerships in the region have been great for BoardPAC's awareness and brand-building.
With the partnerships reaping great benefits, BoardPAC also looked at partner events, attending the Zambian International Trade Fair, which is the biggest trade and commercial exhibition in Zambia which hosts both local and foreign exhibitors from all sectors of the economy with a view to enhance global trade. In addition, BoardPAC, in partnership with Vodacom, participated in other leading governance and CEO breakfast events within the region. BoardPAC shares its success strategies with other corporates in Sri Lanka. Recently, BoardPAC Global Marketing Manager Sarath Perera joined other keynote speakers such as Robina P. Marks - the High Commissioner of South Africa to Sri Lanka and Johannes Van Niekerk - Counsellor to the Political Deputy Head of Mission to speak about their South African success story at a business forum held in Colombo.
Furthermore, BoardPAC Co-Founder and CEO Wijesundera mentioned that EDB assistance for them to enter the African and Asian markets and the introduction given to the respective foreign missions were crucial to their establishments' success. Moreover, the Market Access Support scheme initiated by the EDB had assisted them in exploring new markets and business ventures.
EDB Chairperson and Chief Executive Indira Malwatte stated: "EDB congratulates BoardPAC on its pioneering success in Africa as a Sri Lankan brand. The missions in South Africa and across the African continent are working towards supporting export-oriented companies to accelerate their success with active assistance from EDB officers. We are happy to see the progress of BoardPAC and wish them continued success in their business." Today, BoardPAC boasts more than 50,000 users globally with a presence in over 20 countries including the United States, Australia, Singapore, Malaysia, Hong Kong, Indonesia, South Africa, India and Sri Lanka. This makes BoardPAC the preferred choice for board meeting automation.
Source at: Daily FT