BOI roundtable conference for officials and entrepreneurs from China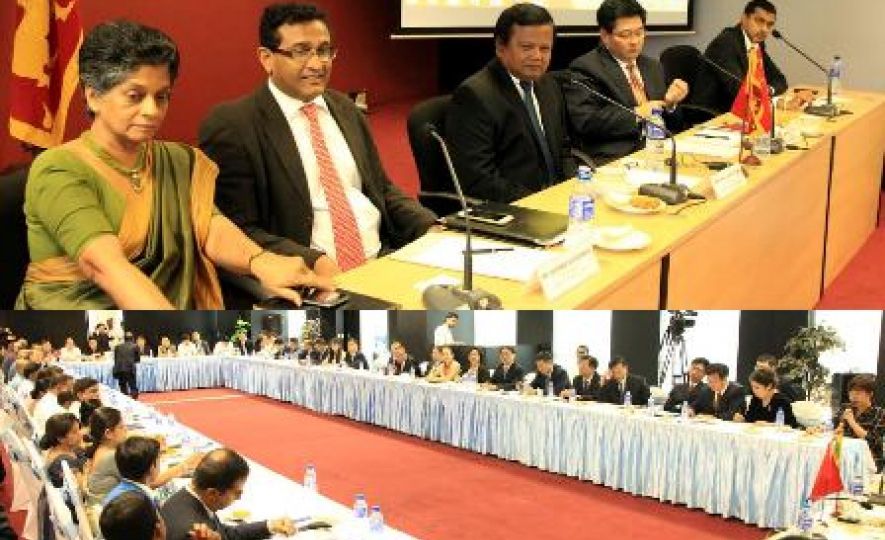 2016-11-13
A delegation from China led by Sui Zhong Cheng, Vice Governor of Jilin Province consisting of 33 officials and entrepreneurs from that province visited the BOI with the purpose of exploring avenues for trade and investment.

The delegation was welcomed by Upul Jayasuriya BOI Chairman and Duminda Ariyasinghe Director General Indira Malwatte, Chairperson of the Export Development Board was also present. BOI had organized a roundtable conference where the high powered delegation from China met senior officials of the BOI and Export Development Board.

Jilin is a strategically located Province of North Eastern China bordering Russia and North Korea. It is an industrialized province with a GDP of about US$122 billion and a per capita income of US$ 8200.

The Chairman Jayasuriya added that China's position is unique in Sri Lanka as steps have been taken to establish a dedicated Export Processing Zone for Chinese enterprises and for the management of Hambantota Harbour and Airport to be undertaken by Chinese enterprises. At a diplomatic level they have been many visits by the highest level officials of both countries to Sri Lanka and China. In recent years both the President and the Prime Minister of Sri Lanka had made official visits to China resulting in increased economic co-operation between the two countries. Furthermore Chinese President Xi Jinping has also visited Sri Lanka on a State Visit in recent years.

The Chinese delegation was also briefed by Ms. Indira Malwatte Chairperson of the Export Development Board, who added that Sri Lanka is actively seeking to expand her exports to China. She stated that there will soon be an opportunity for both countries to access each other's markets when a Free Trade Agreement is reached between Sri Lanka and China. This agreement is now being discussed, but when completed Chinese companies will enjoy market access to South Asia through the Free Trade Agreements that Sri Lanka has already entered into with India and Pakistan.

The leader of the delegation Sui Zhong Cheng vice Governor of Jilin Province addressing the gathering stated that Sri Lanka is an important country for China for the "One Road One Belt" Strategic Initiative of the People's Republic of China. Under this initiative China was building an extensive link to countries in Asia, Africa, the Middle East and Europe on the historic Silk Route.

The China's biggest railway manufacturing plant is in Jilin Province which also has an advanced high speed railway network. Vice Governor Sui Zheng Chen also stated that a high speed railway network could be very relevant to Sri Lanka and would significantly contribute to develop the country's economy.


The Vice Governor further stated that whilst Jilin Companies were exploring the possibility of investing in Sri Lanka, Jilin was also being promoted in China as a province for investment. He added that it is important to look at two way investment between Sri Lanka and China.

During their visit the delegation was studying Sri Lanka's business climate to explore avenues for investment. Thereafter an interactive session between the BOI and individual companies began and some of the companies present were engaged in manufacturing of fertilizer, the construction of pipelines, property development and value added tea.

One of the Companies represented was engaged in the construction of the famous Birds Nest, the Iconic stadium of the Beijing Olympics. Hence this meeting could offer a potential for future investment from China's Jilin Province.