EDB Continues to Promote Sri Lanka ICT/BPM Products in Japan in 2020.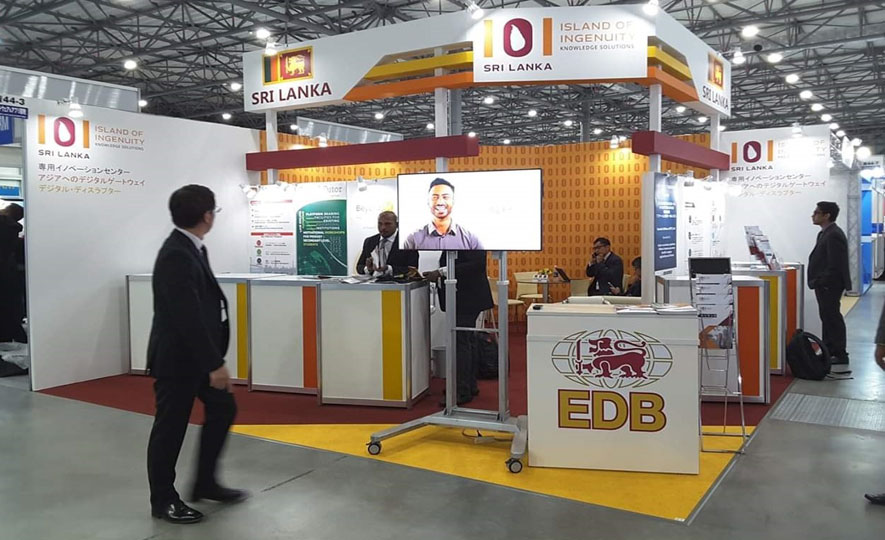 2020-02-17
If you looking for an opportunity to find business partners such as Cannon, Fujithsu, Hithachi in the Lucrative Japanese market? Or are you thinking on how to invade into the Japanese Market. If so, never to miss this opportunity. EDB is calling for the applications from the companies with the cutting edge technologies to join it's delegation to Japan IT Week 2020 from 8th -10th April 2020.
More than 30 companies have been assisted by Sri Lanka Export Development Board (EDB)where the delegates had opportunities to meet with global investors and experts, learn about latest industry trends and explore commercial partnerships and to gin tech know-how which is vital support for them to expand their businesses on Japanese market. As a result there are Sri Lankan ICT/BPM companies who have opened their branch offices in Japan, managed to sign up joint ventures and win prospective deals from Japan.
In 2020 EDB is renewing its participation at Japan IT Week 2020, which will be held from 8th to 10th April 2019 in Tokyo, Japan. It's the world's leading ICT/BPM focused exhibition, which provide a myriad of opportunities for professionals, vendors, service providers and customers to meet exhibitors from across the world and develop profitable business relationships.
In line with the Government of Sri Lanka's continuous efforts to drive exports driven economy especially though adaptation and innovation, the EDB organized the Sri Lanka pavilion at Japan IT Week for 5 consecutive years since 2015.
This year marks the 29th edition of the event and organizers state there will be 89,000 visitors and 1,490 Exhibitors around the world.
Sri Lanka's ICT/BPM solutions providers are no strangers to Japan's IT sector, with many Sri Lankan companies already providing software, mobile, big data and other solutions for leading Japanese companies spanning Hitachi, Fujitsu, and Canon IT Solutions. These lines of business have generated considerable export revenues for Sri Lanka, with government initiatives such as the mission to Japan IT Week expected to inject further revenues for the country.
EDB has organized a number of workshops and client engagements on the Japanese market with the intention of promoting the Sri Lanka ICT/BPM sector in Japan and vice versa. This is also an effort to clear the dilemma in most of the Sri Lankan companies on the Japan market and encourage them by sharing the tips on how to successfully win business deals in Japan.
The EDB in collaboration with Sri Lanka Embassy in Japan is organizing the Sri Lanka Pavilion and the Country Seminar for the 6th consecutive year in 2020 with the participation of 10 ICT/BPM companies who would be interested to start business with the potential Japanese clients.
The application and details are available at https://www.srilankabusiness.com/announcements/#announcement_item_15